The Three Land Point: Netherlands, Belgium & Germany
The Three Land Point, or "Drielandenpunt" in Dutch, is the point of the country at which the borders of the Netherlands, Belgium, and Germany all meet. If you place your hand on the tip of the rock of the picture above, your hand will be in three different countries at the same time!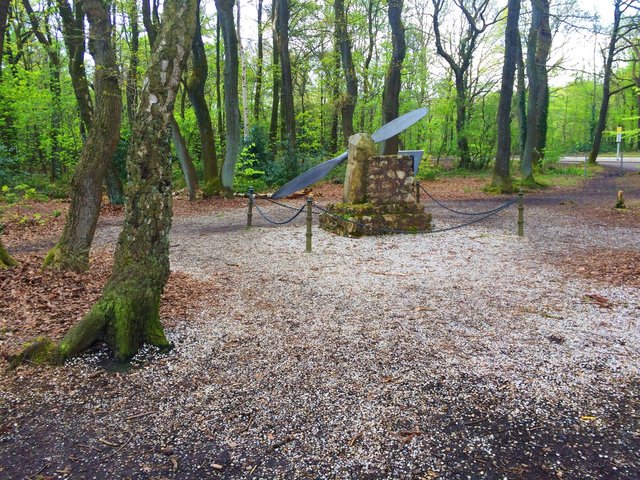 forest, nature, park, tree, path, wood, landscape, way, environment, trail, walkway, footpath, season, leaf, road, nobody, plant, bench, outdoors, hiking
This routes starts a little distance away from the actual "drielandenpunt"seeing as there are two "watch towers" in the area. If you climb the stairs to the top you get a magnificent view of the surroundings, but make sure choose a day when the weather is good so you can take full advantage of the view.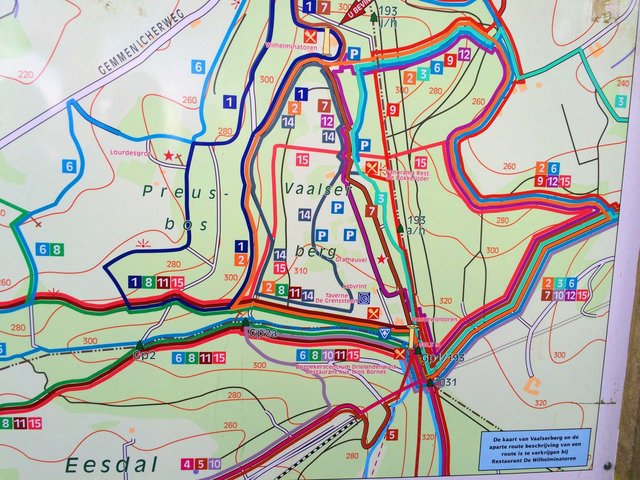 vector, urban, illustration, background, paper, design, graphic, funky, guidance, symbol, element, pattern, card, sketch, color, texture, abstract, map, art, guide
At this first stop you will find a map of the surroundings where you can choose a route from around 15 different routes (identifiable in different colours) which all take you to see different parts of the area.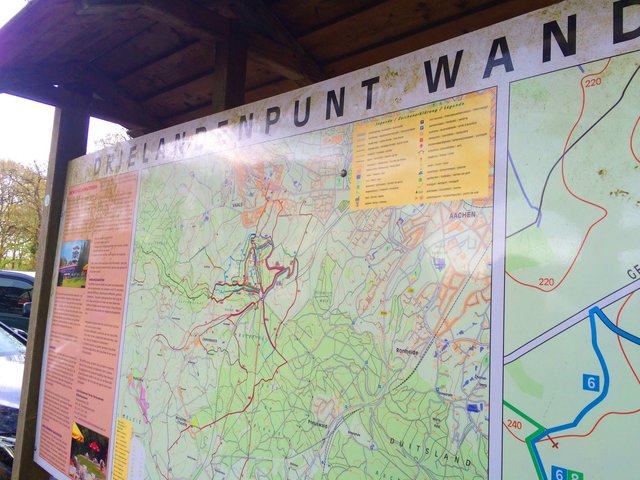 paper, business, map, travel, city, politics, design, collage, sign, symbol, illustration, nobody, retro, journey, navigation, location, background, science, poster, color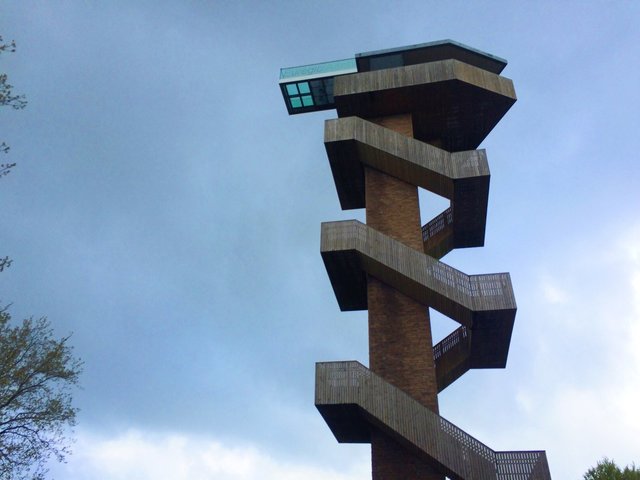 nobody, sky, travel, outdoors, daytime, architecture, cross, war, landmark, city, structure, light, building, religion, stairway, road, action, tourism, tall, street
Here you can see the first aforementioned tower. If you notice carefully, the very top of it features an area with glass floor which gives the allusion that you're floating 100 meters into the air (warning: only for those with strong stomachs as it gives you serious vertigo).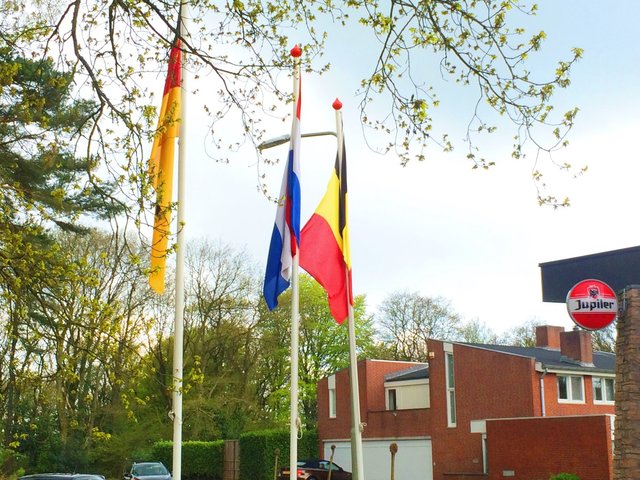 politics, wind, flag, nobody, environment, protest, outdoors, landscape, people, freedom, energy, conflict, rally, government, police, business, daytime, building, military, competition
The tower has a small restaurant suitable for lunches, dinners, and snacks. To go to the top you must purchase a special coin to get through the gate for a small fee of 3 euros.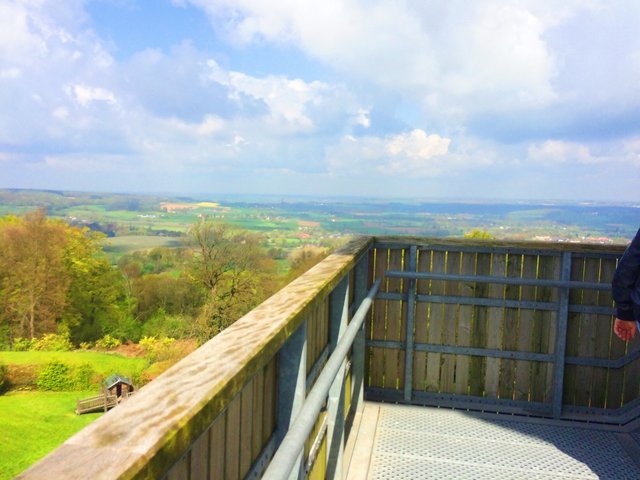 sky, travel, landscape, nature, water, nobody, outdoors, summer, wood, view, horizon, empty, sun, vacation, beach, beautiful, daytime, scenic, idyllic, tourism
This route was made in the Spring time so the weather was sunny and the surroundings extremely green, you could see out for kilometres. This is the only area in the Netherlands with hills.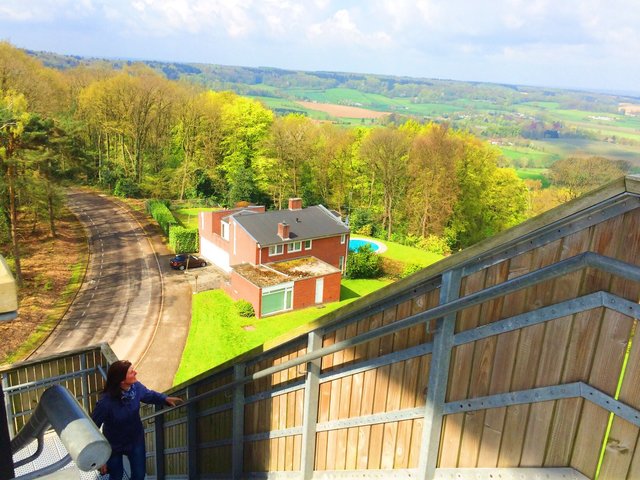 house, home, building, nature, summer, view, architecture, landscape, hill, water, tree, travel, outdoors, forest, sky, tourism, roof, countryside, nobody, wood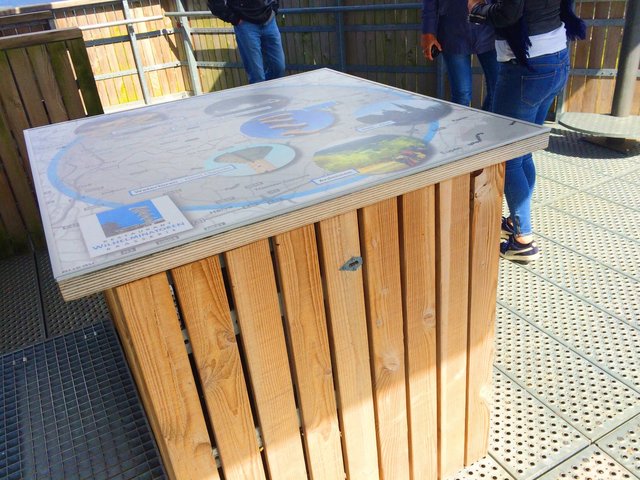 indoors, luxury, furniture, wood, nobody, seat, room, home, table, empty, house, glass, relaxation, design, interior design, chair, business, bench, clean, contemporary
At the very top of the tower you will find an information table containing images of the surrounding images which you can access from this point.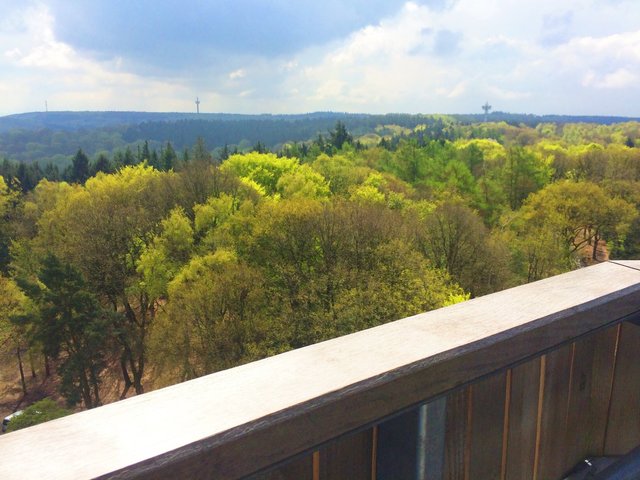 tree, landscape, forest, sky, travel, scenic, environment, outdoors, water, mountain, nobody, road, plant, tourism, woodland, hill, river, nature, park, grass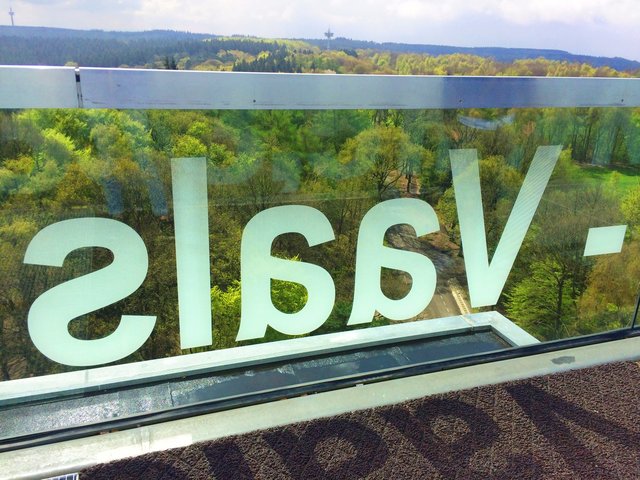 sign, symbol, text, design, communication, message, illustration, nature, future, display, business, travel, internet, grass, information, plant, abstract, nobody, background, icon
On the glass of the tower you will find Vaals written, as this area is located in Vaals. This area of the Netherlands contains the country's highest point, at a height of a little over 300 meters.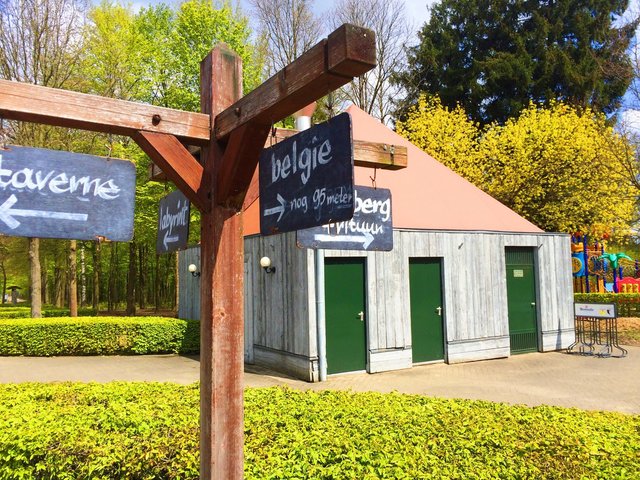 architecture, house, building, nobody, dwelling, village, lawn, entrance, wood, daytime, yard, outdoors, mailbox, home, luxury, cottage, town, tree, garden, stoop
Going straight down the road from the previous points (the local maps and boards will help you get there easily) you will get to the main attraction of the area. Here you see a sign pointing to Belgium, seeing as both Belgium and Germany are now just a few footsteps away.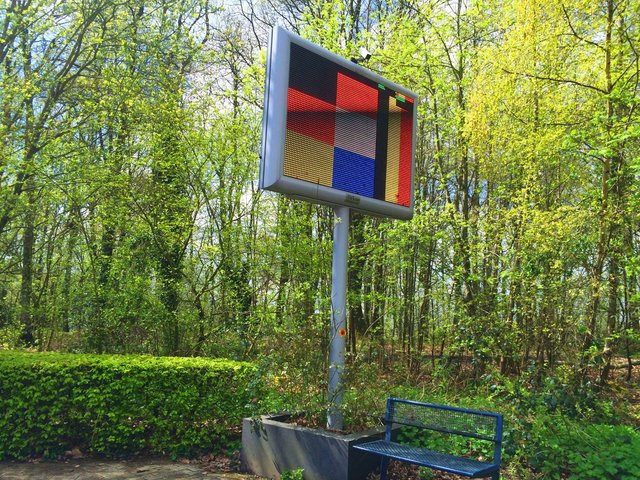 road, tree, traffic, outdoors, stop, public, street, warning, nobody, grass, railroad, safety, summer, nature, train, point, country, travel, signal, home
On the screen you can see the flags of the three countries, Germany, the Netherlands, and Belgium.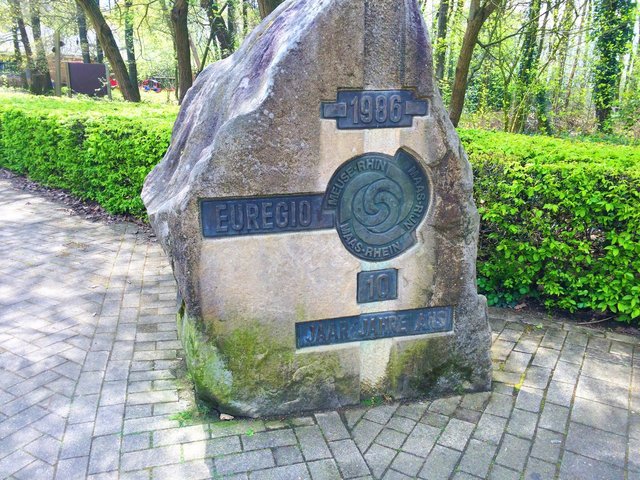 stone, old, architecture, travel, ancient, culture, garden, outside, tourism, landmark, building, summer, traditional, historic, exterior, house, wall, park, vintage, outdoors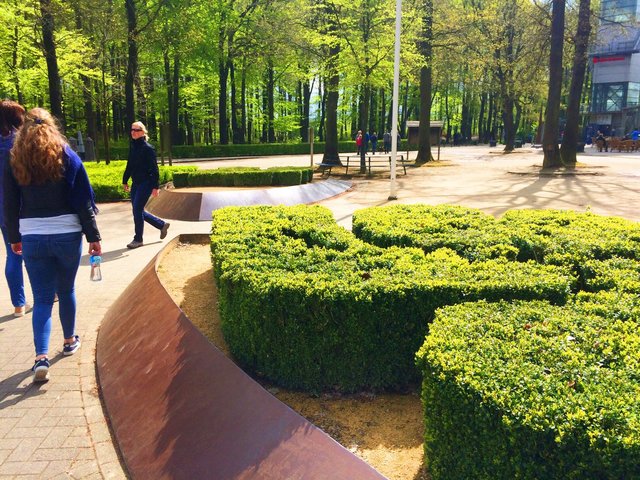 walkway, garden, park, lush, lawn, bush, tree, outdoors, yard, path, environment, bench, flower, daytime, nobody, road, grass, scenic, light, growth
This area has a very famous labyrinth, suitable for people of all ages, that is sure to provide hours of entertainment. If you go up the stairs of the nearby tower, you can see people getting lost in the maze.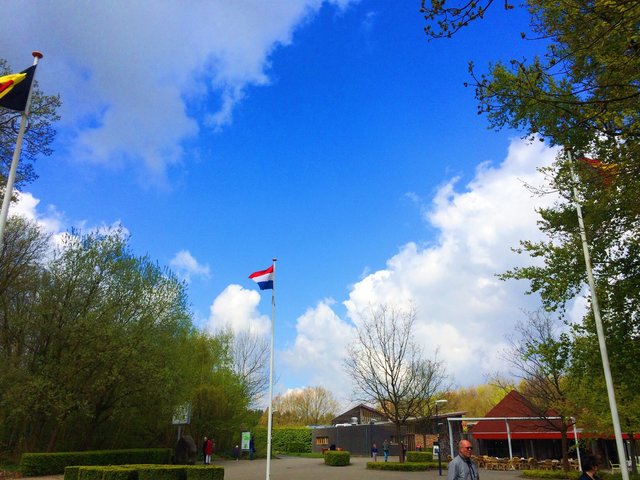 nobody, daytime, outdoors, competition, tree, recreation, leisure, festival, landscape, people, travel, sky, flag, politics, fun, park, fuel, race, kite, action
These flags symbolise the direction in which you can find each of the three countries.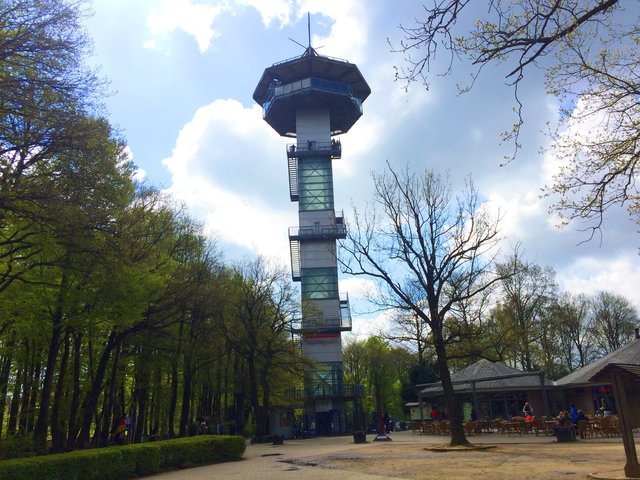 nobody, tree, architecture, building, daytime, outdoors, travel, tower, park, urban, light, sky, city, people, tall, landscape, lighthouse, transportation, politics, industry
Here you can see the main Drielandenpunt tower, for which you also have to purchase an entrance coin once again for 3 euros. The climb to the top is done by stairs (although they do have an elevator) but it is definitely worth it. From the top you can see into Belgium, Germany, and the area of the Netherlands which you were already able to see from the other tower. Both towers are visible from the top of each other.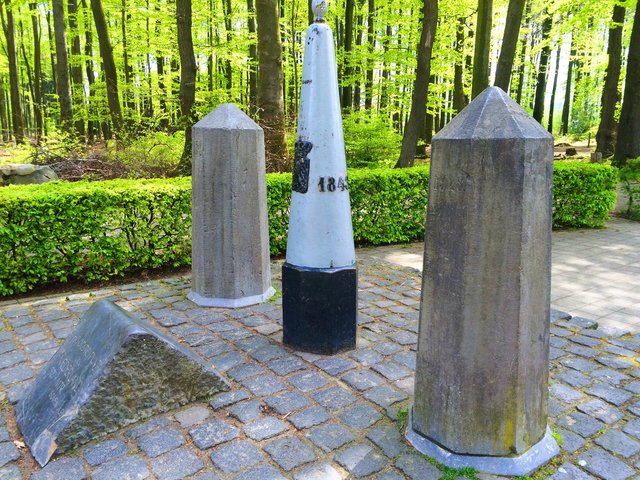 cemetery, outdoors, nobody, grave, garden, stone, memory, tree, path, military, religion, cross, park, travel, summer, landscape, old, house, nature, peace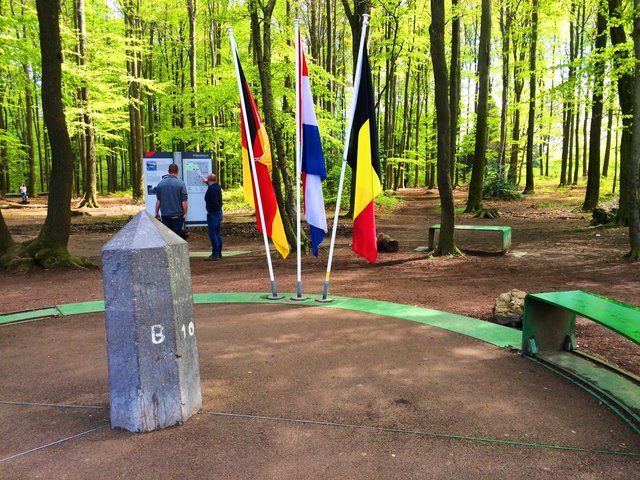 playground, park, environment, people, daytime, city, slide, school, walkway, politics, education, nobody, action, lifestyle, recreation, conflict, road, outdoors, urban, tree
Enjoy your visit to Vaals and have fun stepping from country to country!