For all the travelers who always wanted to give a truly authentic Italian city a go, Bergamo might seem an unexpected and even unusual choice. Founded in the 6th century B.C. by the Celts, and once a part of the Venetian Republic for nearly three centuries, this cozy town sits on top of a lush hill, and is located at the heart of the province of Lombardy in the north of Italy. In fact, it often gets forgotten and passed by by most tourists and travelers on their way to the capital of Lombardy, Milan, which is only 50 km away.
Bergamo's charm and charisma though, is impossible not to notice, and enjoying its diverse architecture of medieval and contemporary buildings of Old- and New Town simultaneously co-existing together in a stunning, contrasting combination, will no doubt bring about even more insight to your trip to Italy.
Take a look at our Top 10 Tourist Attractions in Bergamo and see for yourself what all the excitement is about:
10. Orto Botanico di Bergamo Lorenzo Rota
Orto Botanico, Bergamo's small botanical garden situated on the top of the hill, Colle Aperto, was established in 1979 and became the first Alpine Garden in Lombardy. It not only has over 1200 types of plants, but also offers much needed shade from the hot summer sun after an intense walk around the city, and perhaps, the best panoramic view of this wonderful city and the Alpine foothills.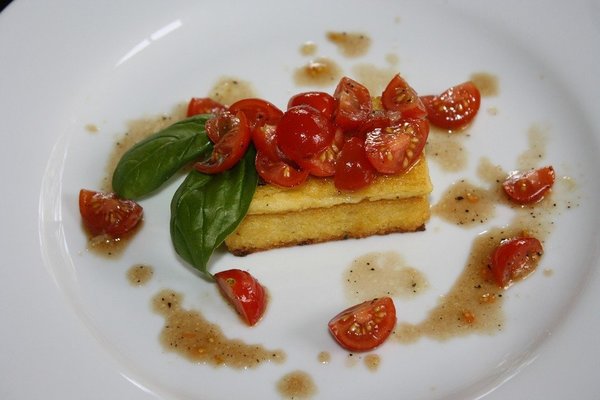 9. Bergamo's Cuisine
Bergamo is home to some of the most unique culinary specialties. Most of the local restaurants and cafes serve traditional buttery beef and veal-based dishes such as Polenta e Uccelli, Polenta Taragna, Polenta e Brasato, Casoncelli alla Bergamasca, and Cuore di Vitello alla Bergamasca.
8. Art Gallery of the Academia Carrara and GAMEC
Academia Carrara is without a doubt the most well known museum in Bergamo. It houses a collection of paintings and sculptures, thoroughly gathered by Giacomo Carrara, a patron of the arts during the 18th century.
The collection contains works by Lorenzo Lotto, Giovanni Battista Moroni, Palma il Vecchio, Jacopo and Giovanni Bellini, and other Italian artists, foreign artists and sculptors.
On the opposite side of the street is located a modern and contemporary art gallery, the Galleria d'Arte Moderna e Contemporanea (GAMEC), founded in 1991. It not only hosts contemporary art exhibitions, but also contains works by famous Italian and foreign artists of the 20th century.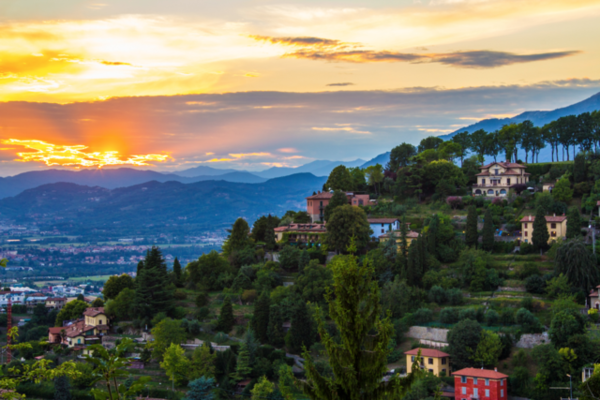 7. Citta Bassa
The newest additions to the town of Bergamo, Citta Bassa, were built in the 18th - 20th century. On the main square, Piazza Matteotti, you can take a look at Piazza Nuova and the impressive Church of Santa Maria Della Grazie. Next to the square, on Sentierone Avenue, is the Teatro Donizetti, a famous opera house that was named after a great Bergamo opera composer, Gaetano Donizetti.
Travelers Tip: Some of the most beautiful churches are located within Citta Bassa. San Bartolomeo, Santo Spirito, and San Bernardino are definitely worth a visit if you are an art lover.
6. Piazza Vecchia
Piazza Vecchia used to be the political and administrative center of Bergamo.
Next to the Palazzo della Ragione you will notice the Palazzo del Podesta – a stunning assembly of Patrician houses built in the 14th to 16th century. To the center of the square is located the Contarini Fountain with its sculptures of white lions. New City Hall, Piazzo Nuovo, is also there – it houses the Angelo Mai Public Library.
5. Palazzo Della Ragione
Palazzo della Ragione (City Hall) was built in 12th century and is considered one of the oldest city halls in Italy. At first its facade was facing towards the Piazza del Duomo, but after a new square (now called Piazza Veccia or Old Square) appeared behind it in the 15th century, it turned the main entrance around to face it instead. The building is elevated above ground level and stands on fascinating Gothic arches. Behind these arches you will notice an 18th century sundial and the entrance to Piazza Vecchia. Nowadays, Palazzo della Ragione, holds exhibitions of its 15th century murals by, Pietro Isabello.
4. The Capella Colleoni and Baptistery
Capella Colleoni, or Colleoli Chapel, is an architectural masterpiece created by, Giovanni Amadeo, in the late 15th century for, Condotierre Bartolomeo Colleoni, and his daughter, Medea.
p>With its columns of carved marble, facades elegantly decorated with multicolored mosaic and sculptures, and gorgeous marble altar and tomb, the Capella will leave anyone breathless.
To the right of it is the Baptistery, a small building of pink marble, adorned with sculptures and an elegant fence. Built in the middle of the 14th century, it was originally assembled inside Santa Maria Maggiore, but in the 19th century was it re-erected on the Piazza del Duomo.
3. The Santa Maria Maggiore Church
One of the first things you will notice as you enter the Piazza del Duomo, (Cathedral Square - historically the main square of Bergamo) is the Santa Maria Maggiore Church (Basilica of St. Mary Major).
Built in 12th century to protect the city from plague, it is now one of the most beautiful basilicas of the city with its impressive Romanesque exterior, canopies, and rich Baroque interior with murals, tapestries, sculptures, and heavily decorated ceiling.
Learn more about this beautiful church from our Top 10 Interesting Facts of Bergamo Article.
2. The Bastion of Bergamo and Citadella
Rocca, the Bastion of Bergamo, and the Citadella were built in the beginning of the 14th century in order to protect the citizens from invasions and control over the territory. Nowadays there is a History Museum in Rocca (Museo del Risorgimento e della Resistenza) and an even more famous, Natural Science and Archeology museum (Museo di Scienze Naturali e Archeologico.) Both of these are situated within the Citadella, and are definitely worth a visit.
Travelers Tips: Walk along the fortress wall and enjoy the amazing views over both the Citta Alta and Citta Bassa from the top of the main tower of Rocca, Torre Civica.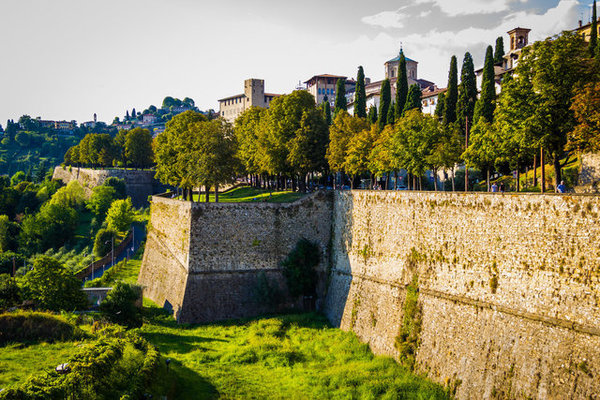 1. Citta Alta
Bergamo consists of two main districts, Citta Alta and Citta Bassa. The upper town, Citta Alta, is situated on top of a steep hill and is connected to Citta Bassa, the newer part of the city that lies at the foot of the hill, with a funicular. Although Citta Bassa has a lot of remarkable and fascinating spots and is worth a walk around, most of its attractions and medieval monuments, cathedrals, and squares are situated in and around the Citta Alta area. Accessing it is quite easy; you can simply take a funicular or climb the hill to start your city tour.
Travellers Tip: Take some time to enjoy the breathtaking views of Bergamo and the Alps from Porta San Agostino and Porta San Giacomo, the former southern and northern city gates. (Ensure you have a good quality camera. Some of the most breathtaking pictures have been taken from these exact spots.)
Overall we did find our visit to Bergamo to be one of a kind. Not only did we learn more about an ancient heritage almost forgotten today, but we came to know another part of Italy, it's culture and people. We walked back in the footsteps of many famous artists, sculptors and musicians that inspired me, my children and friends and made us realize again the importance of following ones heart and doing what we love most in order to live a full life.
This visit to Bergamo brought about in us a broadened perspective of live. "Life is short after all. Spend time with your family and children. Explore places together. It is these experiences they will remember at the end of life, not the expensive gifts we bought them."
Enjoyed this blog? Then you might also enjoy our Top 10 Interesting Facts about Bergamo Blog.
Explore Bergamo with us on our Bergamo walking route. Another suggestion is a walk at San Vigilio Castle.