Almost every time I've travelled or lived in one of the biggest European capitals I've tried to visit the main contemporary art museums in town. Having never been to the US, I cannot describe or write down tips for the Guggenheim or the MoMa, or even brag about the LacMa in Los Angeles. But I've tried to do my best while I am in the old world.
This is no league table, the order is completely random. In some cases I have no doubt which is the most impressive contemporary venue of the country, in other cases I have to mention more than one. Let's take Italy for example, it is a cradle of European art, there are so many great museums about the history of art movements, there are huge collections of genius painters and sculptors of the world where you can admire sheer beauty of a well-chiseled body of David or stand mesmerised by the weird intricacy of Bosch's Garden of Earthly Delights. Yet, Europe also has countless contemporary treasures. The best thing today is that modern museums can be housed in some hyper modern architectural structure or in amazing villas in the countryside, or even, as the one I've chosen, in a castle in the middle of nowhere.
1. S
pain: Museo Nacional Centro de Arte Reina Sofia in Madrid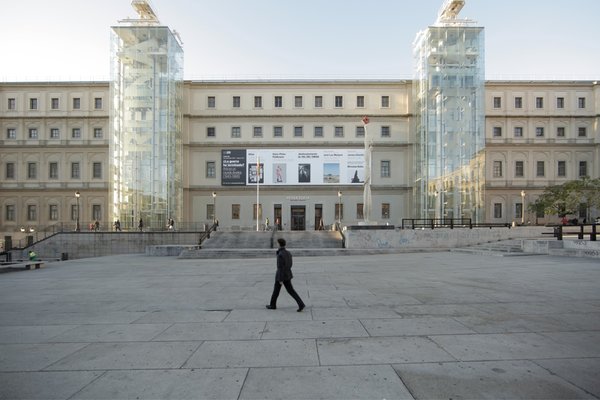 We are in the capital of Spain, talking about the most recent museum of the city, designed by a well-known French architect Jean Nouvel. The museum of course is a national museum as its full name states, so it specializes in the best Spanish art and can boast of an impressive collection of superior works by Dali, Gris, Miró, and Pablo Picasso. Probably the most famous attraction is the huge Guernica by Picasso, which is absolutely forbidden to take pictures of, no camera, no mobile phones, it is also cited by many as the greatest and most influential artwork of the 20th century, and it is seven meters long. Someone may disagree with this first place given to the Reina Sofia if compared to Guggenheim of Bilbao, from the homonymous American family. But the winning point of Madrid museum is that it is crazily diverse, you plunge into completely different atmosphere when you enter from north or west, not to mention the futuristic restaurant and bar called Nubel in honor of the architect, it is simply unmissable.
2. Denmark: Louisiana Museum of Modern Art in Copenaghen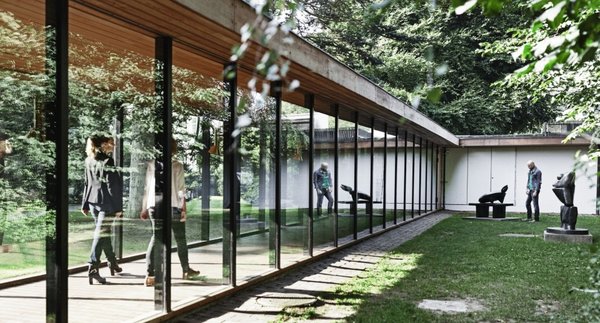 When I went to Copenhagen this year I could have never imagined that I would visit a contemporary museum, located not even in the center of the city. I defined it later as "The most interesting museum of contemporary art I've ever seen".The Louisiana Museum of Modern Art is situated on the coast of 'Øresund in Fredensborg, around 35 kilometres from Copenhagen, less than one hour from the central station. It's the most visited museum in Denmark with a huge collection not limited to their national artists, but also featuring lots of other European masters, among whom is Giacometti, his statues occupy a good place in the museum. Some part of the museum has been developed in a huge building that perfectly interacts with the outside world, with panoramic windows looking right onto the forest, the gardens with the sculpture collection, or even the never ending water horizon. It is considered one of the best architectural examples of harmony between nature, arts and construction.
3. The United Kingdom: Saatchi Gallery in London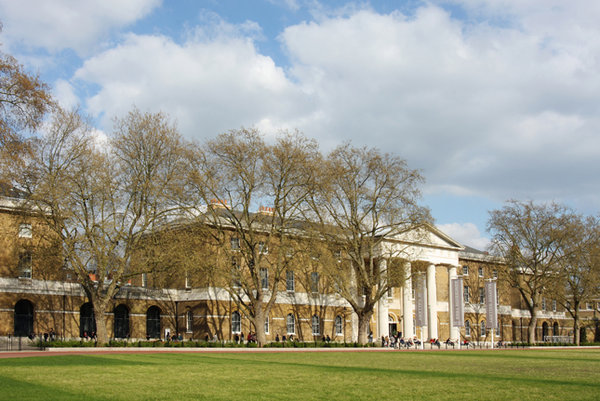 Before visiting Louisiana in Copenhagen, Saatchi Gallery in London used to be my favourite, neither because of its architecture, nor due to the elaborate collection, but definitely because I'd seen the most memorable artwork there.The two works I have in mind are really impressive, very different, they are still on top of my mind, but I don't want to offer spoiler alerts if you have never been there, but trust me, even if Tate Modern is impressive as an art collection and architecture as well, they don't have anything equally compelling as Saatchi. Mister Charles Saatchi opened the gallery in 1985 in order to exhibit his private collection to the public, he is actually considered one of the most important art collectors living. The gallery changed different locations before settling in 2006 in the venue where we find it now, in King's Road. What is surprising about Saatchi gallery is not only the physical or better offline presence, the interesting part is what is called SaatchiArt.com. It is the virtual gallery where artists all over the world can upload their artworks, ranked at among the leading 300 websites in the world. Saatchi Gallery of today brands itself as No.1 Museum on Social Media.
4.France: Centre Georges Pompidou in Paris
Probably one of the most famous museums in Europe, the Centre Georges Pompidou is one of the largest modern art collections you could ever visit, and the building designed by Rogers and Renzo Piano is definitely a landmark in the French capital, just after Louvre Pyramide and the Eiffel Tower. It's modern and coloured but none would ever consider it a strange round peg in a square hole when seeing it splendidly blended in an old belle epoque quartier of Paris centre.
Located in the Beaubourg area, it was conceived by Monsieur Georges Pompidou, a former President of the French Republic between 1969 and 1974, as a cultural milestone and heritage in the heart of Paris, with an incredibly modern multidisciplinary approach, totally dedicated to modern art, with a huge archive space as a public library. This is why a part of the Centre is better known as Public Information Library (BPI). It was inaugurated on the 31st January in 1977 by president Valéry Giscard d'Estaing with Georges Pompidou widow.
Initially, Le Figaro declared "Paris has its own monster, just like the one in Loch Ness", but two decades later, while reporting on Rogers' winning the Pritzker Prize in 2007, The New York Times noted that the design of the Centre "turned the architecture world upside down" and that he "exposed skeleton of brightly coloured tubes for mechanical systems" He actually had functional structural elements of the building colour-coded: green pipes are plumbing, blue ducts for climate control, electrical wires were yellow, and devices for safety (e.g., fire extinguishers) were red. The museum was renovated and radically reconstructed in the late 90s, it reopened exactly for the new millennium, on the 1st January 2000.
The collection of the museum covers French artists Miró, Chagall, Matisse and many other Europeans, such as Picasso, Klee, Gotard, Cocteau, Hockney, and Kandinsky.
5. Italia: Castello di Rivoli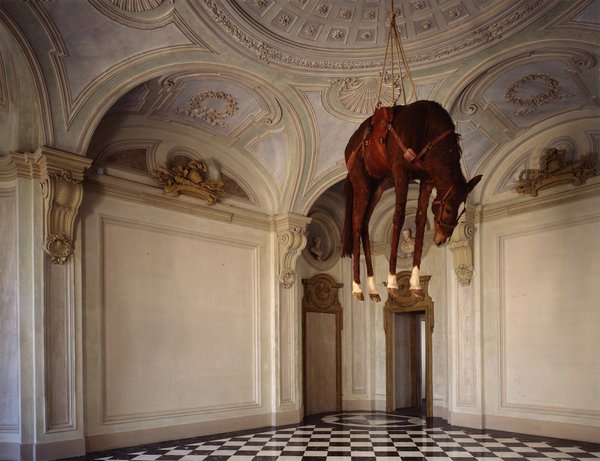 Now, as mentioned in the first paragraph my last (or first) choice is not Milan or Rome, not even Venice with Peggy Guggenheim collection. The truth is that even though a lot of cities in Italy have their powerful contemporary collections, their museums, galleries and fairs, personally to me the best research is done by Fondazione Trussardi and Massimilano Gioni as a curator. (Un)fortunately, they don't have a fixed location, which is great because every exhibition is site specific for a new building that they usually restore after the exhibition. But, if not considering Fondazione Trussardi and the Venice Biennale which is not a museum but a biennial exhibition with worldwide artists, my answer is: Castello di Rivoli.
It is very close to Piedmont capital Turin, a contemporary museum inside a castle which in itself is a World Heritage. This is a real contemporary collection with controversial works of art (like Maurizio Cattelan in the picture) and video art that might not be easily understood, or better say easily misunderstood. Similarly to Reina Sofia, another great reason to visit Rivoli, is to try the stellar cuisine of Mister Scabin in the Combal. Zero restaurant, as one of the few Michelin awarded in Italy.