One of the most scenic trips we undertook in South Africa was a rather unplanned accident. After our visit to the
Cango Caves
, we found ourselves scanning our GPS for a recommended route that didn't involve going back the same way. (We travelled via the N12 from George to the
Cango Caves
.
We wanted something a little different, the route less travelled so to speak, yet, with consideration that we only had a small, Fiat Picante to make the journey with. As such, we found a route (R328) leading through the Swartberg Mountains, starting from the Cango Caves and ending on the other side at Prince Albert.
From the GPS we noticed we would have to travel via a gravel road, which at first had us reconsider since we were a little cautious and thought our car would probably not be able to make the journey. Luckily for us, we threw caution to the wind, especially since a detour to Prince Albert would take longer if we had to drive around the mountains.
The route on the R328 through the Swartberg Mountain Range is absolutely stunning and worthwhile! I would recommend it to any avid traveller, especially those who have already completed most of the recommended tourist destinations in South Africa, and is in search of a new natural marvel to explore.
Swartberg Pass is 27 kilometres in length, and consists of a gravel road (R328) with some dangerously sharp switchbacks, starting from either the Cango Caves if you are driving from George through Oudtshoorn, or alternatively, from Prince Albert in the Central Karoo, towards Oudtshoorn in the East.
The road through the pass was built by the famous road builder, Thomas Bain, whose father was Andrew Bain, also a well-known road builder who built the Bainskloof Pass in the Western Cape. Construction on the Swarberg Pass started in November 1888, with an original tender amount of £18,120. Building conditions were severe, especially in winter since most of the pass was built by hand by Bain and a team of about 250 convicts. A dry-wall method of construction was used to build strong retaining walls.

The pass was officially opened and commissioned on 10 January 1880, by F.X. Schermbrucker, Commissioner of Crown Land, and his wife Gertrude, who broke a bottle of Champaign in front of an audience of 500, which included the press. There was even a 21-gun shot salute!
THE BEST TIME TO VISIT THE SWARTBERG MOUNTAIN RANGE
This really depends on your budget and tour objectives. The Swartberg Mountain Pass is beautiful no matter the season, and can be enjoyed at any time of the year. If you are although on a budget, consider the following: 
If you enjoy peak-season: September to February
If you enjoy off-peak season: April to August (autumn - winter) or September – October (spring).
Top Tip
: Try to avoid the busy South African holiday season during Easter and Christmas (December) when accommodation is at its costliest.
MOUNTAIN FACT FILE
Location Info
Continent: Africa
Country: South Africa
Province: Western Cape Provence
Coordinates: GPS at the start; S33.282333 E22.052567 GPS at the summit S33.352335 E22.046130 GPS at the end S33.391758 E22.109058.
Height: 1,583 Meters
Range:
The mountain range consists of the Smaller Swartberg and the Greater Swartberg Mountain Range.
RECOMMENDED ROUTES
1. Route: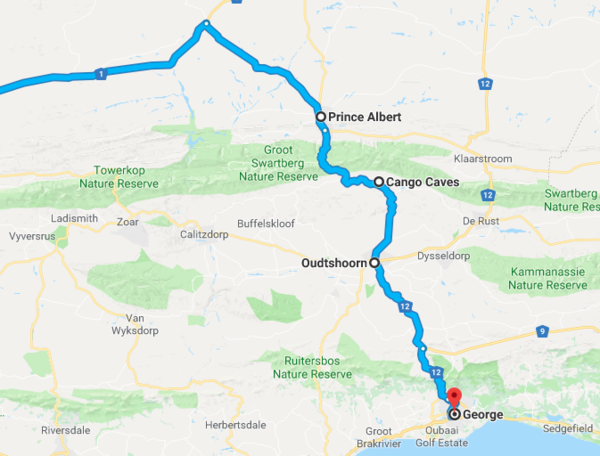 Follow the N1 from Cape Town to Prince Albert. From there, take the R328 to Oudtshoorn, which will take you through the pass and into the mountain range.
Or
2. Route: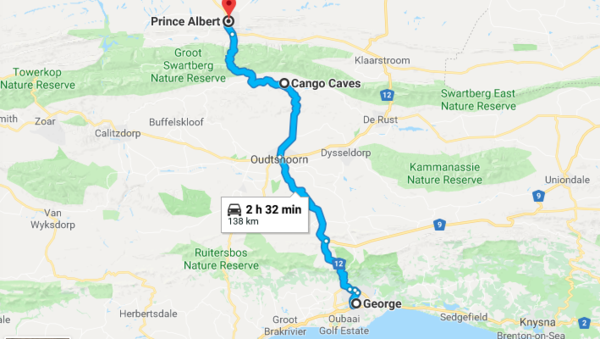 Follow the N12 from George to Oudtshoorn, and then to the Cango Caves and continue on the R328 through the pass to Prince Albert.
INTERESTING FACT
The nearby Swartberg Nature Reserve was declared a UNESCO world heritage site in 2004.
NATURE INFO
The route is a scenic one as it meanders upwards to the summit. From Prince Albert, Fynbos and Proteas can be viewed in abundance. The best views of these are in late winter and early spring (August to October). Just in the first 4-kilometer., expect to cross three rivers. The views are stunning!

The route consists of some dangerous S-bends that will require careful driving to take you to any of four exit routes. But beware; the route is probably not recommended for a person with a fear of heights.

There is a lot to see en-route, including the ruins of Blikstasie (Tin Station). This was where the prisoners that built the road were housed. Another sight to behold is the so-called Wall of Fire. The name was based on the red colour of the geological rock formation, Down Mullerskloof; visitors will be able to view the underground tunnels built to disperse floodwater. While this was a piece of engineering genius by Thomas Bain in the 1880's, it was not enough to stop a devastating flood in 2017. The route was however, carefully rebuilt to the old Bain standard.
SWARTBERG MOUNTAIN PASS NAME AND ORIGIN
One would imagine that the pass would have been named in honour of an important official or the builder. However, one must remember that the Bainskloof Pass was named in honour of Andrew Bain, the young Thomas's father; that ruled a second Bain related name out.

The idea for building a mountain road originated from a petition to the Cape government by the magistrate of Prince Albert, a gentleman called Rainer. Apart from his name, the names of Luttig, an assistant road builder, and Victoria Pass, in honour of the British throne were considered. The local town council of Prince Albert, however, settled on calling it the Swartberg Pass.

The name 'Swartberg' is due to the mountains 'trademark' dark rock formations, and is a word that means 'Black Mountain' in the Afrikaans language.
SWARTBERG MOUNTAIN GEOLOGY AND FORMATION
Geographically the mountain range, spanning some 230-kilometers, forms part of the Cape Fold belt. Starting from the west, visitors will find the Smaller Swartberg Mountain, ironically with the highest peak at 2300 meters, and then when traveling in an easterly direction, the Greater Swartberg Mountain. The Swartberg Pass is located in Greater Swartberg Mountain  and forms a kind of natural divide between the Great Karoo and the semi-arid Little Karoo.
The highest peak is called Seven Weeks Gorge Peak (translated from Afrikaans). The mountain range is also known for one of the great natural wonders of the world, namely the
Cango Caves
, situated close to the town of Oudtshoorn. This is the biggest cave system in Africa and dates from the Early Stone Age. The rock formations are unique and  one of the must see locations on a visit to South Africa.
CLIMBING OR HIKING IN THE SWARTBERG MOUNTAIN
For those that have a feel for adventure or just a wander lust, Swarberg is the place to be. Should you wish to hike / climb Swarberg, please consider doing it only with a guide, and start trekking early morning. The cliffs are steep and the hike quite strenuous and long up to the summit if not hiking by road.

There are hiking trails that will tax event the best hikers, and others that are more or less visitor friendly. Hiking is not recommended in the colder, snowy winter months.
HIKING TRAILS ON SWARTBERG MOUNTAIN
1. SWARTBERG HIKING TRAIL

This is the most popular one for hikers and covers a distance of about 26 km over two days. That means you will have to take your sleeping bag!

But be careful; it's a walk with breath-taking views that will leave you astounded, yet, its not an easy trek for beginners or even intermediate level hikers. If you are not walking fit, its advisable to try a shorter day trip.

Important: Hikers will need a permit from Cape Nature Conservation to undertake any trips. There's a limit of 30 people per trip, with everyone required to carry their own water and belongings.

The Mountain flora is impressive. Proteas and lesser known plants are in abundance. Snakes and colourful lizards will keep you on your toes. You may also be lucky enough to spot some of the rare bird species, such as the Booted Eagle and the Cape Eagle Owl.
2. THE CANGO CAVES
The caves are one of the exit points of the Swarberg Hiking trails and a must-see. The caves have been an attraction since the 1800's. In 1820, Lord Charles Somerset, Governor of the Cape Colony, issued the first regulations to preserve the site. This was prompted by visitors breaking stalactites and writing their names on the walls.
Important
: The tour is not suitable for those suffering from claustrophobia or back ailments.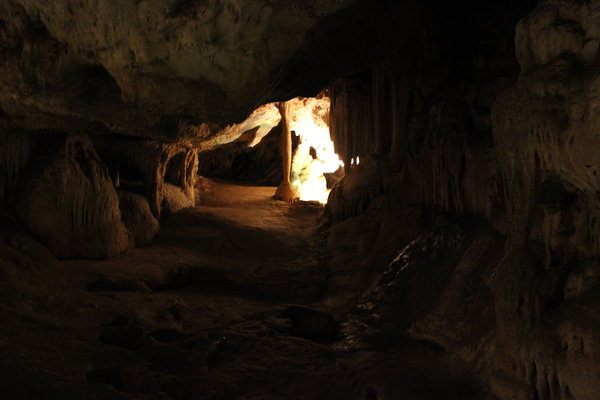 3. GAMKABERG OR TIERKLOOF HIKING TRAIL

This moderate trail is 27-kilometres in length with areas that can be difficult to hike for beginner level hikers.

The trail goes through the Gamkaberg Nature Reserve, with its splendid flora, forested ravines, song birds and Black Eagles.

Important: A hiking permit from Cape Nature Conservation is required.
4. MEERKAT ADVENTURES

A short hiking tour that lasts between 2 and 3 hours. (Booking is essential.) Hikers will be accompanied by a tour guide, and issued with a lightweight aluminium chair to sit on while observing the meerkat escapades.

Important: Feeding the meerkats is not allowed.
5. THE SPEKBOOM TRAIL

Spekboom Trail is one of five short day trails that offers comfortable routes of about 1.3 km into the Gamkaberg Nature Reserve. The trail goes through Karoo and evergreen forest areas.
6. OU TOL HIKING TRAIL

A moderate 4-hour hiking trail of about 8-kilometer, clearly marked with white footprints. The trail starts from the Ou Tol Hut, and leads past a weather station to the top of the Swartberg Pass, offering splendid views.
REFUGES OR MOUNTAIN HUTS NEARBY OR ON THE SWARTBERG HIKING TRAILS
Ou Tol Mountain Hut

is the starting point of the Ou Tol Hiking Trail and, unless arriving late, you won't need it for a day trip - just maybe for fire and a coffee. Visitors doing the full trip can use it to overnight, and will enjoy its' cosy fireplace for those cold evenings in the Swarberge. The distance from Botha's Hoek to Ou Tol is 12.8 Km.
GPS: S33°20'49.7" E22°02'23.4"
GOUE KRANS HIKERS HUT

The hut is set in splendid scenery close to a waterfall. It can bunk about 30 people, with outdoor toilets and showers.
GPS: S33°19'09.7" E 22°14'20.6"
BOTHA'S HOEK MOUNTAIN HUT

Part of the Swartberg trail, it's about 13.4 km down the trail and equipped with cold showers, flush toilets and 30 bunk beds. But beware, there is no hot food! Fires is also prohibited.
GPS: S33°20'05.3" E22°07'30.3"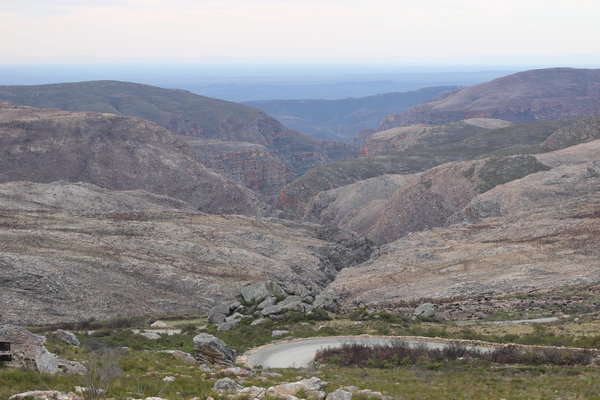 OUR TOP TIPS FOR CLIMBING OR HIKING SWARTBERG MOUNTAIN
Trekking the Swarberg mountains require some basics. Ensure that you have at least standard hiking gear and know that you will need to carry your own hiking gear, sleeping bag, water and the like, for at least 27-kilometres.

Some of the essentials are listed below:
HIKING SHOES
Well-worn shoes that you are comfortable with works best. There's nothing worse than trying to walk a long hiking trail with blistered feet.

TIP: Cut off the feet area of your wife or girlfriend's silk stockings and insert them in your socks.

The Swartberg route has 11 different snake species, so it's better to wear hiking books to be safe.
WATER BOTTLE
Dehydration is always a danger. Take along a decent strap-on water bottle. Take regular sips and make sure you fill it up at safe water points. If you are hiking with a tour guide, he will ensure that you get to clean refill points. Never be with an empty bottle. Taking along a packet of water purifying tablets may just keep you out of trouble.
SUNSCREEN
Nights are cold in the Swarberg, while the sun can be blistering hot during day time in the summer months.
JACKET
Take along a waterproof jacket that will also double as a warm jacket on those cold nights. A waterproof jacket is especially helpful in the mountain area, where rain and cold seems to always meet you halfway and when you least expect it.
SLEEPING BAG
A must for the 1 to 2-day overnight hikes as sleeping under the 'stars' is only fun until about 1am. It does get cold on the mountain, even if it is hot in day time.

For longer trips, a small tent will be an advantage.

TIP: Shake out the tent before getting in. Spiders and scorpions may be avid seekers of a warmer location for the night as well. ☺
FIRST-AID KIT
Check that your kit is complete and that the stocks haven't expired. Swartberg has some 11 snake species. Ask the local chemist or Cape Nature Conservation for the recommended serum.
SUNGLASSES
Not critical, but nice to have if your hike takes you walking into the sun. Go for practical sunglasses, not fancy ones.
MATCHES AND/OR A LIGHTER Essential, pack them in a waterproof container just in case you need them in emergency situations. If you are not strong on making a fire, a packet of firelighters (Fire starters) might help.

Important: But remember that much of the Swartberg is a no-fire zone. Fires are only allowed in designated mountain huts or where indicated.
KNIFE TOOLSET
A must-have, even for day trippers. A multi-tool knife, such as a Swiss Army Knife will be very handy. If you can afford a decent survival knife, certainly, take it along.
FOOD
Inquire from hiking guide what to take with you.
FLASHLIGHT WITH EXTRA BATTERIES
Day trippers will seldom need it, but on a dark night you will be pleased that you brought it. At night it can be a signalling tool as well.
THE TOP 3 LEGENDS AND SECRETS ABOUT SWARTBERG MOUNTAINS
The most famous legend is that of Towerkop (Translated: Bewitching Peak). This peak is located just outside the Klein Karoo town of Ladismith. If legend can be believed, the peak was split by a bolt off lightening due to a witches spell.

The most famous ghost of the Swartberg area is the ghost in Prince Albert's, Fransie Pienaar Museum. A visit the two "ghost" rooms is said to leave visitors with goosebumps. If it's your lucky day, you may meet a young girl in white. She was apparently the niece of the Haak family, and killed in a car accident just before her wedding day. In the other room you might catch someone opening and closing a window that was never opened before.

The ghost of Chrisjan Swanepoel, with his cold presence, is said to wander in the Swartberg mountains. At night, sleep with an eye open and with your flashlight close by! It is said Chrisjan will stay away at the sight of light.

In the town of Prince Albert, ask for Ailsa Tudhope. She is said to introduce visitors to the local ghosts, and take the brave at heart to a graveyard without a name!
RELATED BLOGS
RECOMMENDED TRAVEL APP
To make the most of your trip to Swartberg Mountain, install the below app to conveniently measure the height of peaks in the surrounding area.
PEAKVISOR
Happy Travels!