iNanda Mountain, relatively unexplored and unknown, is found 30 - 45 minutes from Durban and provides some of the best views over iNanda Dam. iNanda Dam in turn provides ample opportunities for watersport enthusiasts, nature lovers, or families seeking to enjoy a day trip, picnic, bike riding, photography, and/or bird watching.

"In late spring and early summer, the frequent mists make this dam a photographer's dream." - GERRY BRUTON

Take along a picnic basket, put on some hiking shoes, and head out of Durban to enjoy a day trip suitable to the whole family.
RECOMMENDED – MAKE IT A DAY TRIP!
It is entirely possible to complete a day trip to iNanda Dam by firstly visiting
Phezulu Safari Park
early in the morning. We did this on our recent trip, and found that we were able to easily manage a trip from Durban to Phezulu Safari Park (hyperlink), and then travel along a nice scenic route back to Durban North. (Find details later on in this blog explaining our recommended route.)
THE BEST TIME TO VISIT INANDA MOUNTAIN
Late September to early April.
Open year round: 06:00 - 18:00
PHEZULU SAFARI PARK-INANDA DAM - DAY TRIP ROUTE DETAILS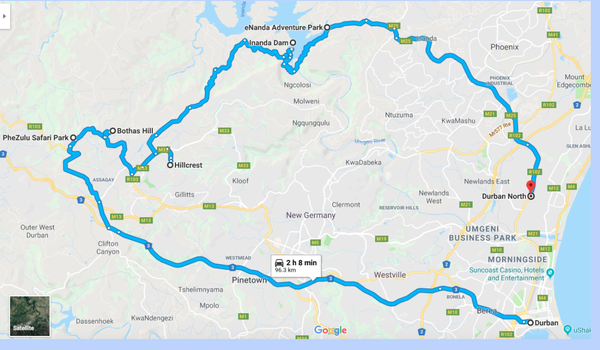 Add the following 'destinations to your GPS:
Durban, Phezulu Safari Park, Bothas Hill, Inanda Dam, eNanda Adventure Park, Durban North.
DURBAN – Head out on the N3 and continue to Phezulu Safari Park if you are going to include the park as part of your day trip. Follow our Short Travel Guide to Phezulu Safari Park for more info.
PHEZULU SAFARI PARK – It takes around 2 – 3 hours to explore the park, which includes a Zulu dance show and visit to the reptile park. (Excludes safari drive.)
R103 – From Phezulu Safari Park, continue on the R103 to Bothas Hill, then turn left onto the M33 to Hillcrest, but before reaching Hillcrest, turn left onto the Blessing Ninela Road. Continue as per GPS instructions from here to the first viewing point at iNanda Dam.
M25 ROUTE - For those wishing to explore the local area and scenery, from the first viewing point at iNanda Dam, follow 'the road less traveled' by tourists by taking the M25 back to Durban. This route goes through various local villages, and over many steep hills. A 4x4 is, however, not needed. We completed the route with a small car, though there are areas where one can only drive around 20kph due to the steepness of the hills. Since this route is more remote, we recommend only traveling through here in daylight hours, since it might be unsafe at night time. Should you still be in-and-around iNanda Dam by 4 – 5pm, it's better to take the route back to Hillcrest and then Durban for safety reasons.
iNANDA MOUNTAIN FACT FILE
Location Info
Continent:  Africa
Country:  South Africa
Province:  KwaZulu Natal
Location:  It is more or less a 50 km drive from Durban Central, depending on traffic.
Coordinates:  -29.61667° S 30.93333° E
Height:  470 m (1,542 ft)
Prominence:  99 m (325 ft)
Range:  Drakensberg
OTHER NATURE INFO:
Bird watching, photography and picnicking is a favorite pastime at iNanda Dam and mountain. Many visitors report sighting of birds of prey stoop down, catch their meal and then fly back up along the rock face right in front of them. Photographers can capture these exploits by taking along a lens of at least 70-300mm (55-250mm can also work, but might not be sufficient for close-ups); a telephoto lens of 150-600mm would be more advisable for serious photographers.

A minimum of 66 bird species have been recorded at iNanda Dam. The mountain in turn has been declared a cultural heritage site, with a reforestation project started here by the Thekwini Municipality.

iNanda Dam, which also lies within the Valley of a Thousand Hills, is of itself an earth-fill dam built in 1989, and is situated in the Mgeni River.

Discover the Valley of a Thousand Hills.
INANDA MOUNTAIN GEOLOGY AND FORMATION
iNanda Mountain is part of the Drakensberg range. Its underlying geology is composed of Ordovician Natal Sandstone.
OTHER ACTIVITIES:
WATER ACTIVITIES: iNanda Dam offers water-skiing and power-boating opportunities within the beautiful setting of the Valley of a Thousand Hills (hyperlink). If that seems a little too much, or too little, there is also an area set out for jet skiing, or visitors can rent a canoe for two and paddle away into the sunset.
CANOE MARATHON: From 15th to 17th February each year, join the famous Dusi Canoe Marathon.
CLIMBING OR HIKING INANDA MOUNTAIN
There are no official hiking trails or refuges on iNanda Mountain, but visitors are welcome to climb, enjoy the view or bring their family for a picnic.
BAC Aviation
provide helicopter trips in-and-around the area. Visitors can find these trips advertised as
iNanda Mountain Picnic with BAC
. Each trip can last anything from 30 minutes to 2 hours, depending on the chosen excursion package.
Biking enthusiasts can enjoy a 90 km mountain bike trail. But beware; there are many steep hills along the way.
OUR TOP TIPS FOR CLIMBING OR HIKING INANDA MOUNTAIN
Hiking / Walking Gear – Comfortable hiking / walking shoes, a hat, sunscreen and long-trouser pants since the vegetation can be quite harsh on bare legs.
Water – Water is always a must. Take at least 1l per person.
Picnic Gear – Pack as desired.
Mountain bike – For biking enthusiasts taking on the 90km route.
IN CONCLUSION
iNanda Mountain and iNanda Dam is a good spot for the whole family, and offers various activities to enjoy and explore. Recommended for those seeking time away from busy city life, or photographers looking for new material and subjects.
RELATED BLOGS
RECOMMENDED TRAVEL APP
To make the most of your trip to iNanda mountain, install the below app to conveniently measure the height of peaks in the surrounding area.
PEAKVISOR
From the Routes.Tips Team,
Happy Travels!