This past week, on December 5th, Dutch families celebrated their yearly Sinterklaasavond which can be roughly translated to St. Nicholas Night. However, their "Sinterklaas" or Santa is not the same as the more commonly known Santa Claus. Whilst most of the characteristics are similar (red clothing, white beard, cheerful disposition and a belly) he has a hat with a cross like can be seen in the pictures instead of the usual Santa hat, and his history is also quite different. The Dutch do not get a day off on December 5th as this night is typically known to be just for children, and instead they get days off on the 25th and 26th of December, also celebrating the most commonly known Christmas days. Basically, they get Christmas times two (lucky right)? Their Sinterklaas tradition can be quite different to outsiders, so let us give you a sneak peak of what to expect, and tell you about some controversies which this Dutch tradition has actually brought about.
Unlike many other children all over the world, most Dutch children anticipate December 5th more than December 25th because it is the day that their beloved St. Nicholas (Sinterklaas) brings them their presents at night. But before that actual night, Dutch children get to enjoy the arrival of Sinterklaaas on the second Saturday of each November. Each city or town typically organises on event (when possible, near a canal or a small boat port) in which Sinterklaas arrives on a boat with his servants, the Zwarte Pieten (or Black Peters). Children and their parents flock over to these events anxiously to watch their beloved Sinterklaas arrive and they get to interact with the Zwarte Pieten and enjoy some traditional pastries, and most children will dress up as Zwarte Pieten with colourful hats and outfits and smear some black face paint on their faces. The tradition goes that Sinterklaas actually lives in Madrid, Spain, and that every year he chooses a new harbour to arrive at (even though the event takes place simultaneously in almost every town or city) and church bells will ring and celebrate the arrival.
Instead of the typical elves, Dutch children are told that it is the Zwart Pieten that keep track of their behaviour over the past year in a big book. If they behave they get presents, and if they misbehave they are told they will be taken back to Spain on a boat for a year to learn how to be good children.

Sinterklaas and his Zwarte Pieten stay around until the 5th of December, and throughout these weeks children leave out their shoes in hopes of receiving small presents (sometimes chocolate coins, typical Dutch cookies, or other small gifts). The biggest supermarket chain in the Netherlands, Albert Heijn, also creates designated spaces for children to leave one shoe and come back to a small treat. It is typical that on the 5th of December, Sinterklaasavond, the parents organise treasure hunt games with riddles and poems until the children find a bag of presents which they are told was delivered by Sinterklaas.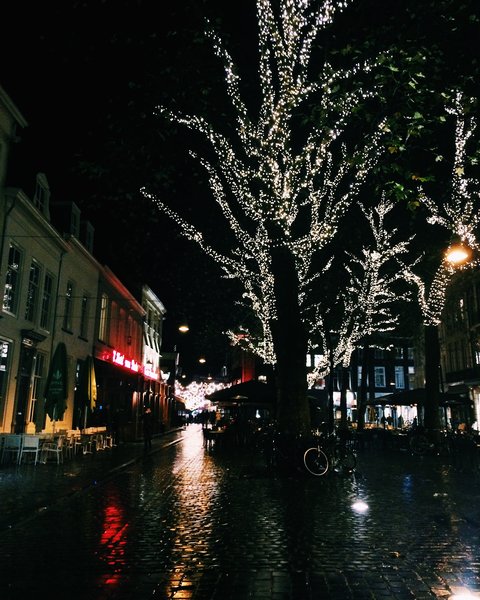 Having experienced this beautiful tradition for the first time this year myself, I will say that it is quite heartbreaking to hear about the controversies that this wonderful tradition has brought about. More specifically, some people criticise the colour of the Peters (black) because of their association to slaves, and claim that their colour should be changed. Whilst it is not untrue that their origin may have been related, children do not see colour or associate the Zwarte Pieten to slaves. Instead, they see in them what many other children see in the pointy-eared elves; the kind characters which bring them their presents, sing them songs, and play with them. To change their colour would change the long-loved and well-known tradition to many Dutch children, and I believe this situation is being over analysed by adults who are kindly trying to be politically correct, but nevertheless should recognise the innocence behind such a gentle tradition. Actually, many children will tell you that they are scared of the Sinterklaas (as he is a big old scary man which they are told might take them back to Spain if they misbehave) and it is the Zwarte Pieten they look forward to for cerebrating this holiday. Usually, children stop believing in this tradition at around 10 years old, but most families will actually keep sharing gifts on this evening. Instead of celebrating twice in a month (December 25th), most families choose a date and alternate each year after the children are old enough to stop believing in Sinterklaas.

What do you think about this tradition? Do you think the Zwarte Pieten should be changed, or that for the sake of this tradition this factor should be overlooked? Let us know in the comments below and enjoy this holiday season!
Want to find out more? Check out Stuff Dutch People Like
here
.
Would you like to explore the places in which I enjoyed this year's Sinterklaasavond? Then check out the routes below: