This article is part of the Traveling South Africa: East to West Series.
If you were dreaming of doing some adventure activities in South Africa, it will no doubts lead to exciting finds beyond any expectations. The Cango Caves, as known as one of the greatest natural wonders in the world, are located in the Karoo plateau in Swartberg, only 28 km North from Outdshoorn. A contrasting small town in a desert called the, Klein Karoo, next to lush shore regions. For the last 200 years and up to this day, the Cango Caves have been the first and one of the most exciting attractions in South Africa.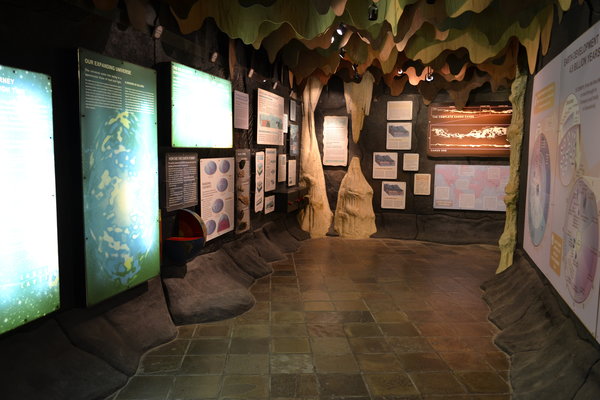 The Visitors Centre. Cango Caves, South Africa. (Photo Credit: PH Parsons)
STATISTICS - CANGO CAVES
The Cango Caves were inhabited since the Early Stone Age, which makes them about 20 million years old and the oldest tourist attraction in South Africa.

Impressive limestone and dripstone formations developed from calcite under the influence of water in pitch darkness, for more than 150.000 years – their unique shape is a result of faulting.

The Cango Caves consist of three main areas – Cango 1, Cango 2 and Cango 3 – extending for more than 4 km. (Although, only a 1.5 km route is available to visitors.) • The Cango Caves were discovered by accident in 1780 and became a tourist attraction in 1820.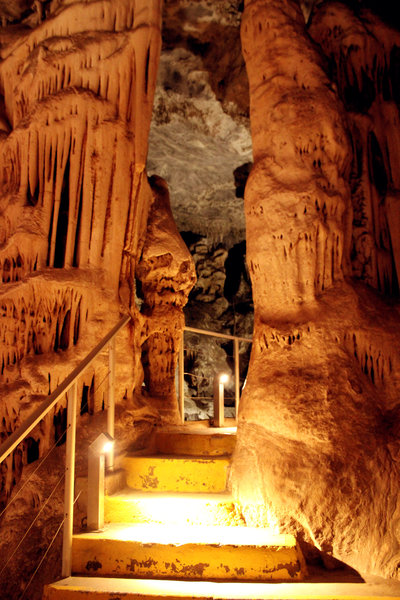 Inside the Cango Caves, South Africa. (Photo Credit: Rakesh Nagda)
WHAT TO SEE AT THE CANGO CAVES (SOUTH AFRICA)
You can choose one of two guided tours. The standard one (Heritage Tour) with 6 main chambers, halls and rooms takes about 50 to 60 minutes. But if you are up for a challenge, choose a more exciting, yet far more complicated adventure tour (The Adventure Tour) that takes 90 minutes. Although only Cango 1 is open to tourists, are there plenty of sites to see.
Van Zyl's Hall contains, perhaps, the main attraction – the impressive dripstone Cleopatra's Needle measuring 9 meters. You will discover at all kinds of peculiar shapes of formations, marvel at stalagmites at Rainbow Chamber and crystals and helictites in the Fairyland Chamber. Encounter a Pisa Tower shaped rock at Botha's Hall and stunning carvings in stalagmites at Lot's Chamber.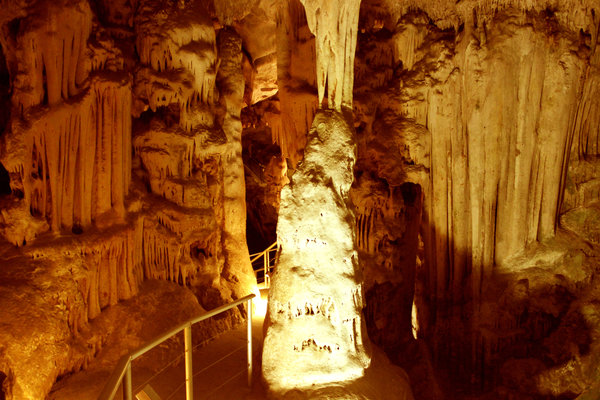 Inside Van Zyl's Hall at the Cango Caves, South Africa. (Photo Credit: Rakesh Nagda)

WHAT TO DO AT THE CANGO CAVES (SOUTH AFRICA)
After the tour you can do some shopping at the gift shop to purchase some African souvenirs, or have a tour at the interactive and educational center for a fascinating exposition on the history and creation of the Cango Caves complex in detail. As well, you can watch a movie about Cango 2, which is not open for the public, in the Auditorium center.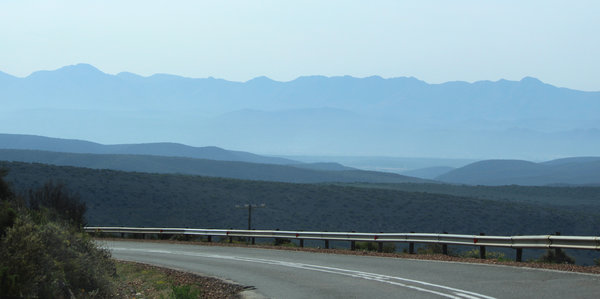 On the way to Cango Caves, South Africa. (Photo Credit: Rakesh Nagda)
HOW TO GET TO THE CANGO CAVES
There are two ways to get to the Cango Caves:
Rent a Car - Rent a car in Outdshoorn if you prefer to be flexible in your journey.
Bus - If you are traveling with a big organized company or your family, perhaps, taking a bus tour would be an optimal option.
TOP 5 PLACES TO EAT NEAR THE CANGO CAVES
After the tour you can have a meal at a restaurant at the Cango Caves complex and try delicious South African ostrich specialty dishes. There are lots of great places in Oudtshoorn as well. Check out sophisticated
Nostalgie Restaurant
for national South African food and Moroccan lamb, ostrich steaks and salmon. Visit
Buffelsdrift Game Lodge Restaurant
at lunch or dinner for a stunning view. If you are into Italian cuisine, pay Bello Cibo Restaurant a visit: there are also a lot of great vegetarian options available.
Karoopot Restaurant
offers a variety of delicious traditional local seafood meals. If you are a coffee lover, make sure to get a cup or two in the best coffee place in town –
Beans About Coffee
.
TOP 5 PLACES TO STAY WHEN VISITING THE CANGO CAVES
HOW TO GET AROUND ON A VISIT TO THE CANGO CAVES
The Cango Caves are located just 28 km from Outdshoorn. There is George airport 50 km from Outdshoorn that has a regular connection with Cape Town and other cities.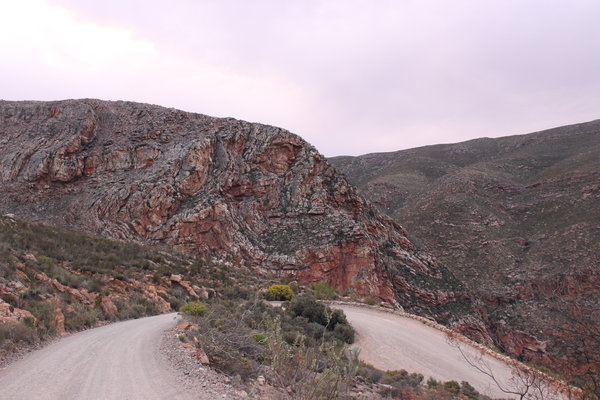 The Swartberg Pass is an absolutely fantastic self-drive experience. Swartberg Pass, South Africa. (Photo Credit: Rakesh Nagda)
TOP 5 ATTRACTIONS CLOSE TO THE CANGO CAVES
Outdshoorn is known as a major center of ostrich industry in South Africa. After the visit to the underground kingdom of the Cango Caves you can spend some time in wild, natural surroundings, for example, Safari Ostrich Show Farm, Meerkat Farm, Cango Ostrich and Butterfly Farm or Wildlife Ranch where you would enjoy the company of ostriches as well as lions, leopards, jaguars, crocodiles and flamingos.
Another major attraction to do after you have explored Outdshoorn and the Cango Caves, is to take the road less traveled, and take yourself on a self-drive adventure of a lifetime through the gravel roads of the
Swartberg Pass
.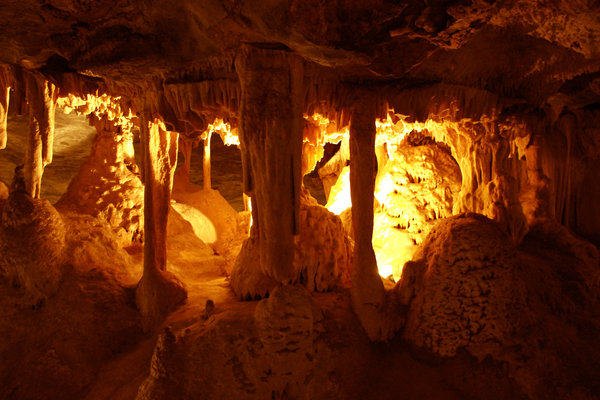 Cango Caves, South Africa. (Photo Credit: Rakesh Nagda)
TOP 5 FACTS ABOUT THE CANGO CAVES
The legend tells that the Cango Caves were discovered under curious circumstances. In 1780 local shepherd, Van Zyl, was looking for a lost sheep and stumbled upon a deep hole that turned out to be an entrance to the cave.
When explorers entered the caves, they discovered old rock art paintings on the walls, and while descending into a hole with a rope and went ahead with a candle, they couldn't find neither wall nor bottom: that is why the villagers believed that they found the entrance to hell.
In 1950's exploration expeditions continued. In 1972 two speleologists managed to get through a crack that covered the further rooms of the cave and were in for a magnificent discovery: rooms more than 300 m long, arches and even more caves.
In the 19th century the entrance to the Caves was barely guarded, so a lot of stalactites and stalagmites were ruined by visitors, not mentioning tagging on the walls. In 1820, Governmer Charles Somerset established rules and a fixed entrance fee.
A lot of breakthrough discoveries were made by Johnnie van Wassenaar, who worked at the Caves for 43 years and explored a few new tunnels and side rooms. According to the legend, he got inside the cave 25km deep, but it was never proved neither true nor false.
The Cango Caves are one of the most popular tourist attractions in South Africa for a reason – this outlandish creation of nature will certainly win your heart and make you want to get back over and over again. Bring your loved ones on this fascinating journey full of adventures and discoveries! (Insert image with caption here.)
ADDITIONAL INFORMATION
The Cango Caves are open every day expect for Christmas day, but make sure to book your guided tour in advance: the tours in the Cango Caves allow only small groups of people at once. Be prepared that the temperature in the caves is always around 18-20° С and it is also humid, so it gets hot after a few minutes underground. You might feel uncomfortable if you have asthma or heart disease.
VISITOR INFORMATION
Open Hours: 9am to 4pm
(Every hour on the hour for the Heritage Tour & every hour on the half hour for the Adventure Tour)


Entrance Fee
Heritage Tour - Adults: R100.00 (Duration: 60 minutes)
Heritage Tour - Kids: R60.00
Adventure Tour - Adults: R150.00 (Duration: 90 minutes)
Adventure Tour - Kids: R90.00
Address: R328 North, outside town of Oudtshoorn, 6625

Phone: (+27) 044 272 7410
Contra-Indications: Pregnancy, asthma, heart disease, claustrophobia.
Related Blogs in and around South Africa
Photo Gallery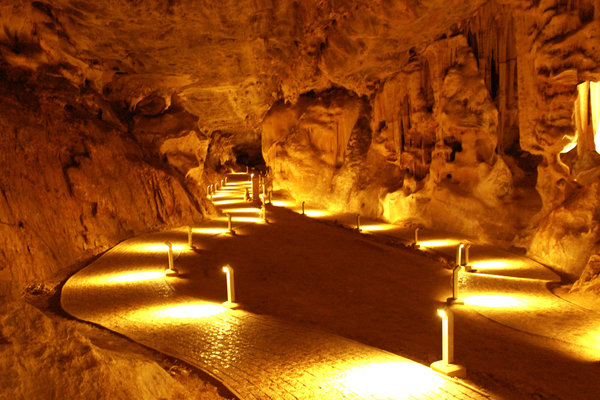 Cango Caves, South Africa. (Photo Credit: Rakesh Nagda)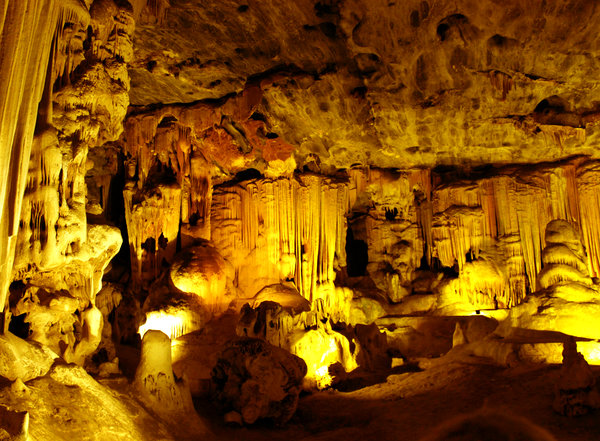 Cango Caves, South Africa. (Photo Credit: Rakesh Nagda)
Sources