Rotterdam is almost as well-known and loved as Amsterdam. It's one of the most interesting cities of the Netherlands, with its great architecture and immense harbour. We've collected some fun facts for you that will make your visit to the city even nicer!
1. You can travel the city by water-taxi
Rotterdam is full of rivers and canals, and the water-taxi is a great way to explore the city. Just hop on and off (there are a couple of public transport stops) or order one to pick you up and drop you off wherever you want!
2. It has cube-shaped houses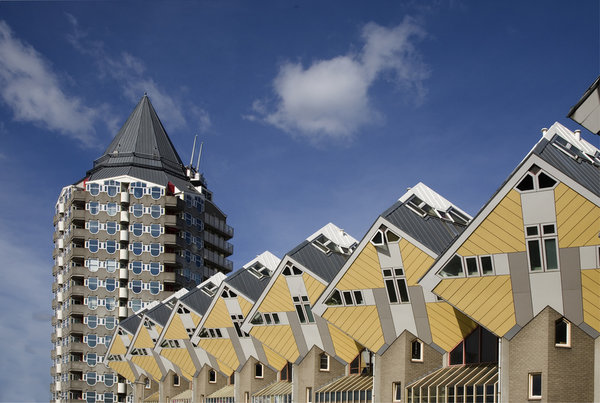 Rotterdam is full of interesting architecture, and the cube-shaped houses are one of the most outrageous examples. The cubes are on poles - although most of them are privately owned, one of the houses is open to interested visitors on a daily basis.

Address: Overblaak 70.
3. The port is the second-largest in the world
If you take into account size and tonnage, the port of Rotterdam is second-to-largest in the World, after Shanghai.

4. The main shopping area is called the gutter
People who live in Rotterdam tend to have nicknames for all architectural things in the city. When the city center got a brand-new shopping area that was situated on a lower part of the street (but without a roof), it was soon dubbed the "shopping-gutter".
5. Yes, they really nickname everything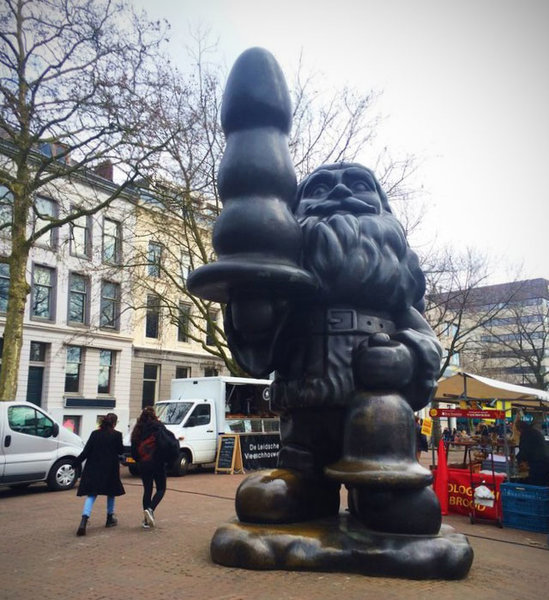 A large statue by artist Paul McCarthy, depicting a Santa Claus with a tree, is nicknamed "The Buttplug Gnome".

Address: Eendrachtsplein.
6. Football is king
Rotterdam has the highest number of professional football clubs in the Netherlands. Unfortunately that does not mean they're always the best; it's been a while since a club from Rotterdam became national champion.
7. Rotterdam had the first metro system
Although Amsterdam has a subway system too, Rotterdam was the first to have a fully working metro system.

8. Rotterdam has special Mayors
Fun mayor facts: Current mayor Ahmed Aboutaleb was the first mayor in the Netherlands of Moroccan descent (there is a large Moroccan community in the Netherlands). Next to this, Rotterdam also has a Night-Mayor, who tries to keep the nightlife interesting and vibrant, and a Youth-Mayor, advising the city on what young people want in the city.
9. There are a lot of architects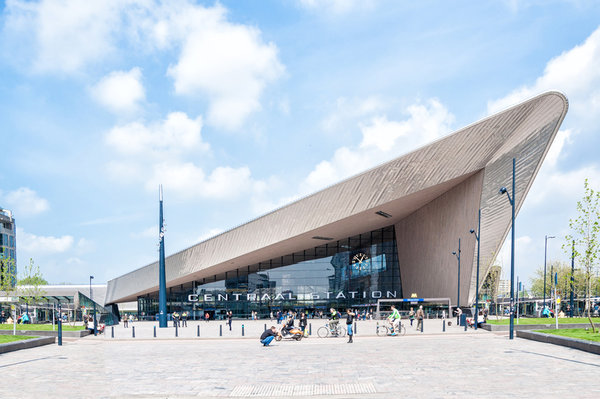 Rotterdam has interesting architecture, and also interesting architects. The city has more architectural bureaus than any other Dutch city.
10. The best apple pie of the Netherlands is served here
Apple pie is a typical Dutch delicacy, and the best pie is found in cafe Dudok, which is a beautiful and trendy cafe in itself so well worth the visit. Oh, and guess what: Dudok was named after a famous architect...

Interested in Rotterdam? You can find a great city walking route with photos.