Short and relaxing Bergamo upper city walk through the main sightseeings.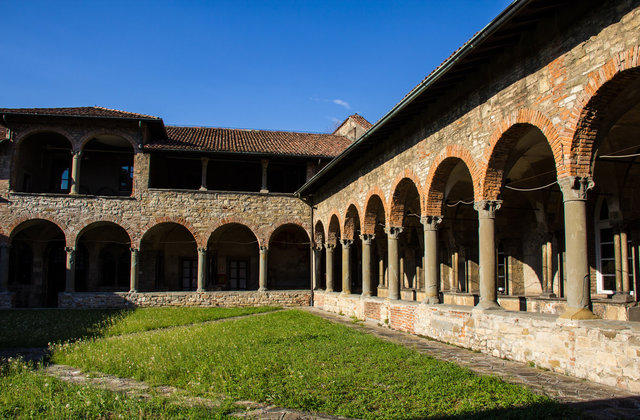 architecture, arch, travel, arcade, cloister, ancient, religion, monastery, courtyard, column, support, building, landmark, old, roman, nobody, stone, monument, tourism, church
We start from a convenient parking place in the centre of old town near the City History museum. It is worth a visit by the way.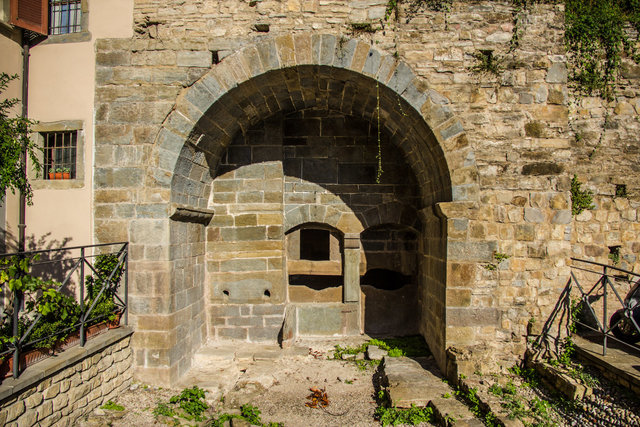 architecture, ancient, building, old, arch, travel, stone, wall, medieval, historic, construction, antique, nobody, landmark, house, outdoors, tourism, fortress, traditional, structure
Medieval Bergamo was divided into districts called Vicinie. Here we are in the Vicinia di S.Eufemia. In each vicinia the fountain was of fundamental importance for the people living there. Strict rules written in the local statutes governed the use of fountains and the surrounding areas. Building above the wide arch or damaging the basins and water channels was forbidden. Anyone who dirtied the water or left rubbish under the arches was severely punished.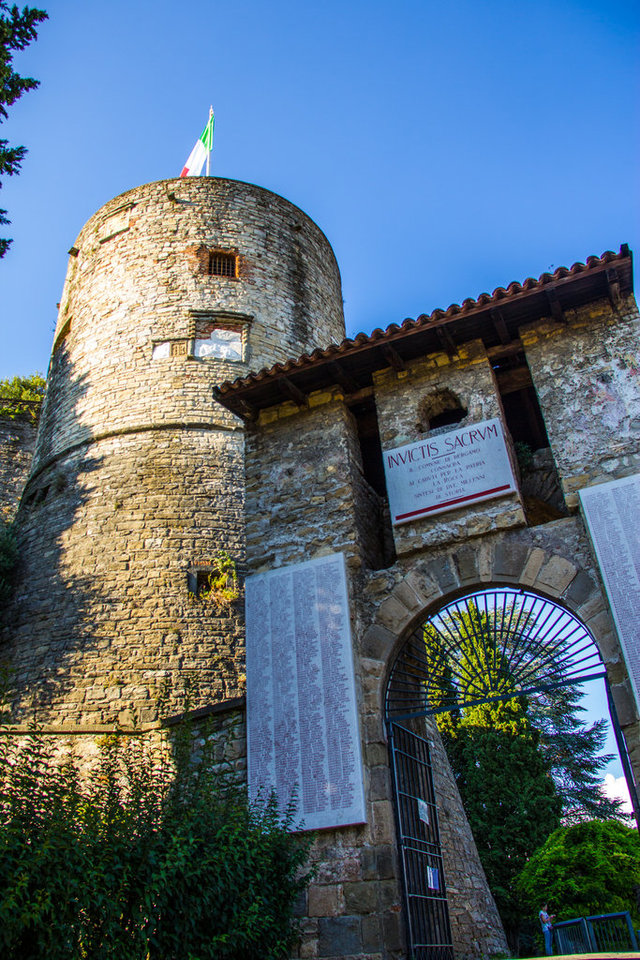 architecture, outdoors, nobody, travel, sky, building, tower, castle, old, summer, ancient, medieval, landmark, stone, tourism, daytime, sightseeing, wall, city, tourist
Entrance to the Rocca di Bergamo (Castle). It was begun in 1331. Later a wider citadel was added, but is now partly lost. The Venetians built a large tower in the Rocca, as well as a line of walls (nearest Mura Veneziane) 6,200 metres long.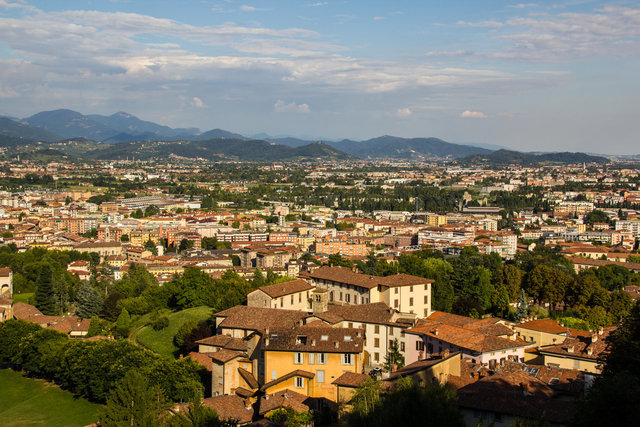 architecture, town, city, cityscape, travel, nobody, village, house, view, church, building, outdoors, hill, roof, castle, landscape, townscape, skyline, panoramic, landmark
Rocca has a strategic position and offers great views over the valley.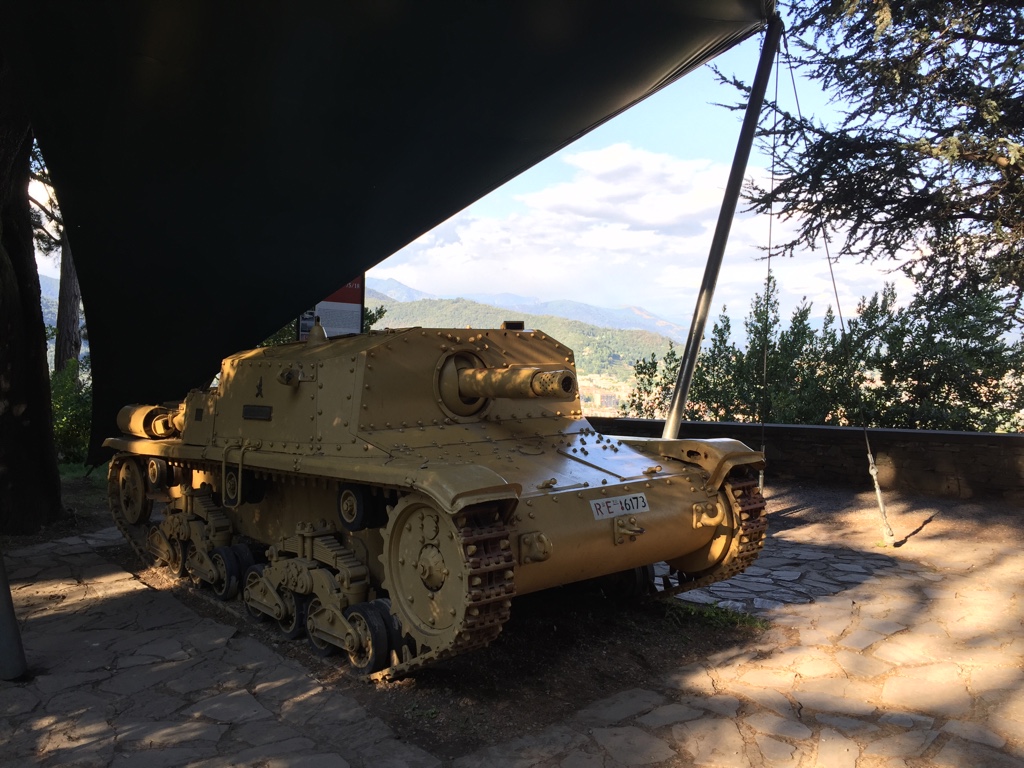 There's an exhibition of Italian warfare in the Rocca's park.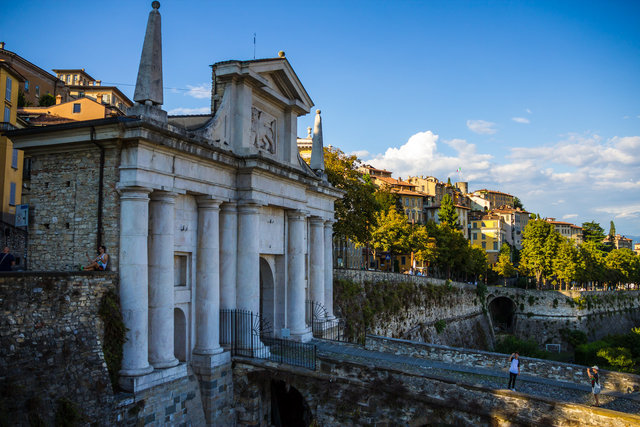 architecture, nobody, travel, building, outdoors, church, sky, landmark, city, ancient, tree, daytime, house, town, religion, sculpture, old, cityscape, tower, monument
Porta San Giacomo - the main city gates of Bergamo.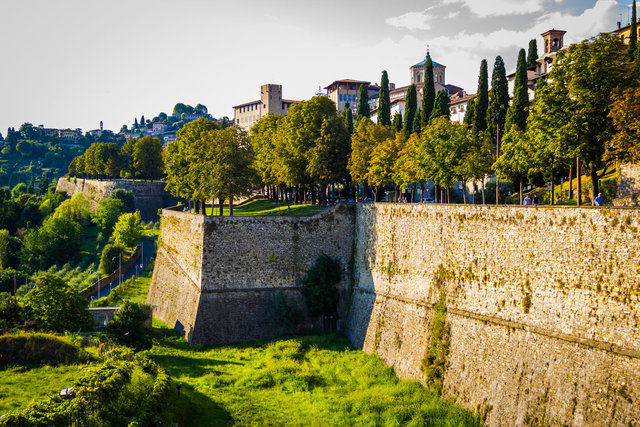 castle, architecture, building, travel, medieval, landmark, landscape, outdoors, tower, fortress, sky, nature, old, house, wall, summer, view, outside, military, tree
Famous Bergamo city walls surrounding the city made it a fortress itself.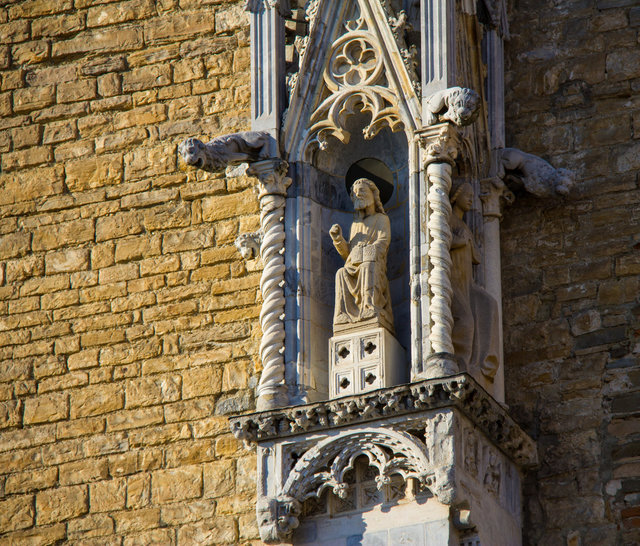 architecture, outdoors, travel, nobody, ancient, stone, old, medieval, antique, detail, carved, ornate, building, vertical, sky, sightseeing, art, marble, style, church
Basilica di Santa Maria Maggiore (Saint Mary Major). It was built from 1137 on the site of a previous religious edifice of the 7th century. Construction continued until the 15th century.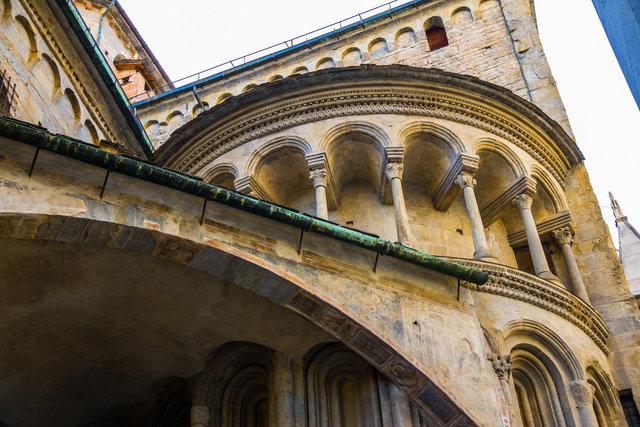 architecture, building, tourism, city, landmark, religion, sky, cathedral, travel, church, old, light, tourist, exterior, monument, stone, view, ancient, tower, detail
The external Romanesque structure of Basilica di Santa Maria Maggiore.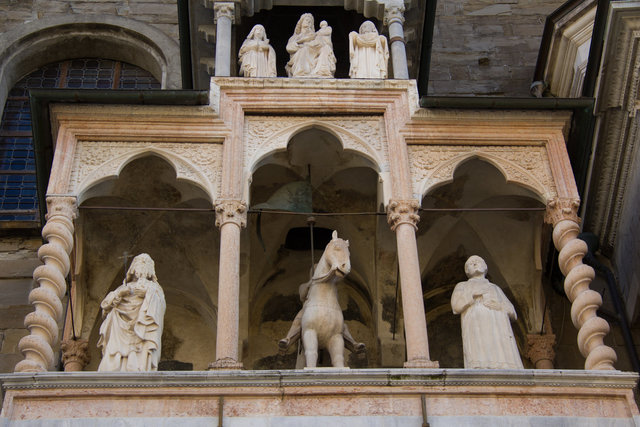 architecture, nobody, building, house, palace, travel, outdoors, arch, stone, facade, marble, religion, window, balcony, pillar, church, art, old, cathedral, dwelling
Bergamo Cathedral (Duomo) was built in the late 17th century. Here we are at the very centre of the upper city with the biggest concentration of Bergamo landmarks.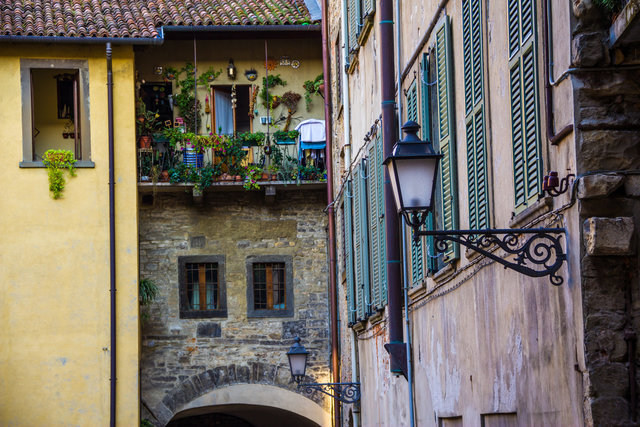 architecture, nobody, travel, house, window, facade, outdoors, town, door, old, daytime, medieval, street, traditional, building, antique, balcony, city, vintage, narrow
Typical Bergamo courtyard.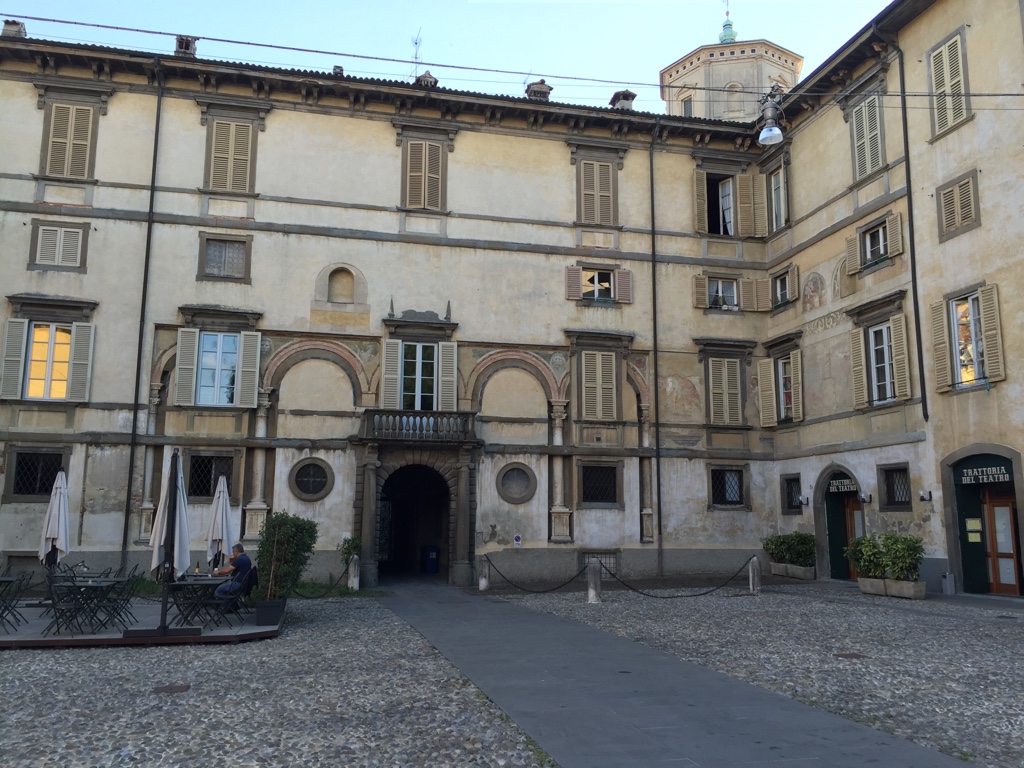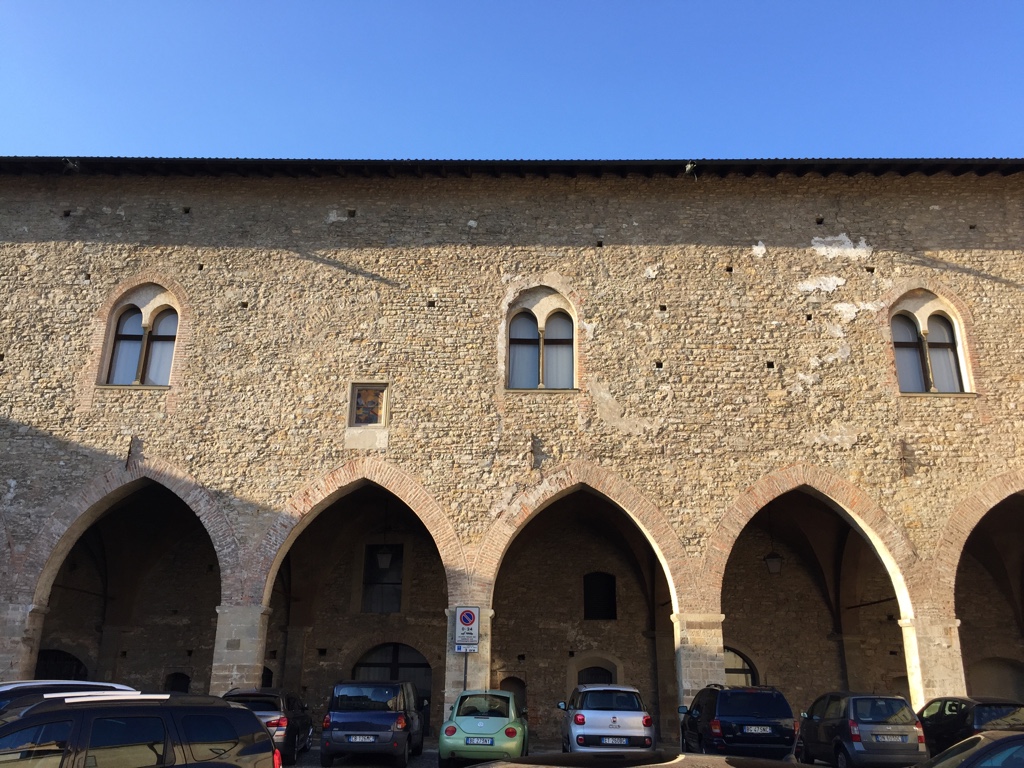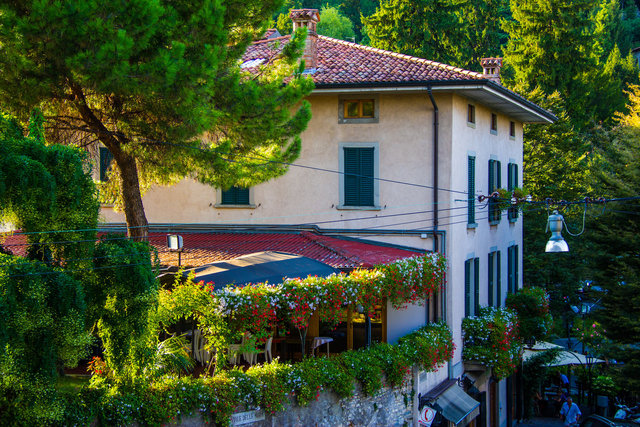 architecture, nobody, house, dwelling, outdoors, daytime, flower, building, garden, yard, window, tree, cottage, wood, luxury, home, summer, traditional, porch, door