February in Italy is the season of carnivals. Venetian Carnival is one of the national signature events. Similar feasts take place almost in every city; they entail mass celebrations and most staggering outfits. Yet Orange Battle (or Battaglia delle Orancia) in Ivrea is probably the most luscious, fragrant, exuberant, odd and a bit cruel tradition of all known.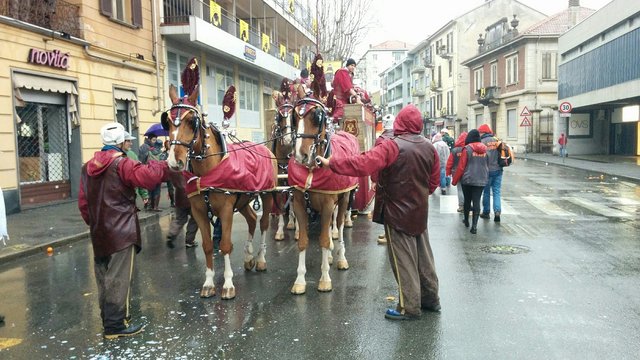 festival, people, road, street, city, religion, crowd, politics, ceremony, men, group, strange, tourist, performance, parade, fair, square, motion, many, tourism
The history of the carnival is deeply rooted in the centuries past (circa the Medieval times), and the root of the evil was a woman (the usual, as the wise French put it 'cherchez la femme'). Once in the noble city of Ivrea lived a miller's daughter who was going to get married to her beloved fiancé, but a vicious feudal lord decided to claim his right of the first night (droit du seigneur, French again, cheers to the famous lovers). Thus, the miller's daughter was kidnapped and delivered to the lord.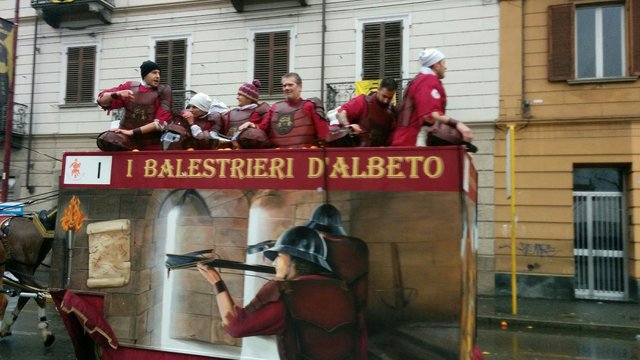 people, politics, street, city, military, festival, education, emergency, university, protest, school, ceremony, market, parade, event, government, sign, crisis, costume, men
However, the girl was no dumb ninny and managed to escape. When the enraged lord's wardens stormed into the city to get the fugitive back and duly punish her, there was an unpleasant welcome from the locals. Defending the injured innocence, the citizens pelted the guards almost to death with what happened to be close at hand – oranges. It is not very clear from where they took so many oranges in February, but the legends never lie! The wardens left empty-handed.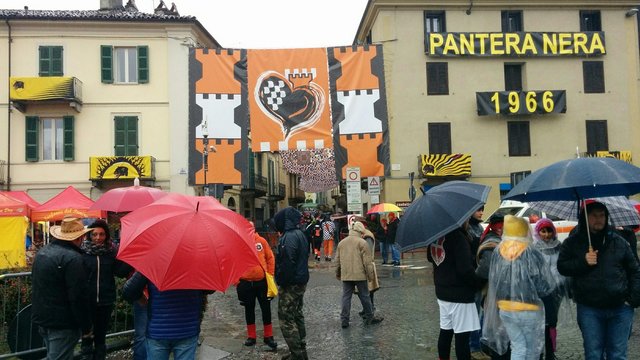 politics, protest, people, rally, group, many, road, street, conflict, city, action, crowd, ceremony, police, flag, festival, war, democracy, religion, revolution
The battle filled with yearning for justice turned out to but such a riveting experience that the locals brought the feudal lord down, still being engrossed in the heat of the orange battle. Since those times, the colourful orange carnival takes place every year in the streets of fair Ivrea and reconstructs the events of the long past to the finest detail (except for the deposition of the sovereign lord).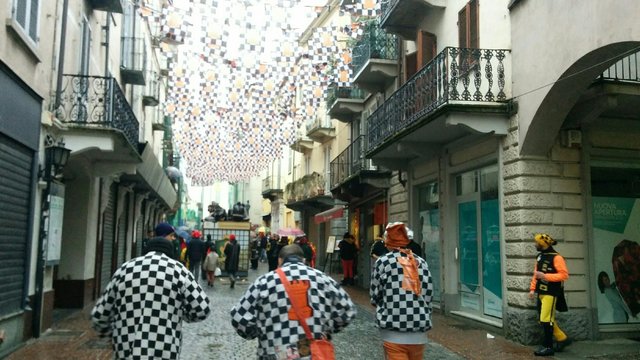 people, group, commerce, many, road, city, shopping, street, store, daytime, market, tourist, outdoors, travel, architecture, tourism, vehicle, men, transportation, sightseeing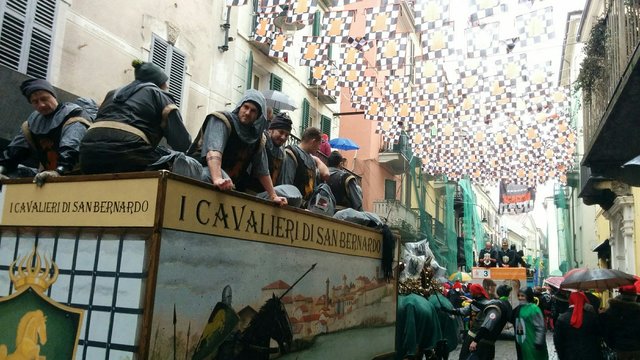 politics, protest, people, rally, group, many, crisis, religion, crowd, election, police, women, festival, landscape, revolution, democracy, education, adult, men, conflict
The carnival runs for several days, you can see the details on the town official site by the link below. Every day starts with checking up teams' combat value, readiness, defence apparel and surely, a good stock of munition. The teams are formed in advance, wardens are enrolled to patrol the streets in their chariots, and defenders are gathered to attack the wardens from virtually everywhere.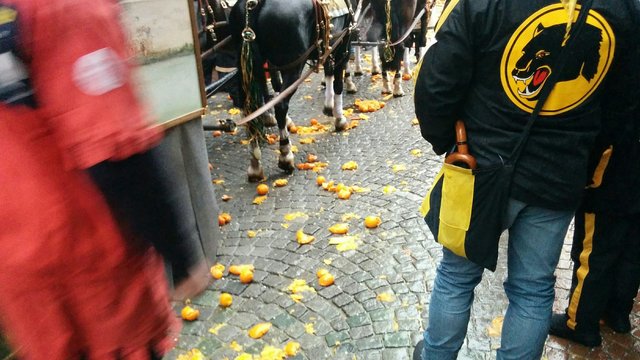 people, men, violence, adult, vehicle, politics, group, rally, conflict, education, street, protest, walkway, clothing, motion, weapon, graffiti, women, competition, city
Just after the first battle, the streets are covered in the aromatic mash from oranges and the odorous metabolic by-product of the frightened horses. So, watch out! Get some comfy expendable foot-ware as you'll

have no time to look under your feet and watch your step during the fights.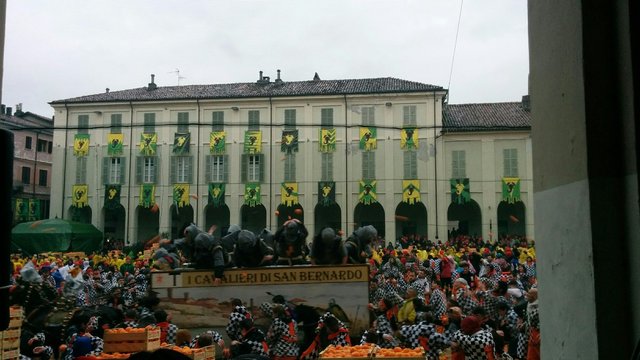 politics, people, police, protest, conflict, group, military, flag, many, soldier, rally, crowd, barricade, ceremony, daytime, anniversary, revolution, uprising, war, speech
Sadly, but no visitor can participate in the battle, only the locals are entitled for the fun. All others can watch the fights from the safe viewpoints guarded off with special nets. Also, there is a rule not to aim your oranges at people wearing red riding hoods which are sold at the entrance of the town. However, if you happen to be a bit too close to the battle scene and wearing no defence apparel, no red hat will save you from a random orange flying into you at full speed. After the first bruise, your adrenaline surges so high, that carnival stops being a mere show and becomes a hilarious fun.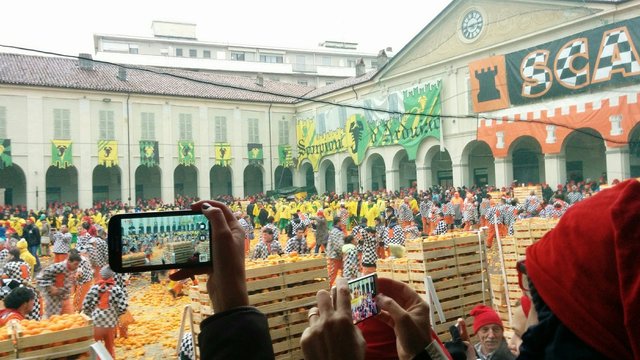 people, market, festival, religion, worship, crowd, city, shopping, group, many, tourism, tourist, buddhism, retail, event, commerce, temple, celebration, prayer, editorial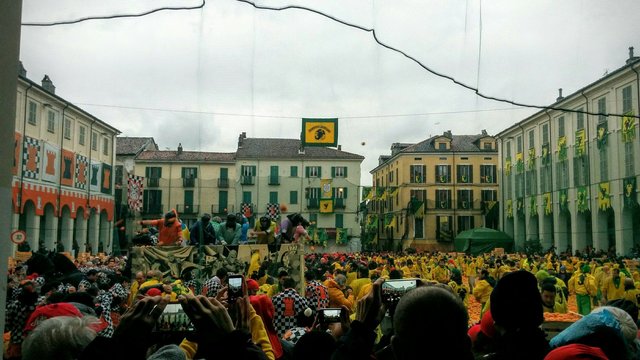 many, people, group, street, city, road, politics, protest, crowd, building, revolution, urban, festival, environment, outdoors, rally, vehicle, fire, accident, flag
Defenders start attacking the wardens in small side streets, but the real battle happens in the main square. Taking their turn, the chariots with the wardens appear in the main square, get their share of people's righteous indignation and leave, covered in orange mush.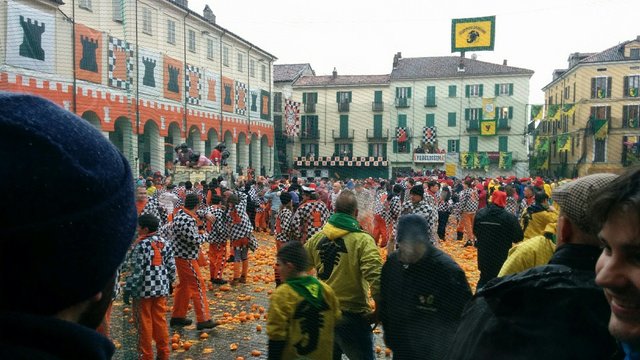 many, people, group, rally, protest, crowd, politics, city, daytime, festival, road, adult, men, interaction, ceremony, parade, outdoors, fan, police, motion
This bacchanalia is accompanied by songs of the fans, commentator's passionate oratorios, modern powerful beats and the aroma of freshly-made mulled wine.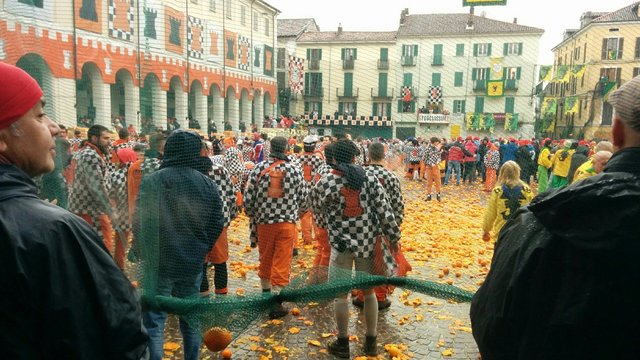 people, group, crowd, many, city, men, travel, adult, street, festival, daytime, outdoors, women, ceremony, religion, tourism, protest, tourist, painting, architecture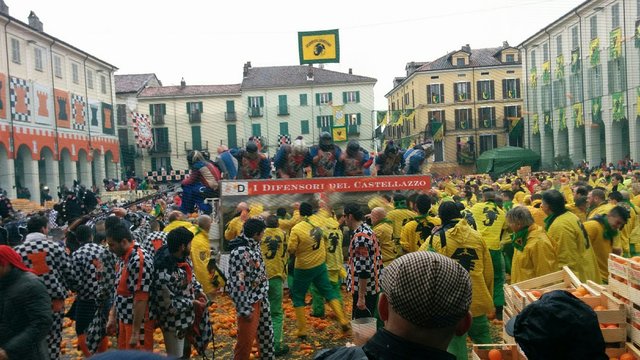 city, people, crowd, many, group, festival, building, urban, street, politics, protest, landscape, travel, tourism, outdoors, tourist, architecture, crisis, square, rally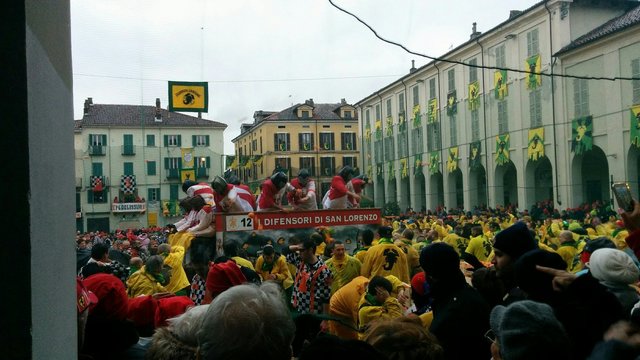 politics, protest, people, group, many, rally, crowd, city, festival, celebration, revolution, fire, education, landscape, environment, adult, competition, government, street, urban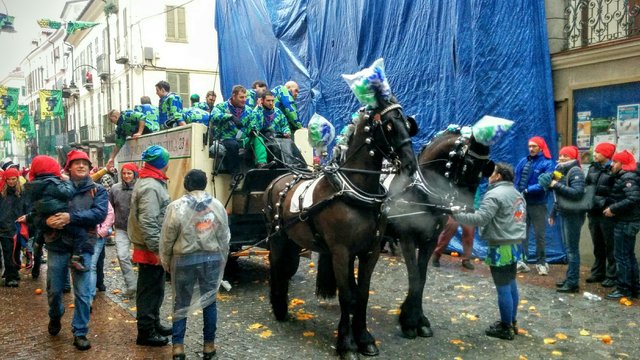 race, horse, competition, parade, festival, city, action, people, group, riding, many, politics, tourist, men, street, vehicle, racer, road, national, mammal
Neither rain nor snow can stop the feast. It is hot in the streets!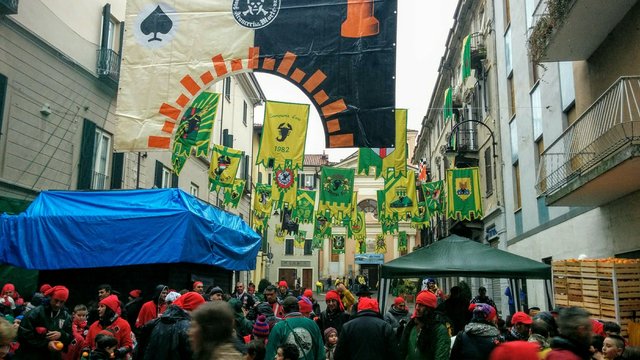 people, street, city, crowd, protest, festival, politics, urban, group, tourism, road, daytime, public, rally, flag, parade, clothing, vehicle, many, men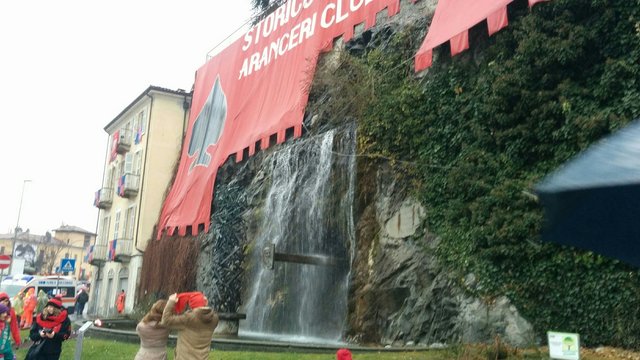 travel, water, landscape, outdoors, architecture, tourism, nobody, house, building, environment, summer, tree, road, sky, wall, motion, scenic, politics, city, nature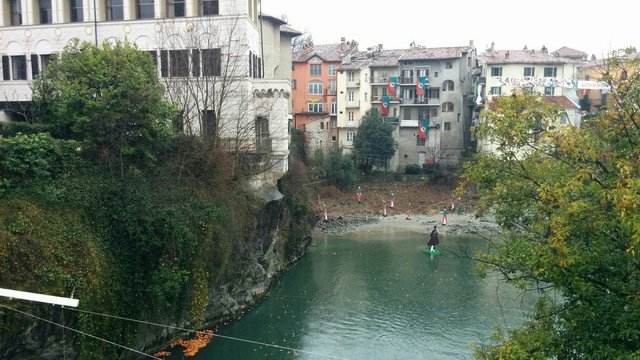 water, river, nobody, travel, landscape, outdoors, environment, canal, architecture, rain, tree, vehicle, building, scenic, dwelling, people, house, disaster, watercraft, weather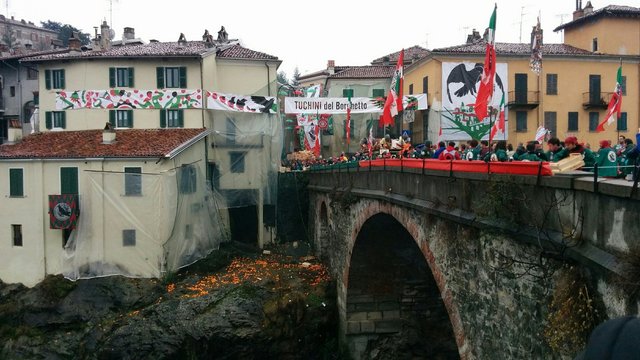 travel, people, river, city, water, nobody, outdoors, landscape, politics, daytime, building, urban, architecture, vehicle, religion, many, tourism, street, canal, protest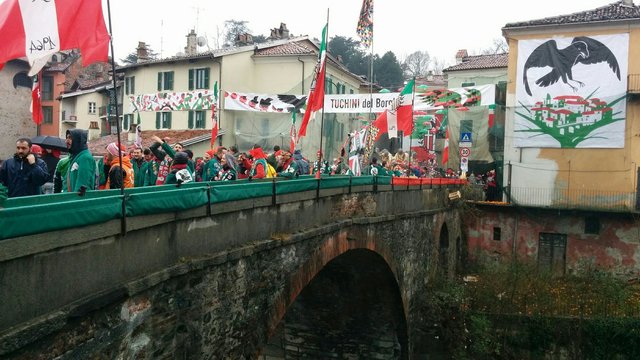 travel, protest, city, people, many, vehicle, water, urban, politics, tourism, industry, daytime, outdoors, watercraft, street, transportation, ceremony, festival, nobody, landscape
Being jammed on the narrow bridge between the warring parties of the defenders and the wardens is really scary.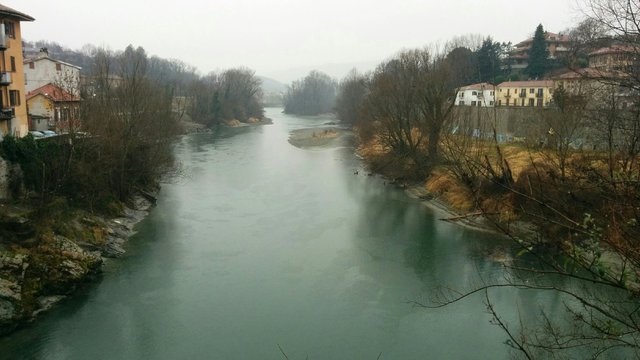 water, lake, nobody, river, reflection, tree, fog, mist, landscape, morning, autumn, outdoors, quiet, idyllic, pond, flood, travel, daytime, riverbank, forest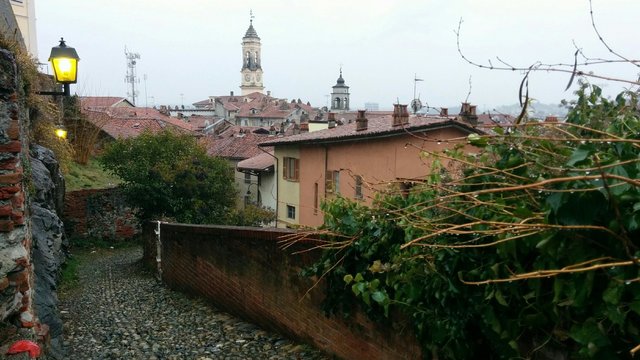 nobody, architecture, dwelling, travel, building, water, outdoors, tree, house, town, city, religion, river, museum, tower, daytime, wall, roof, storm, transportation
If you make a small leeway from the main battling route, you will see a stunningly beautiful old town with cobbled streets and small cosy cafes. Ivrea is also famous for its castle, but this ancient abode is not included in the carnival route. It is actually open for visitors only a few days a year.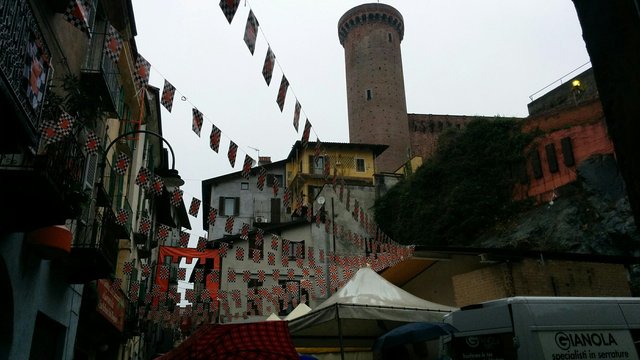 architecture, travel, building, town, house, city, medieval, outdoors, street, tourism, sky, nobody, old, landscape, village, ancient, urban, tower, wall, vacation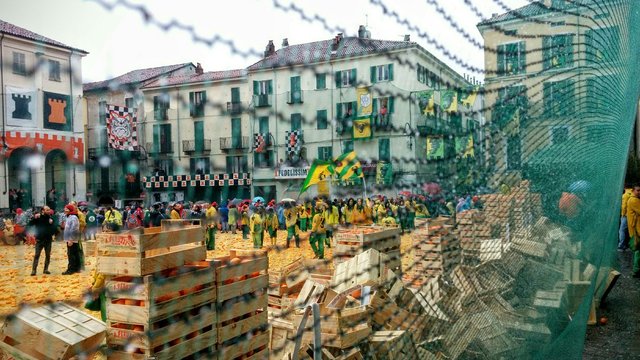 city, tourism, urban, travel, view, street, building, crowd, tourist, town, landscape, outdoors, market, architecture, people, culture, horizontal, religion, commerce, editorial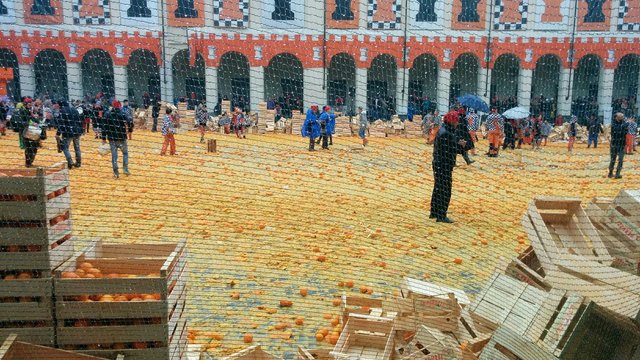 people, group, travel, many, adult, outdoors, city, motion, action, men, daytime, building, women, road, recreation, landscape, crowd, architecture, painting, leisure
You can estimate the event scale by the thick layer of orange 'jam' covering the streets after the battles.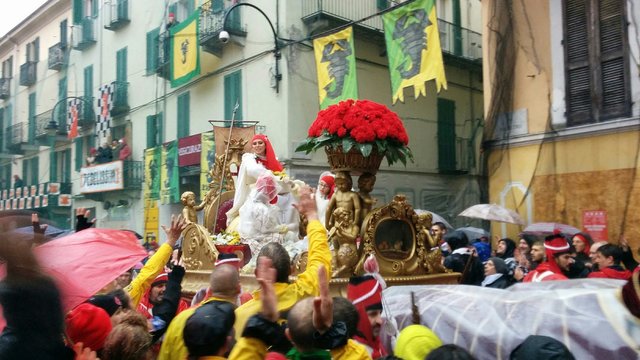 festival, mask, carnival, costume, street, parade, city, people, disguise, celebration, traditional, folklore, masquerade, performance, ceremony, editorial, event, folk, group, annual
After each round of fight, the best defenders and wardens are awarded with special prizes. A long procession consisting of an orchestra, beautiful miller's daughter, her brothers, feudal lord and some other characters pertaining to the story cruises along the streets. Everybody is throwing flowers and sweets (almost in bridal

fashion).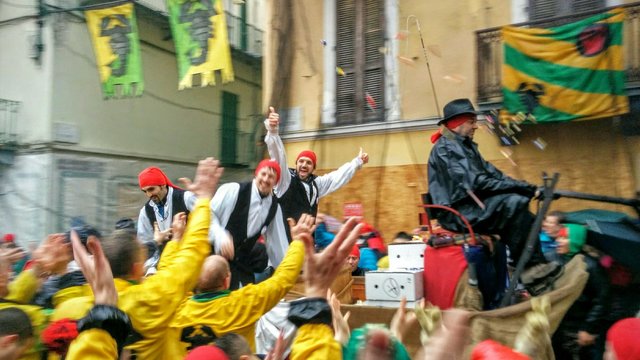 people, city, politics, street, festival, men, group, competition, vehicle, protest, portrait, industry, religion, motion, ceremony, many, adult, performance, catalan, road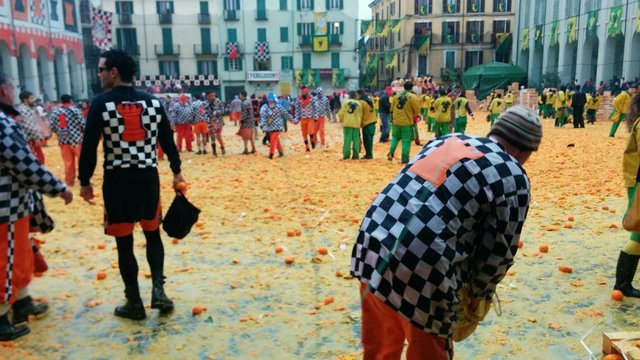 people, many, group, men, action, competition, festival, politics, adult, show, flag, crowd, interaction, celebration, motion, clothing, tournament, protest, city, recreation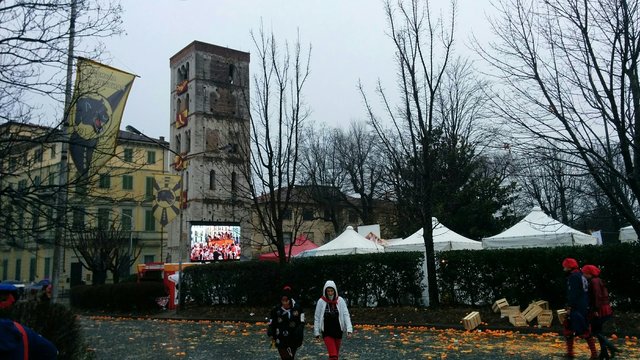 people, politics, protest, police, environment, group, rally, vehicle, accident, adult, conflict, military, flag, disaster, action, revolution, education, landscape, child, winter
There is a fair with souvenirs and hot food not far from the battlefield. You cannot imagine how hungry you become from everything you have had to survive on such a big long day. The festivities are finished off with a grand fire-works show.