As Season 7 is all wrapped up, Game of Thrones fans wait with bated breath for the continuation of the next season, which may take a while to hit our screens. But till then, let us visit the famous King's Landing Dragonpit, as seen in the last episode of GOT,  
The Dragon and the Wolf
' where one of the biggest character gatherings of the series was in this season. The archeological remains in the Spanish town of Itálica served as the Dragonpit, once a giant stable for dragons of House Targaryen and later ruins of the Dance of Dragons war.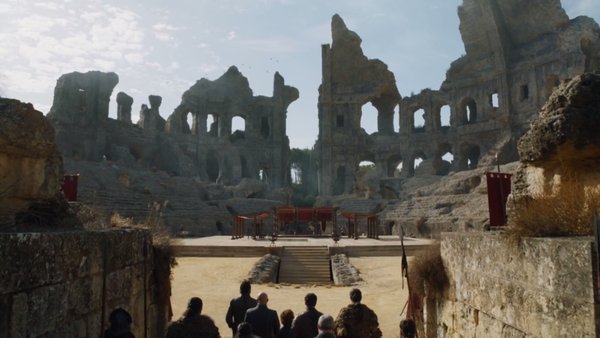 Fun & Interesting Facts About Game Of Thrones:
Itálica
Location:  Spain
Known in Game of Thrones as:  King's Landing Dragonpit
The small town of Itálica is located a mere 20 minutes drive from Seville in Spain, near the village of Santiponce. Founded way back in 206 B.C on the initiative of Publius Cornelius Scipio, Itálica was established as a Roman town in the Andalucía region, one of its kind, under none other than Emperor Augustus. In its prime, this town enjoyed splendor, with houses, neighborhoods and broad streets and its most prized possession, the Coliseum-type amphitheatre that was the main "entertainment" area for the locals. Excavations of this long lost town began in the late 18th century and in 1989, a decree from the Andalusian Regional Government declared it an
archaeological site
. The town is an ideal day trip away from Seville.
Historical Timeline of Itálica:
206 B.C.: Itálica founded by Roman general Publius Cornelius Scipio also called "The African" to settle veterans from the Second Punic Wars against Hannibal and the Carthaginians. The settlers were from Italian territories and thus the name was given.
Post settlement: Itálica thrives and develops as a prosperous Roman city with Greek-styled Hippodamian street plans and was even tied to a busy river port. Tribes from Rome moved here.
98 A.D. – 138 A.D: Under the patronage of the Roman emperors Trajan and his successor Hadrian, the city flourished and grew especially since it was their birthplace. Hadrian expands city northwards and elevates it to a status of colonia. Temples, baths and public buildings were added. Military-wise, the city rises till the 2nd century A.D.
2nd century onwards: Decline sets in due to political and economic crisis. The river bed of the Guadalquivir shifts and slowly, the city is abandoned and loses functionality.
Late 18th century to present day: Excavations are commissioned on this lost city after multiple historical accounts come to light. But even then, the site was often quarried for its stone and destroyed until in 1810 a new law under Napoleonic occupation reinstates its ancient name of Itálica and allocates a budget for excavation. In 1912, Itálica was declared a National monument.
Interesting Facts about Itálica
Itálica was once the most formidable site in ancient Roman Andalucía
The site was first excavated in 1781 and archaeologists believe there is more to be excavated still of this ancient city.
Under the Roman Emperor Augustus, this Spanish Roman town was granted the privilege of minting its own currency.
In its heyday, the amphitheatre of Itálica could seat up to 25,000 spectators!
Relationship to the Game of Thrones Series
Video – Filming GOT at Dragonpit
Top Attractions at Itálica
Amphitheatre
: Itálica's main monument, the
amphitheatre
lay north of the main town and could seat almost 25,000 spectators which judging by its small size, is quite a wonder. Although this small town didn't have so many residents, it is said that visitors from the nearby Hispalis or Seville would arrive to see the blood and gore of gladiatorial duels in the stadium. Walk into the amphitheatre and see the well-preserved stairs that will take you to the upper seats. There are pillars in the pit of the theatre that would have been erected to hold a platform above.
San Isidoro Del Campo Monastery
: Located at the southern end of Santiponce near Itálica, this
two-church monastery
was founded in 1301 by hero of the Battle at Tarifa (1294) Alonso Pérez de Guzmán and his wife María Alonso de Coronel. It was built to serve as a tomb for the couple's ashes after their death. The impressive building was erected over the site of a Mozarab hermitage where the saint San Isidoro was once buried. Over centuries, it served as host to different religious denominations like the Hieronymite monks. You can see 15th century murals of saints here in floral and geometric patterns resembling the Mudéjar-style and also a 17th century altarpiece by Sevillan sculptor
Juan Martínez Montañés
. This is the spot where the Bible was first translated into Castilian in 1569.
Why Visit Itálica
Itálica was the first Roman city founded in the Iberian Peninsula. Naturally, it has a lot to offer the history buff and travel enthusiast in terms of Roman history. In a sense, it is Rome within Spain. Imagine gladiators and animals fighting it out; take a stroll on the ancient streets of this town and feel the cobblestones as you are reminded that a whole bustling civilization existed here; or simply imagine yourself as a spectator in a GoT episode, watching all your favorite characters come to life.  
Other Noteworthy Attractions close to Itálica
Seville: This major metropolitan Spanish city lies a mere 20 minutes from Itálica and is a place thriving of art and culture full of baroque churches, Mudéjar palaces, medieval streets and Flamenco clubs. Don't forget to visit the palace Real Alcazar of Seville, the Seville Cathedral or even the bustling Plaza de España for some relaxation time and shopping. Seville is a truly Andalucian wonder.
El Puerto de Santa Maria: This seaside port is a really fun place to be at and is located a mere 1 hour's drive from Itálica. Here you can visit the Castle of San Marcos which was made by Alfonso X on a Moorish site; the Castle of San Sebastian; or relax at one of the many beaches like Playa de Valdelagrana or Playa de la Muralla.
Dos Hermanas: Literally translated as "Two Sisters", this town lying 30 minutes from Itálica is ideal if you want a lazy day-long escapade. It was previously occupied by the Romans and the Arabs but its present name was given during its Christian conquest. It is best known for its horse racing arena, the Gran Hipodromo de Andalucia.
Enjoyed this Article?
Let us know in the comments below, and share your own experience while visiting this magnificent palace with us.  We would love to hear from you.

Till next week. 

Happy travels!
Related Blogs
Travel Apps
Peakvisor
Routes.Tips App