This travel article is part of the
Traveling India: North to South
Series.
by:
Marie-Berdine Steyn

Are you stuck in India? Overwhelmed; having no idea where to go or which places to visit?
Or maybe are you planning your itinerary and have no clue where to start or which attractions are really worth your time.
No worries! We are here to help.

The following blog details 40 of the most visited and most famous attractions in the North- and Western parts of India.
We start off our tour in Delhi, visiting Humayun's tomb, the Qutab Minar and fabulous Red Ford. From Delhi do we travel to Agra, Fatehpura, Jaipur, Amer, Ajmer, Jodhpur, Chittorgarg, Kailash Puri, Udaipur, Kumbalgarh, Ranakpur, Dhulev and back to Udaipur.
For more in-depth information about each town we visited, museum, tomb, fort or temple, visit our Travel Blog section from time to time. We post new blogs about traveling in India every week.
Have fun exploring North and West India. It truly is a phenomenal experience.

Tour Duration: 12, 15, 20 or maximum 22 Days. (The duration of your tour will depend on your budget, time availability as well as survival skills. ;-))

This article is part of the
Traveling India: North to South
Series.
by
Marie-Berdine Steyn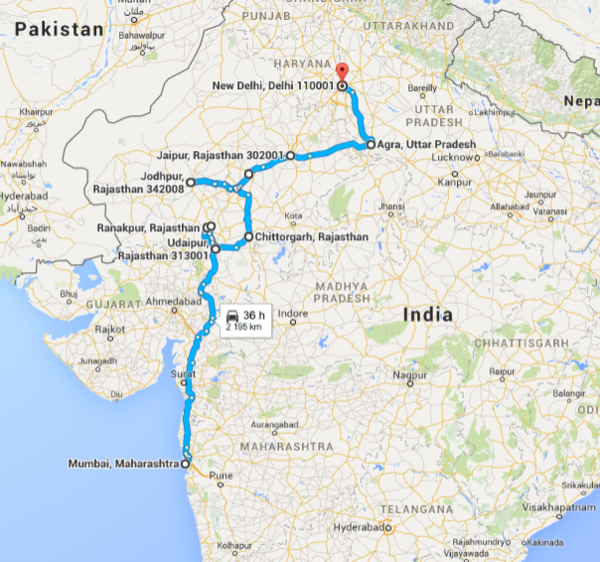 TRAVEL TOUR OVERVIEW
Visiting more than 15 towns, cities and an unnumbered amount of villages along the way provide one with admiration for the Indian way of live, traditional yet steadfast. Everywhere we go is poorness evident in villages. Garbage lays strewn in most village corners; cows, dogs and other animals walks freely from yard to yard – house to house. But the people smile, wave and bid us welcome with warm hearts. I am touched.
We visit more than 40 plus attractions, traveling more than 1,500-2,200km, and along the road less traveled by most tourists, do I come to understand more about the Indian people, their culture, their religion and their patriotic viewpoints. I am left with a greater understanding of what India is about; the fantastic sights, history and culture.
Worth a visit? Yes, indeed.
PART 1 - SHORT LIST OF CITIES VISITED
For your convenience will we firstly provide a short list of the cities we visited as well as the Top 40 attractions, before we proceed in the second part of this blog with a short introduction to each sight. Our suggested route should make it relatively easy for you to follow and provide you with the knowledge to create your own tour.


Cities Visited on this Route:

New Delhi (Starting Point)
Agra
Fatehpura (visiting Fatehpura Sikri)
Jaipur
Amer
Ajmer
Jodhpur
Chittorgarg
Kailash Puri
Nagda
Udaipur
The Rajsamand District (visiting Kumbelgarh Fort)
Ranakpur
Back to Udaipur
Dhulev
Various other small villages, towns and nature reserves in the immediate area.
Mumbai (to tour the South of India.)

SHORT LIST OF THE TOP 40 MUST SEE ATTRACTIONS IN NORTH AND WEST INDIA

PART 2 - REVEALED: THE TOP 40 MUST SEE ATTRACTIONS
(Please note: The Top 40 are not presented in an order indicating the best place to visit being number one. Instead are all forty of these attractions regarded as equally worthwhile to visit. We decided to list the Top 40 attractions chronologically as you would travel from North to West India, from one place to another, our starting point being New Delhi. This will make it easier for you to follow.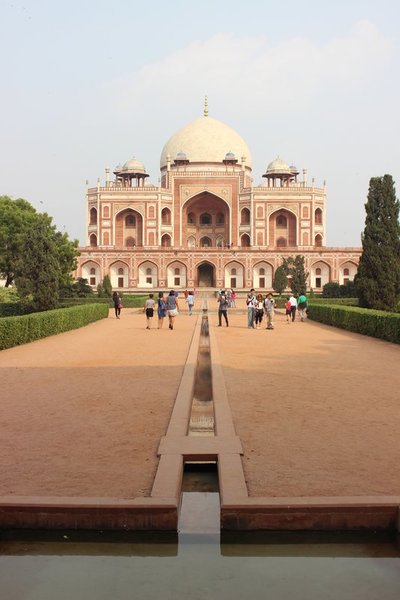 1. Humayun's Tomb

Location: Delhi (India)

Date: 1565 - 72 A.D
Humayun's Tomb is the tomb of Mughal Emperor, Humayun. (Mughals were members of the Muslim faith of Mughal origin who occupied territory in India, Afghanistan and Pakistan as is known today, from the 1526's to 1540's and again from the 1555's to 1857's.)
His wife, Bega Begun, commissioned the building of Humayun's Tomb in 1569. (It is today one of the best preserved Mughal monuments in Delhi.) It is further regarded as the precursor to the Taj Mahal, its construction and building methodology later having a great impact on the creation of the Taj.
More Information on Humayun's Tomb - Related Blog & Suggested Route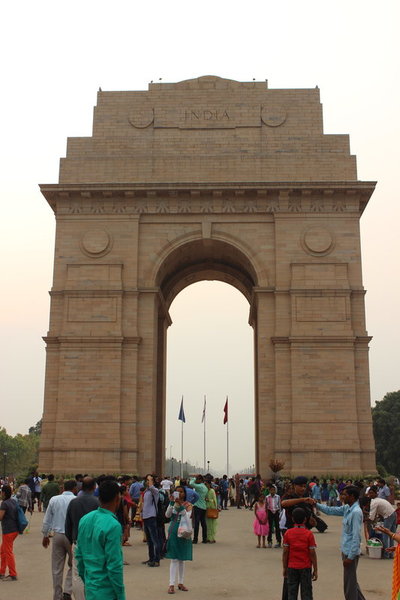 2. India Gate
Location: Delhi (India)
Date: Built in 1921
India Gate, originally called the "All India War Memorial," is a war memorial located along the Rajpath (main road), on the eastern edge of the 'ceremonial axis' of New Delhi. (In years passed called the Kingsway.)
India Gate commemorates the bravery and sacrifice of the 82,000 soldiers of the undivided British Indian Army, who died in the period 1914–21 in the First World War in France, Mesopotamia, Persia, East Africa, Gallipoli, Flanders, third Anglo-Afghan War and in the Near and the Far East.
India Gate - Suggested Route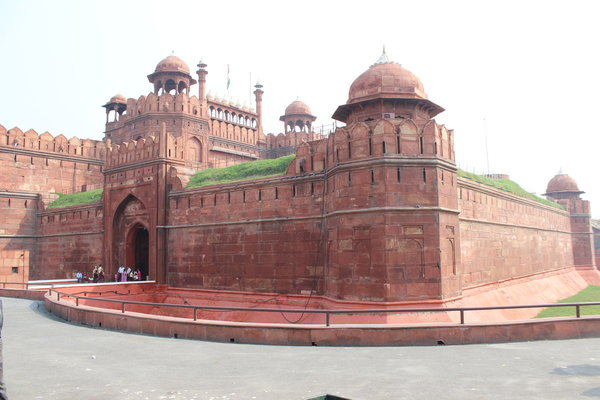 3. The Red Fort Complex
Location: Delhi (India)
Date: 1648
The building of this stunning fort was commissioned in 1648 by Mughal Emperor, Shah Jahan. In those days were Delhi the capital of his empire, and called Shahjahanabad. The emperor and his descendants, used the fort as his residence in India for well over 200 years, until 1857.
It's a marvelous creation and a must see if you are ever in Delhi.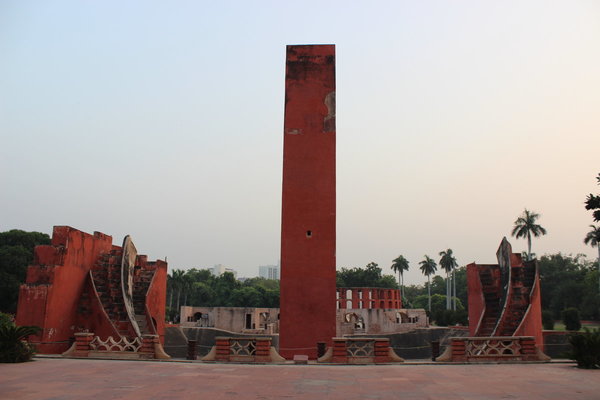 4. Jantar Mantar (New Delhi)
Location: Delhi (India)
Date: 1710 / 1724
I never knew huge instruments like these existed and was still in such great condition until I visited Jantar Mantar in New Delhi. Jantar Mantar is an architectural astronomical observatory, containing thirteen (13) huge instruments. These instruments where first built around the year 1710 by Maharaja Jai Singh the II (Jaipur), after the Mughal Emperor of the time, Muhammad Shad, instructed him to revise the astronomical tables and calendars.
What were these enormous instruments used for?
Primarily to compile astronomical tables to predict the movements and times of the planets, moon and sun.
Absolutely fantastic. A must see.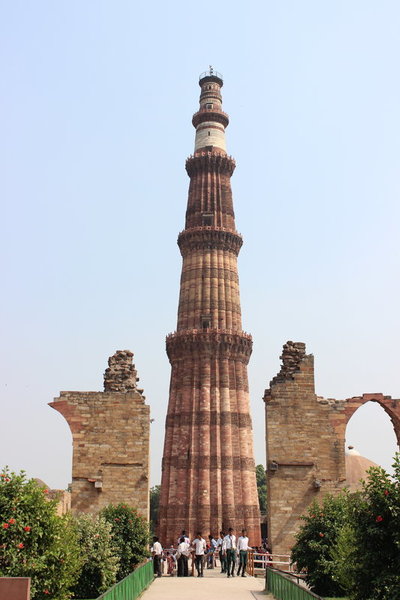 5.
Qutab Minar
(New Delhi)

Location: Delhi (India)

Date: 1200 AD.
Want to see what the tallest brick minaret in the world looks like?
Then you need to make time to visit the Qutab Minar Complex in New Delhi. This fabulous, 75.1 meter tall brick minaret, together with all the other medieval monuments surrounding it, is breathtaking.
The minaret itself is made from marble and red sandstone, and measures around 47 feet (14.32 meters) in diameter. On the inside will you find a 379, circular staircase, leading you to the very top.
Construction of the minaret started in 1200 AD by Qutab-ud-Din Aibak, which was followed up by his son years later. The tower struck in 1369 by lightening, completely destroying it. Luckily though was restoration work done on it, and are we able to see today what it looked like.
Apart from the minaret are there other significant and very ancient monuments situated alongside it. The Iron Pillar of Delhi, the tomb of Illtutmish, Alai Minar and various other tombs, an old mosques, and a Sundail and Cupola adds to the mystery of the sight.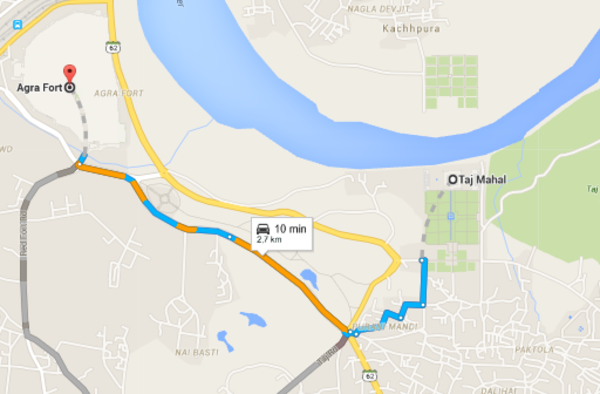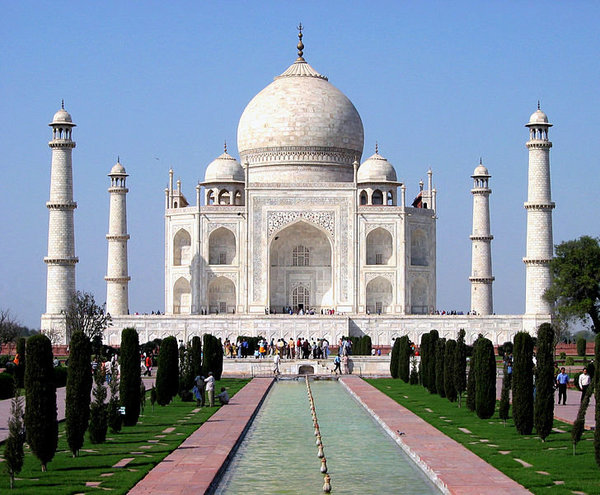 6. Taj Mahal (Agra)
Location: Delhi (India)
Date: 1632
Who in the world do not know about the Taj? Most everyone.
The Taj Mahal is an architectural marvel; built from pure ivory-white marble and situated on the bank of the Yamuna River in Agra.
Its construction was commissioned by Mughal emperor, Shah Jahan in 1632, in memory of his beloved and most favorite wife, the Persian princess, Arjumand Banu Begum, but lovingly called by her husband, Mumtaz Mahal - Cradle of excellence.)
According to legend was she the love of his life, and although he had other wives, was he so taken with Mumtaz, that he didn't pay much attention to them apart from dutifully siring children. He even trusted her to such an extend, that he gave her his imperial seal, the Muhr Uzah.
In 1631 AD does the empress die after giving birth to her fourteenth child. The death of his wife left the Emperor inconsolable, and it is said that he secluded himself in mourning for well over a year. Another legend says that after his year of morning, he appeared at court again one day; his hair as white as that of an old man, his face withdrawn and worn. He shortly after commissioned the construction of a royal mausoleum for his beloved wife.

Construction of the Taj Mahal in memory of his wife lasted for 22 years before completion.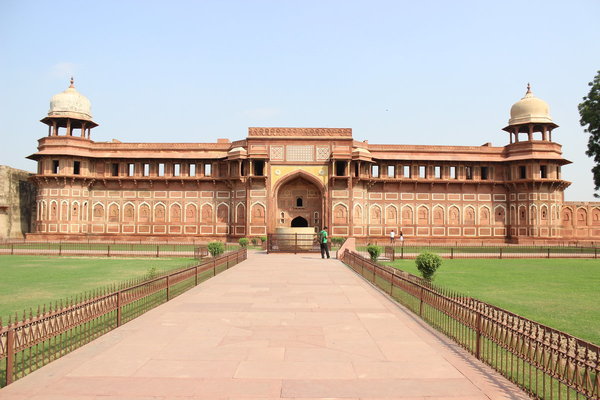 7. The Agra Fort (Agra)
Location: Agra(India)
Date: First mentioned in 1080 AD.
Layout: 380,000m2 (94-acres) - fort built in a semicircular plan.
The Agra Fort, originally known as the brick fort Badalgarh, can be more correctly described as a walled city. It has withstood the test of time, housing many key players since the 11th century.
The first sultan to occupy it was called Sikandar Lodi (1488–1517), after he relocated his administrative capital from Delhi to Agra. From then onwards was Agra known as the second capital.
After Lodi died, his son, Ibrahim Lodi, held the fort for over nine years until he died in battle at Panipat in 1526.
(Need more info?)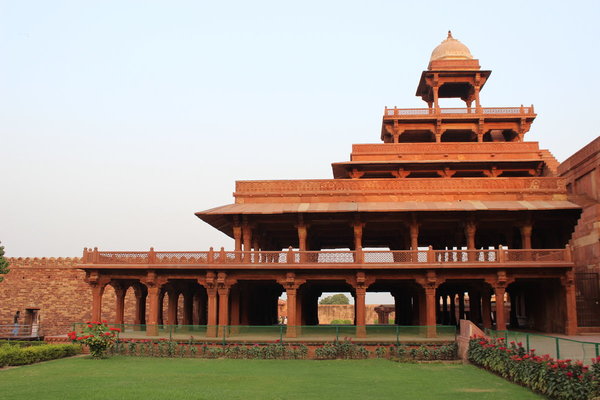 8.
Fatehpur Sikri Fort, Palace and Mosque
(Fatehpura)
Location: Fatehpura (India)
Date: Pre-historic, Historical and still occupied till date.

This pre-historic site is one of my absolute favorites in India. Sikri is situated on the upper Vindhyan ranges, on the bank of a large natural lake.
Apart from the Fort, Palace and Mosque are there several rock shelters in the area with paintings. Stone age tools have been found here as well, together with ochre colored pottery (c. 2nd millennium B.C.) and painted grey ware (c.1200-800 B.C.)
The fort with its palace and other features are of red marble, and in excellent condition.
INTERESTING FACT: Sikri was the first planned Mughal city in India.


TRAVELERS TIP I:
Fatehpura Sikri seems not to be so well known among International tourists. Travel Operators seem to prefer promoting the Taj Mahal to them. I'm not sure why, because in my opinion does Fatehpura Sikri stand hands and feet above the Taj. The Taj Mahal is a marvelous sight to behold yes, but Fatehpura Sikri has that something extra. I just can't put my finger on why that is. It is just unexplainable - words elude me.
Maybe it is because the sight affords one the opportunity to reconstruct the Mughal way of live in those days, or that every building, it's construction perfect in every way, feels so harmonious.
I highly recommend prioritizing a visit to this attraction. It is a must see.


TRAVELERS TIP II:
You need a full day to explore every aspect and all the sights.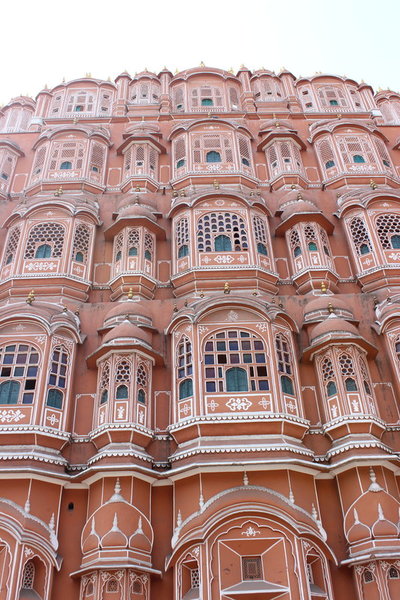 9.
Hawa Mahal
- "Palace of Winds" - (Jaipur)
Location: Jaipur (India)
Date: 1799
This astounding upright palace with its 953 windows were constructed in 1799 by architect Lal Chand Ustad, and commissioned by Maharaja Sawai Pratap Singh. The Rajputana architectural styles are evident in its design, and it is believed that the palace were constructed in the form of the crown of the Hindu God, Krishna.
But why was this palace built in the first place?

It is said that it was built to provide the royal woman whom never appeared in public, a view of everyday life through the windows. When one stands within the palace and gaze down towards the streets below, will one see lots of shops, locals and a marketplace.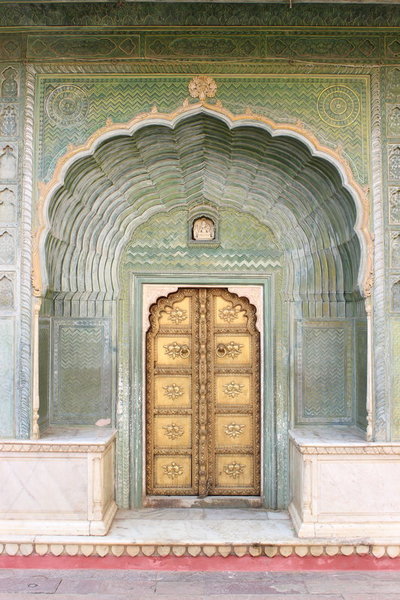 10.
Jaipur City Palace
(Jaipur)
Location: Jaipur (India)
Construction Date: 1729
Completion Date: 1732
The Jaipur Palace, which includes the Chandra Mahal and Mubarak Mahal palaces, were the seat of the Maharaja of Jaipur, the head of the Kachwaha Rajput clan of the time. The palace consists of various gardens, buildings, a museum and numerous courtyards.
Why is the palace significant: You will notice a fusion of Indian architecture integrated with European styles.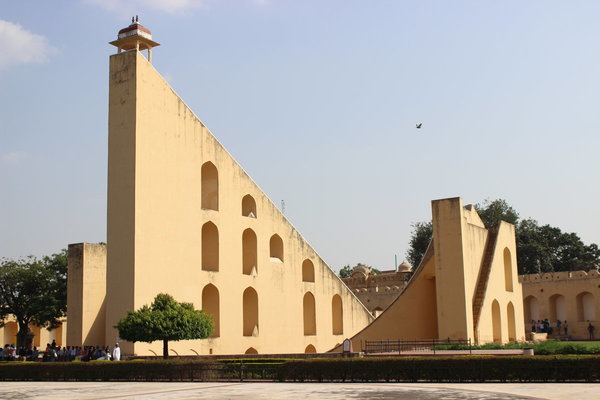 11.
Jantar Mantar
(Jaipur)
Location: Jaipur (India)
Construction Date: Early 18th Century.
Completion Date: 1734 CE
Nineteen of the most beautiful astronomical architectural instruments I have ever seen, is located close to the Jaipur City Palace in the city of Jaipur. Absolutely stunning. A visit is highly recommended.
At Jantar Mantar can you find the world's largest stone Sundail, which was an instrument used to measure time in accordance with the position of the sun.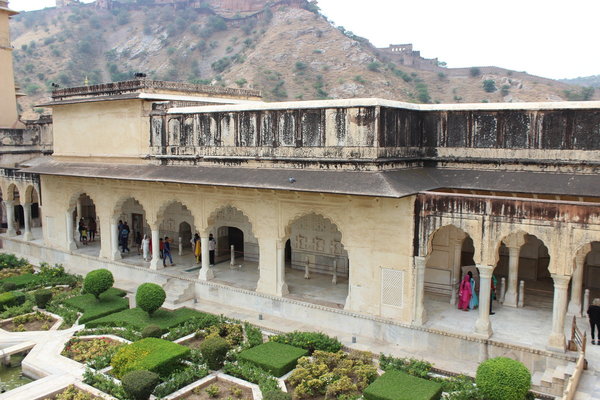 12.
Amer Fort
– Also called the Amber Fort - (Amer)
Location: Amer, close to Jaipur (India)
Date: 1592
Built by: Meenas
When visiting Jaipur, set aside at least one day to visit all three forts located here. The Amer, Jaigarh and Nahargarh Forts are some of the most visited and well preserved in India. A visit is highly recommended.
Amer is a small town situated close to Jaipur. Here will you find one of the most well preserved forts in the area, the Amer (Amber) Fort, situated high on a hill.
The fort has quite a few large ramparts, tall gates and cobbled pathways. But the elements that stood out most to me were the inner courtyards with their Hindu style elements, and the Maota Lake. If you traveled the same route as we did from Delhi to Agra, visiting the Mughal forts, will you immediately notice the difference in the layout, design, architecture, art and decoratives of this fort in comparison to the Red Fort in Delhi or Agra Fort.

Features inside the Fort:
Diwan-e-Aam (Hall of Public Audience)
Diwan-e-Khas (Hall of Private Audience)
The Sheesh Mahal (Mirror Palace or Jai Mandir)
The Sukh Niwas (The cool air that you will notice within the palace was artificially created here.)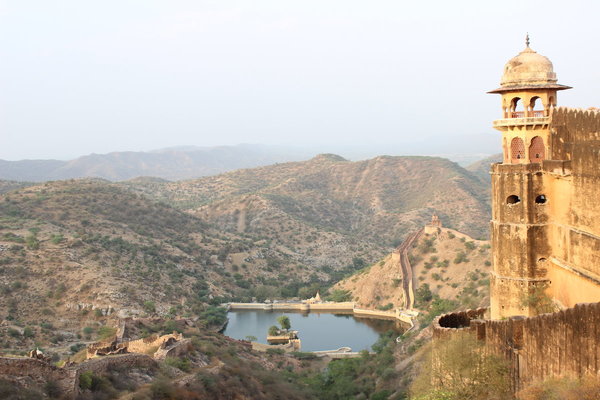 13.
Jaigarh Fort
– The Victory Fort - (Jaipur)
Location: Jaipur (India)
Date: 1726
Built by: Jai Singh II
Length: 3 kilometers (1.9 mi)
Width: 1 kilometer (0.62 mi)

This fort was essentially built in 1726 to protect the Amber fort and its palace. It is located on a hill higher than that of the Amber Fort, and thus overlooks it.

Features inside the Fort:
"Jaivana," a cannon manufactured during the time, and then the world's largest cannon on wheels.
An armory.
The Museum.
The palace complex consisting of the Laxmi Vilas, Vilas Mandir and Aram and Lalit Mandir.

INTERESTING FACT: Subterranean passages connect the Amber fort with the Jaigarh fort.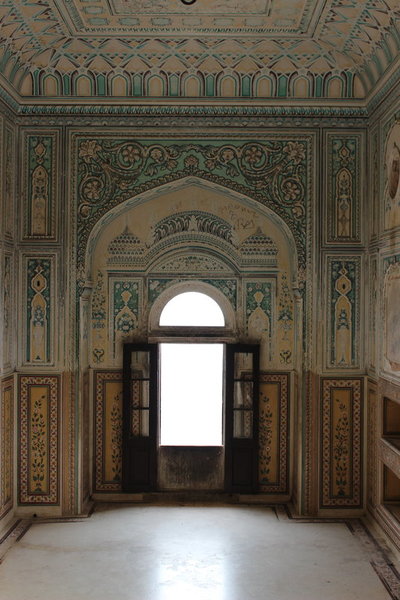 14. Nahargarh Fort (Jaipur)
Location: Jaipur (India)
Date: 1734
Built by: Jai Singh II
Length: 3 kilometers (1.9 mi)
Width: 1 kilometer (0.62 mi)

I loved seeing the beautifully decorated royal apartments within this fort; its most probably one of its most appealing features.
This fort was also built by Jai Singh II who built the Jaigarh fort. Its purpose was to form a ring of defense for the city, and a place one could retreat to if the city below fell into enemy hands. Once you stand upon the hill on which this fort is situated, will you notice walls and fortifications all around on the surrounding hills, connecting to Jaigarh fort. This formed a powerful stronghold, which was difficult to overcome by enemy forces.

At this point in our journey do I become aware of a strange feeling - Awe. I'm in absolute awe at the power, wealth and influence of the Indian people during this time in their history. When one looks at India today is there so much poverty that one can not imagine such wealth existed in these parts in the 14th century.

So how does this happen? How does a thriving people, (building forts, monuments, temples and complexes of this grandeur and size) lose their power and wealth? Is it the Europeans who are at fault, they who seized the wealth of India for themselves from as early as 1498?

I cannot help but feel that the Europeans, especially the English occupation in India starting from 1617, was responsible for the decline of the then thriving Indian civilization(s). It is noteworthy that after the 14th to 15th century, no great monuments and forts were built in India. Why, one cannot help but ask?

There are probably multiple answers to this question. But one thing that I became aware of as I stood on the wall of this fort, is that humans are indeed brutal beasts. If there is one thing to one can learn from history, it is that the influence of a foreign nation upon another nation can wreak havoc. Not only to the wealth, influence and power of a nation, but upon the culture, way of life and beliefs of the people to.
If the European and English occupation of India didn't take place, would India still have been as powerful a nation today as it was in the 14th to 16th century ? Would it still be today one of the wealthiest and civilized nations in the world?

I think so yes. Luckily is modern day India showing signs of reclaiming their position as one of the leading countries in the world. And they are doing it without waging war on other countries, but continuing to live by Hindu beliefs and moral ethics of causing no harm to another. In more than one way does the Indian Hindu way of live surpass that of the Western belief system.

I noticed this more and more as I spend time in India. Indians has a peacefulness about their person that you will not find anywhere else in the world. It is when I see the way in which they accept everything, good or bad that comes their way, that I find hope again for humanity. And I truly hope that all of humanity and the nations of this earth, has learnt their lesson, and would leave other nations be. Accepting them unconditionally for who their are, respecting their traditions and way of live and allowing them to continue their existence as they choose, without unjustly getting involved. May humanity soon evolve past the brutal existence it has waged to date.

Read more here about the reason why Hindu's do not belief in harming another being.

More Information: Hinduism and War

Features inside the Fort:
Fort compound area.
Madhvendra Palace
Fortified walls and check posts
Various courtyards and beautifully decorated apartment rooms.

INTERESTING FACT: There is a belief that the spirit of Nahar Singh Bhomia haunted this place and tried to prevent the construction of the fort. In order to avoid any further delays to the building of the fort, a temple in memory of Nahar was constructed. After that, no more 'accidents' or strange events occurred, and building of the fort continued.
15.
The Nasiyan Jain Temple
– Ajmer Jain Temple - (Ajmer)
Location: Ajmer (Rajasthan, India)
Date: 1864
Created by: Seth Moochand
Deity: Rishabhanatha
16.
Ana Sagar Lake
(Ajmer)
Location: Ajmer (Rajasthan, India)
Date: 1135-1150 AD
Created by: Anaji Tomar
Coverage Area: 13 kilometers
Average Depth: 4 – 4.5 meters
Storage Capacity: 4.75 million cubic meter.
17.
Rangji Temple
– Also known as the Shri Vaikunt Nath Temple - (Ajmer)
Location: Ajmer (Rajasthan, India)
Date: 1823
Created by: Seth Puran Mal Ganeriwal
Deity: Lord Rangji (Incarnation of Lord Vishnu)
18. Akbar's Palace (Ajmer)
Location: Ajmer (Rajasthan, India)
Date: 1570 AD
Created by: Emperor Akbar.
Prominent Feature: Its almost impregnable stone walls.
This palace was the home of King Akbar, a Mughal Emperor, and is situated inside The Kings Fort. It features a variety of beautiful sculptures such as Baghera, Harsnath, Pushkar, Osian, a library, rare epigraphs and prehistoric relics.



19.
Mehrangarh Fort
(Jodhpur)
Location: Jodhpur (Rajasthan, India)
Date: 1459
Created by: Rao Nara and Rao Jodha.

This astounding seven-gate fort is one of the largest in India, built during 1459 by Rao Jodha (chief of the Rathore clan and founder of Jodhpur) and Rao Nara (appointed Diwan by Rao Jodha.) Built on a hill with cliffs cascading down sharply, it inspires in the mind images of how it must have been like to live during the reign of some of the greatest rulers of India in the 15th century. I absolutely loved this fort.
Unlike the Mughal forts we saw in Delhi and Agra, is this fort authentically Indian, displaying Hindu artwork, architecture and decorations. It is a grand example of the wealth, power and minds of the Indian people of old, proving to the world that India was truly great before foreign invasion seized their wealth and power.
20.
Jaswant Thada
(Jodhpur)
Location: Jodhpur (Rajasthan, India)
Date: 1899
Built by: Maharaja Sardar Singh
Maharaja Sardar Singh of Jodhpur, built this cenotaph in memory of his father, Jaswant Singh II. Thereafter was it used as burial ground for other rulers of the Marwar kingdom.
(A cenotaph is constructed in honor of someone who is buried elsewhere. It is usually in the form of a tomb or monument.)
21. Umaid Bhawan Palace Museum (Jodhpur)
Location: Jodhpur (Rajasthan, India)
Construction Date: 1929
Completion Date: 1943
Commissioned by: Maharaja Sardar Singh
Architect: Henry Baughan Lanchester
Number of Rooms: 347
One of the worlds largest private residence is located in Jodhpur, famously called, the Umaid Bhawan Palace. But the palace wasn't built to glorify a ruler or showcase Indian power and wealth. Instead was it built to provide employment to a famine stricken nation.
It is said that a curse by a saint predicted a period of drought after the Rathore Dynasty. Low-and-behold, after the long rule (50 years) of Pratap Singh, was Jodhpur faced with a severe drought and famine. It lasted for over three years.

The farmers in the area had no income or means of living, therefore did the king provide them with employment in the form of building this lavish palace. There was no rush to complete the project, as the objective was employment, therefore did the construction of the palace last more than 14 years.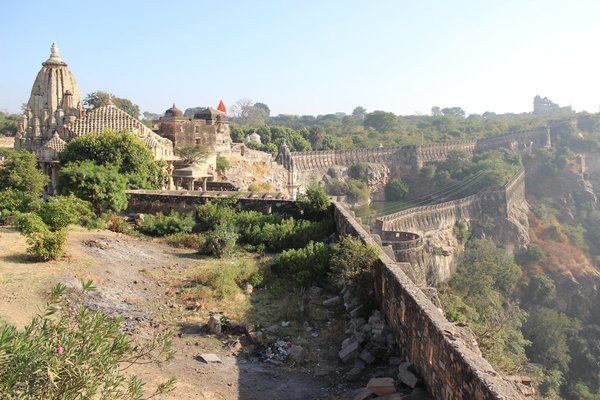 22. Cittorgarh Fort (Chittorgarh)
Location: Chittorgarh (Rajasthan, India)
Construction Date: 7th Century AD – most probably during the year of 734 AD.
Built by: Bappa Rawal
Interesting Information: Chittorgarh Fort was the capital of Mewar for 834 years.
The Fort of Chittor is one of the most exquisite forts I have seen in India. It is in essence a hill fort, constructed in 734 AD by Bappa Rawal. What makes this fort so impressive is the largeness of it, the monumental constructions and artwork, the palaces, mosques and various other features.
23. Eklingii - Hindu Temple - (Kailash Puri)
Location: Kailash Puri (Rajasthan, India)
Date: 971
Built by: Buhila of the Mewar Dynasty
Interesting Information: This temple complex has 108 temples together with a beautiful floor of marble. The only Lakulish Temple in India can also be found here.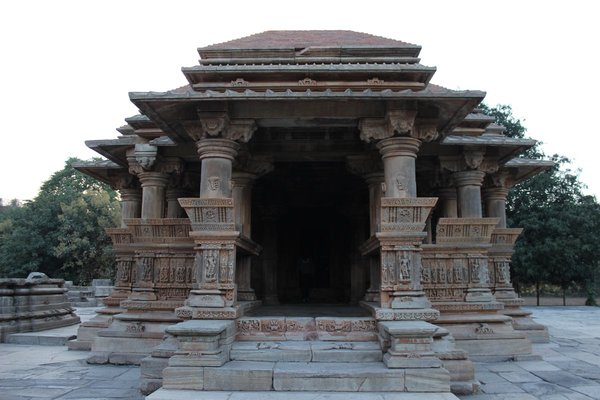 24. Sas Bahu Temples (Nagda)
Location: Nagda (Rajasthan, India)
Construction Date: 10th Century AD.
Deity: Vishnu
For more information on the Sas Bahu Temples read our blog on Routes.Tips
25. Lake Pichola (Udaipur)
Location: Udaipur (Rajasthan, India)
Construction Date: 1362 AD
Length: 4km (2.5 mi)
Width: 3km (1.9 mi)
Surface area: 1,720 acres (696 hectares)
Water Volume: 13.08 million cubic meters

Lake Pichola is an artificial fresh water lake, constructed in 1362 AD. It was named as such because of a village called, Picholi, located nearby.
Lake Pichola - Suggested Route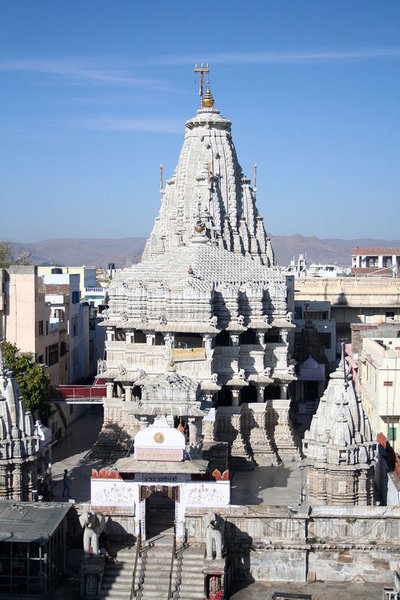 26. Jagdish Temple (Udaipur)
Jagdish Temple is one of our featured ROUTES.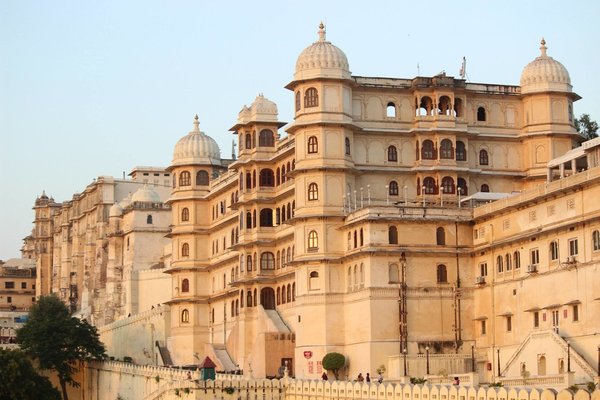 27. Udaipur City Palace (Udaipur)
Location: Udaipur (Rajasthan, India)
Construction Date: 1559
Architecture: Rajput

Jagdish Temple is one of our featured ROUTES.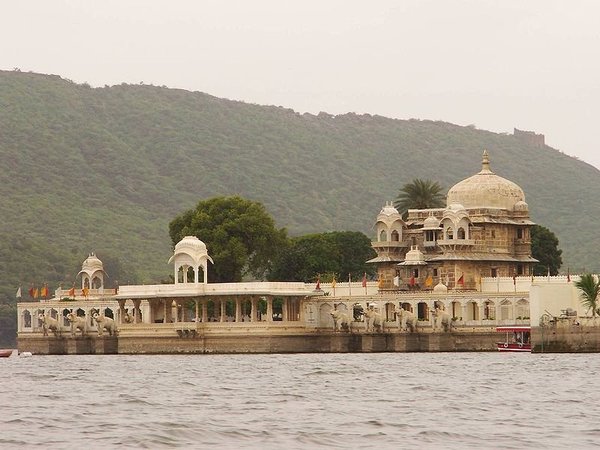 28. Jag Mandir Palace (Udaipur)
Location: Udaipur (Rajasthan, India)
Construction Date: 1551
Architecture: Rajput
Commissioned by: Maharana Jagat Singh I
Jag Mandir Palace is one of our featured ROUTES.
29.
Bagore ki Haveli
(Udaipur)
Location: Udaipur (Rajasthan, India)
Construction Date: 18th Century
Built by: Prime Minister Amir Chand Badwa

Close to Lake Pichola, at Gangori Ghat, will you find the Bagore Ki Haveli. The palace has well over a hundred rooms, but is currently used as a museum to display art, costumes, Mewar paintings and glasswork.
(A Haveli is indicative of a traditional townhouse or mansion in India, Nepal and/or Bangladesh. It is usually a house with historical or architectural significance.)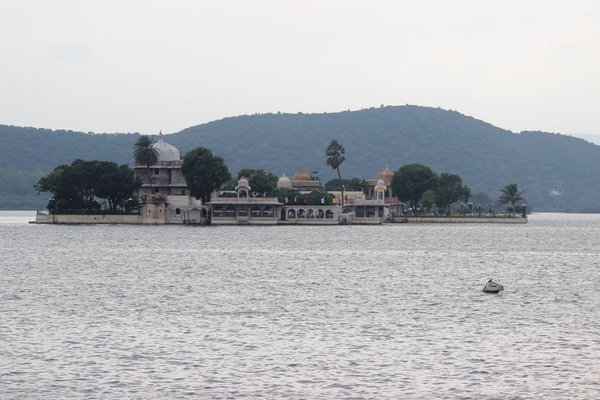 30. Fateh Sagar Lake (Udaipur)
Location: Udaipur (Rajasthan, India)
Construction Date: 1362 AD
Length: 2.4km
Width: 1.6km
Fateh Sagar Lake is one of our featured ROUTES.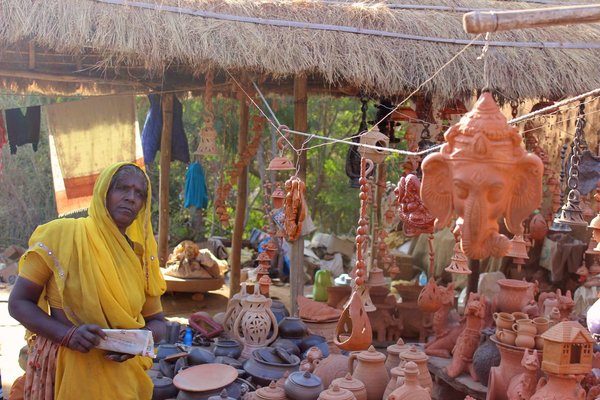 31.
Shilpgram
Art & Craft Outdoor Market (Udaipur)
Shilpgram is one of our featured ROUTES.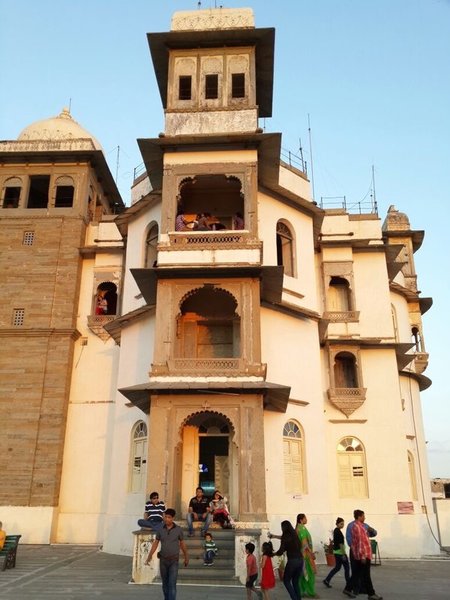 32.
Sajjangarh Palace
– Also known as "Monsoon Palace" - (Udaipur)
Location: Udaipur (Rajasthan, India)
Construction Date: 1884
Built by: Maharana Sajjan Singh

High on a hilltop, overlooking the city of Udaipur, is located the Sajjangarh Palace. It was built by the ruling Maharan of the time, Sajjan Singh, and used by him as his palatial residence. Interestingly enough was the palace built to watch the monsoon clouds, therefore is it known as the "Monsoon Palace."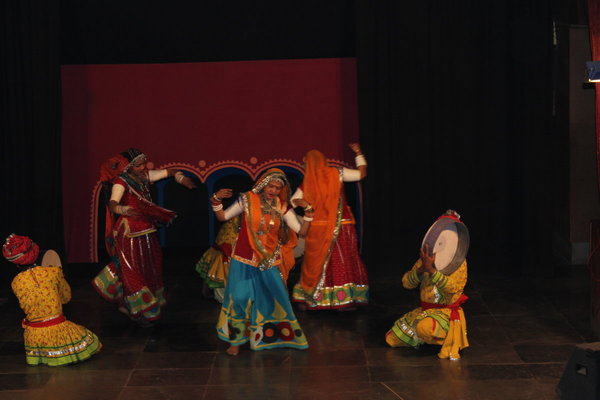 33. Bharatiya Lok Kala Museum (Udaipur)
Location: Udaipur (Rajasthan, India)
This museum features a collection of folk artifacts related to the Rajastani province. Items such as ornaments, puppets, masks, dolls, folk dresses and -instruments can be viewed here. Furthermore can you attend a puppet- and folk dance show.

34.
Sajjan Niwas Garden
– Gulab Bagh (The Rose Garden) - (Udaipur)
Location: Udaipur (Rajasthan, India)
Built in: Around the 1850's
Built by: Maharana Sajjan Singh
The Sajjan Niwas Garden covers a large piece of land, about 100 acres, and is considered the largest garden in the Rajasthan province. The principal attraction is the selection of roses. The garden is a relaxing place for a picnic in the afternoons.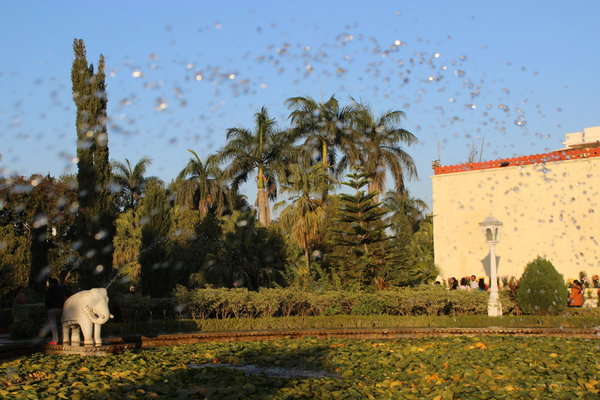 35.
Saheliyon Ki Bari Garden
– Courtyard of the Maidens - (Udaipur)
Location: Udaipur (Rajasthan, India)
Construction Date: 1710
Built by: Maharana Sangram Singh

This garden is beautiful and really unique; it has various fountains and water-rays that react to clapping. The garden was constructed for a group of 48 female maidens (attendants) that accompanied their princess as part of her dowry; she was to marry the king.

Each water channel has a distinct sound, which merges with the other sounds in order to create the unique ambience.

Main Features:
A Lotus Pond with marble elephants.
A small museum.
Various fountains and some kiosks.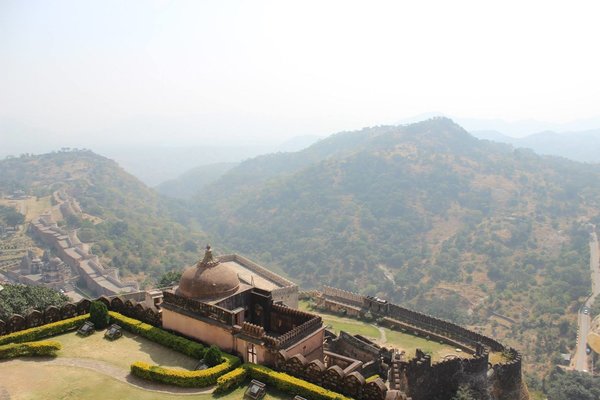 36. Kumbhalgarh Fort (Rajsamand District)
Location: Aravalli Hills – Rajsamand district - (Rajasthan, India)
Construction Date: 15th Century
Built by: Rana Kumbha
Elevation: 1,100m (3,600 feet)
The Aravalli Hills form one of the major features in the Rajsamand district, their elevation providing the perfect place to construct an impenetrable fort. For this reason was built Kumbhalgarh Fort, which is situated on the westerly ranges of the Aravalli hills. Construction started during the 15th century by Rana Kumbha.
(This fort became especially famous because one of the greatest warriors and kings of the Mewar dynasty, Maharana Pratap, was born here.)

INTERESTING INFORMATION:
The forts' lone wall of 38 km is the second longest wall in the world next to the Great Wall of China.
Kumbhalgarh Fort is considered the second largest fort in Rajasthan.

Main Features:
Various temples such as the Ganesh temple, Neel Kanth Mahadeva temple (1458 CE), Mataji temple, Mamdeo Jain temple, Sun Temple (Surya Mandir) and Parsva Natha temple (1513).
A shrine of Shiva.
The Lakhola Tank as well as the Bad Shahi Bavdi stepped tank.
Beautiful gates, namely: Aaret Pol (West), Halla Pol, Ram Pol and Hanuman Pol.
The fort palace with various rooms, inner courts, gardens.
The soldier's quarters.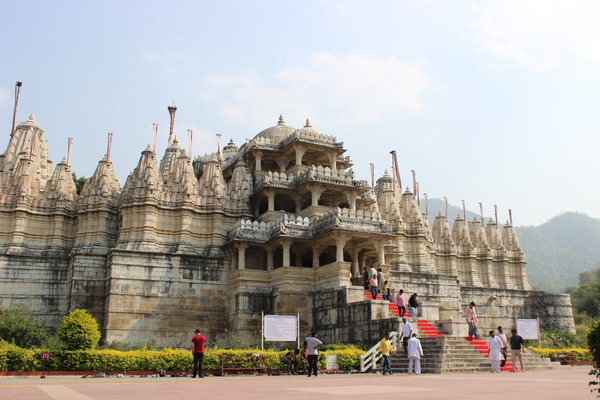 37. Ranakpur Temple (Ranakpur)
Location: Ranakpur Village (Rajasthan, Pali district, India)
Construction Date: 1437 CE
Dedicated to: Tirthankara Adinatha
Architect: Deepaka
Inspired by: Dhanna Shah
Patron: Rana Kumbha (Ruler of Mewar)
This temple is my absolute favorite within the whole of India. The architecture is exquisite. More information on the history, architecture and legends related to the Ranakpur temple can be found here.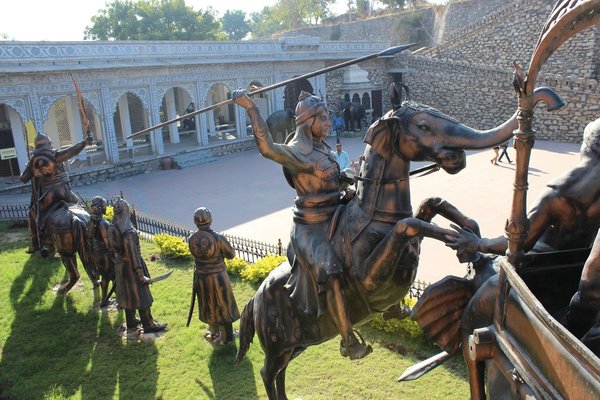 38.
Maharana Pratap Museum
(Haldighati)
Location: Haldighati (Rajasthan, India)
Construction Date: 21st Century
Dedicated to: Maharana Pratap Singh of Mewar
This Museum was constructed in honor of the bravery of Maharana Pratap. He was especially known for fighting in one of the most famous battles that took place here on 18 June 1576 against Emperor Akbar's and his Mughal army.

Maharana Pratap Museum is one of our featured ROUTES.

39. Chetak Smerag (Haldi Ghati)
Chetak, a Kathiawari horse, was the name of Maharana Pratap's famous white horse. The horse was injured during the battle when Rana Pratap attached the elephant of his enemy. Rana Pratap faced death in that moment, but the horse saved his life by carrying Rana to a save distance. It had to jump over a 22 feet river, after which he collapsed and died. The place at which it died is marked as Chetak Samadhi.
40. Rishabhdeo Temple (Dhulev)
Location: Dhulev – Also known as Rikhabdeo - (Rajasthan, India)
Construction Date: 15th Century
Dedicated to: Lord Rishabh Dev. Rikhabdeoji. (Also known as Keshariyaji.)

This temple is an important pilgrimage site for Jain followers. The temple is believed to fulfill wishes and desires, and since many believe Rishabhdeoji to be an incarnation of Lord Vishnu, does many Hindu's come here every month from all over the province of Rajasthan, to worship.
Written by: Marie-Berdine Steyn
ENJOYED THIS BLOG?
Our list of Top 40 Attraction while Traveling South India will soon be available.
BLOGS: TRAVELING INDIA – NORTH TO SOUTH
Other ROUTES from the TRAVELING INDIA – NORTH TO SOUTH Series
REFERENCES & SOURCES
Article by: Marie-Berdine Steyn