Los Angeles, or the City of Angels, is famous for its never-ending star spotting. It is the home of many famous actors and obviously one of the world's biggest movie industry, Hollywood. The amount of things that it is possible to do in this city is overwhelming, so we've condensed it into 10 Top Things To Do in LA (which are in no particular order). Many of these are free entry or free to do, so there's a bonus for you! We hope you enjoy your trip, and who knows? Maybe you'll get lucky and spot your favourite movie star. 
1) Go on the Famous Hollywood Hike
We've pretty much all seen the Hollywood sign on TV, so why not go see it in person? The best way to do it is to pack your hiking gear and go on a hike. My favourite trail (stay tuned for the route) is the one that starts at the Griffith Observatory: Mount Hollywood Trail. Climbing up to the actual sign is a pretty long hike, but this hike lets you see a beautiful view of the sign, from pretty close up, without the hassle of having to actually go there. Besides that, you get a magnificent view of the city of Los Angeles from above, and it is especially pretty if you see the sun set over the city. I don't recommend staying out too late as these trails, even though they are clearly marked, are not lit up. Other than that, enjoy the view!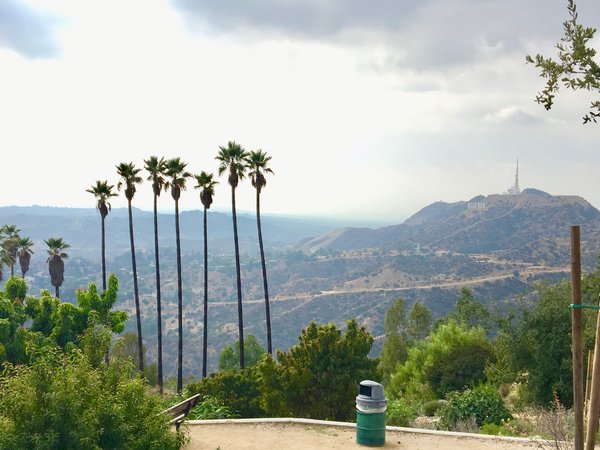 2) Have Fun at Santa Monica Pier
If you happen to be a Grand Theft Auto player, or simply a movie lover, you've definitely already encountered this pier on several occasions. The pier in Santa Monica is very easy to get to by metro, is next to a beautiful beach, and features an amusement park. The ferris wheel is symbolic of this location, and you can also get a taste of the famous Bubba Gump Shrimp here. It is the perfect location for a sunny afternoon, right after a stroll on the beach. This place completely transforms at night into hundreds of different gleaming colours as the attractions light up, and it makes for beautiful pictures. Stay tuned for the Santa Monica Pier route, coming soon.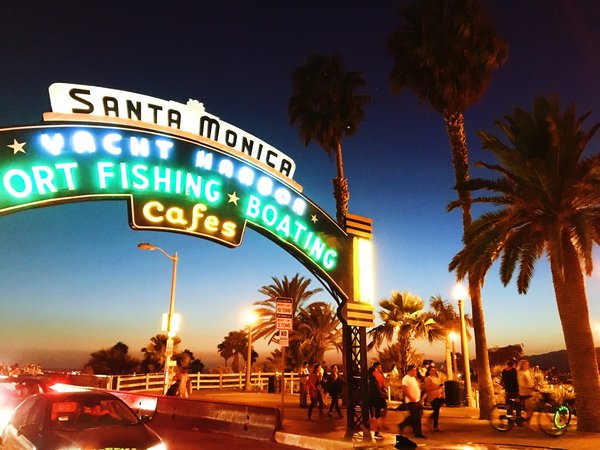 3) Find Your Favourite Actor/Actress at the Walk of Fame
I feel like this one is pretty self explanatory, but it definitely deserves to be mentioned. If you don't know what the Walk of Fame is (or simply don't know it by it's name) it is a long street that has a sidewalk (on both sides) that features engraved stone stars on the floor, showcasing the names of thousands of movie star, artists, and musicians that have made it big. "Getting my name on a Hollywood star" is the dream of any artist. Here you can find the stars of Michael Jackson, Marilyn Monroe, or Madonna. These streets also feature a lot of souvenir stores, and it is the starting point of a lot of hop-on/hop-off LA buses.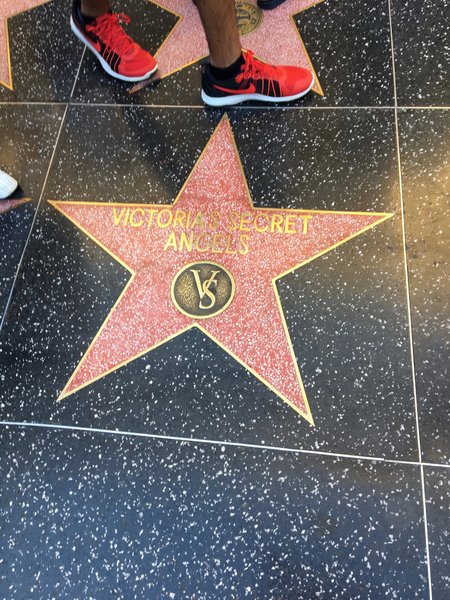 4) Take a Picture with the LACMA Lamp Posts
The Los Angeles Museum of Art is very famous for its art piece containing dozens of white lamp posts right outside the museum, which a lot of people take pictures with. This museum is a museum of modern art, located close to the Farmers Market. It hosts amazing concerts throughout the year outside which are free to attend. It makes for a wonderful afternoon, even for those who are not too found of art museums, seeing as it is very original, modern, and fresh-looking.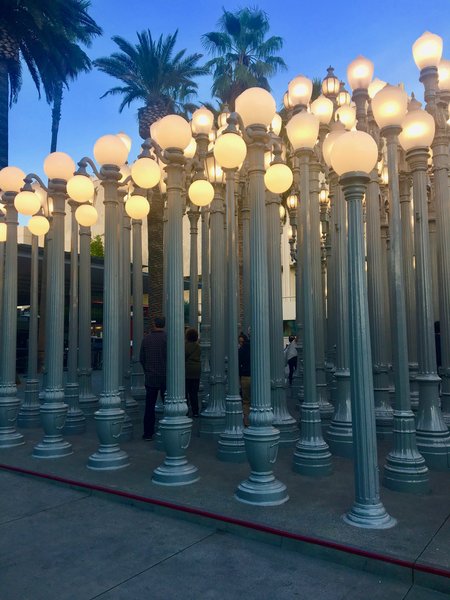 5) Take a Stroll Down Venice Beach
Venice Beach can provide the perfect afternoon for a lot of different types of people: the athletes, the art lovers, the beach lovers, the musicians… This beach features a famous boardwalk, which is frequently the set for a lot of filming. Here you can find stands selling beautiful paintings of the scenery, other hand-made souvenirs, you can get a Henna tattoo, or you can rent a bike to ride along the boardwalk. Street artists will provide you with the background music, and you can even get a work-out in at Venice Beach's famous Muscle Beach. Arnold Schwarzenegger is said to have worked out at this beach back in the day.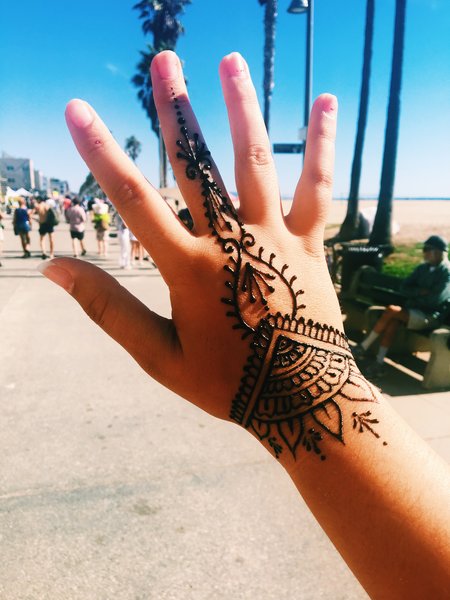 6) Fill Up Your Belly at the Farmers' Market
Los Angeles' Original Farmer's Market is pretty famous, and for good reasons; here you can find all types of food, from Chinese to Italian, as well as fresh fruit and produce. It is the perfect location to come spend a morning or afternoon. Make sure to stop at several stands and try out what they are selling, instead of choosing just one and eating there. You can also have several different courses; from trying cheese to satisfying your sweet tooth. The neighbourhood nearby is also a shopping district with a lot of famous brands, so make sure to explore the area well.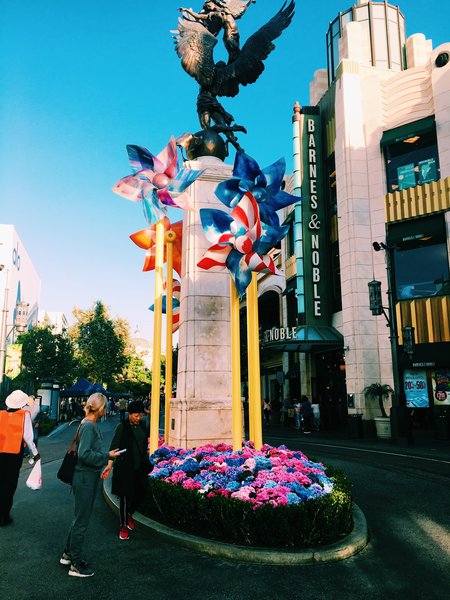 7) Travel to Space at The Board Museum
The Board is a (free) new museum in Los Angeles, that is very quickly gaining its fame for what is know as the Infinity Room. This is a room full of mirrors and covered in stars, that you get to spend 40 seconds in and admire. Not only will your Instagram followers love it, but you will also enjoy this trippy experience. Make sure to walk in and reserve a spot for yourself in the infinity room, seeing as this exposition is very sought after and requires a waiting time of about an hour. Even then, it is definitely worth it.
8) Watch Something Being Filmed
While this is definitely the hardest idea to follow from this list if you do it right it could pay off a lot! Google and research the films/shows/ads being filmed in Los Angeles for the period of time you are there. Sometimes, not always, these are posted and you are able to go watch the scene happening. Make sure to be respectful of those who are working, keep silent, and stay out of the way when asked. Other than that, enjoy seeing some stars in real life! When we were in Venice Beach we got to see an ad being filmed, and while we didn't spot any stars it was definitely interesting watching all the cameras, lights, and action (pun intended).
9) Shop 'til You Drop at the Third Street Promenade
The Third Street Promenade can be visited for as many (or as little) hours as you'd like. It is just around the corner from Santa Monica Pier, and is a long avenue featuring stores such as Barnes and Noble, Urban Outfitters, Doc Martens, and many more. It also features a lot of restaurants, bars, cafés, and street artists, and makes for a very relaxing afternoon. Personally I am a book person, so I really enjoyed browsing for those, but from high end to more affordable brands you can find literally anything here.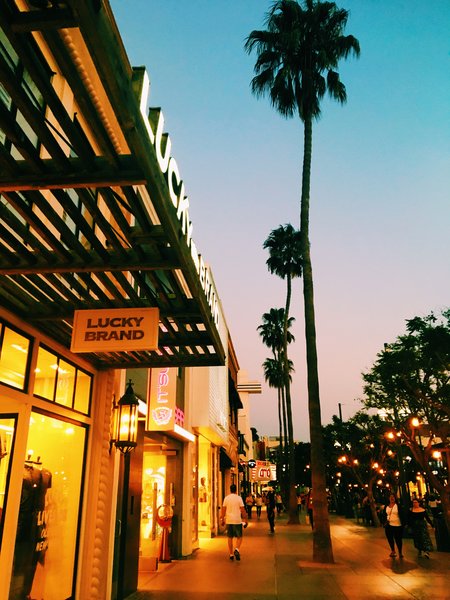 10) Sip on a Margarita at Sunset on a Roof
Last but not least, make sure you enjoy a drink in one of Los Angeles' many rooftop bars, seeing as the city is beautiful when seen from above, especially if you watch the sunset and enjoy all the lights coming on at the end of the day. I had a drink at the Rooftop at Wilshire, and the view from there was incredible. It is located very close to the LACMA museum, and would be a perfect way to end a day of art-seeing.
Enjoy your trip to the City of Angels!