Los Angeles, very commonly known as the City of Angeles, is actually the United States' second most populated city right after New York City. It is also the home of Hollywood, one of the world's biggest film hubs. It is located on the West coast, and features areas like Santa Monica and Beverly Hills which are known for the amount of celebrities that have houses here. Many aspiring artists and musicians move to the city every year in hopes of increasing their shots at fame, seeing as Los Angeles is the place to be for anyone interested in the movie or music industries. From hike-friendly mountains to very pleasant beaches and an urban city centre, Los Angeles really has it all.


The city of Los Angeles is absolutely huge, covering an area of 1,210 kilometres squared which is about 469 miles. While not all of these areas are of interest to tourists many of them are, so I recommend allocating at least a week to the city. This way you can take some time to hike up to the Hollywood sign, hang out at the beach, and party in the city centre. 


Los Angeles has a very busy and a somewhat important vibe to it. Many points are also very touristy, and the essence of the city revolves around the movie and music industry. The most undervalued or overlooked features are the natural beauty the city has to offer and the rather rare combination of ocean, mountain, and skyscrapers. Actually, if you choose to climb up the mountains near the Hollywood sign you will understand exactly what I mean as you will be able to see the mountains around you, the skyscrapers in front of you, and the ocean far ahead (tip: choose a day with clear weather for a better result). 


I've just recently spent 9 days in Los Angeles and absolutely loved it, so we've created this short guide to the city to guide you through your days there and make sure you make the absolute best out of your time in the wonderful City of Angels.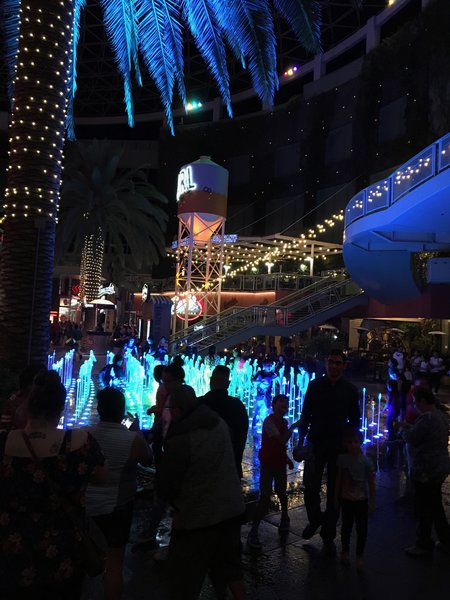 5 Fun Facts About Los Angeles
Los Angeles is the home to so many famous actors and singers, and is the star of the show in so many movies and tv shows… but do you actually know much about it? Here are 5 fun facts that you should know, but probably don't, about Los Angeles.
1) Many people know Los Angeles as LA, or even the City of Angels, but did you know that the city's full name is actually "El Pueblo de Nuestra Senora la Reina de los Angeles de Porciuncula"? Sounds complicated and long right? This is a Spanish name which means "The Village of Our Lady, the Queen of the Angels of the River of Porziuncola" when translated into English. Another thing you may not actually know the real name of is the Hollywood sign; originally, this sign said Hollywoodland which was the name of a real-estate company.  

2) It's commonly known that some states in America have very weird laws which, while mostly not enforced, are still officially part of the legislation. Los Angeles is no exception to these interesting laws; in LA animals are not allowed to publicly mate in close proximity to places of worship or schools, you are not allowed to lick toads, and you may not take more than 2000 sheep through Hollywood Boulevard. Which makes us seriously wonder what it was that happened that led to them making laws about licking toads.

3) Americans are known for the amount of rather unhealthy food that they tend to consume, and the citizens of Los Angeles are no exception. It is estimated that the average person in LA consumes 12kg of fried chicken, 22kg of french fries, 83 litres of ice cream, and 325 bottles of beer yearly! 

4) Most people know that Hollywood is one of the world's biggest movie industries, but very few peopleknow why; it is actually because the film industry was trying to run away from Thomas Edison's extensive film patents in New Jersey. This led film producers to go to the west coast and try to dodge intellectual property claims. 

5) Santa Monica Pier is almost as much of a representative symbol of LA as the Hollywood sign, but very few people know that this pier was actually originally designed to cover and protect the sewage system pipes that ditched treated sewage back into the water. Not so glamorous right?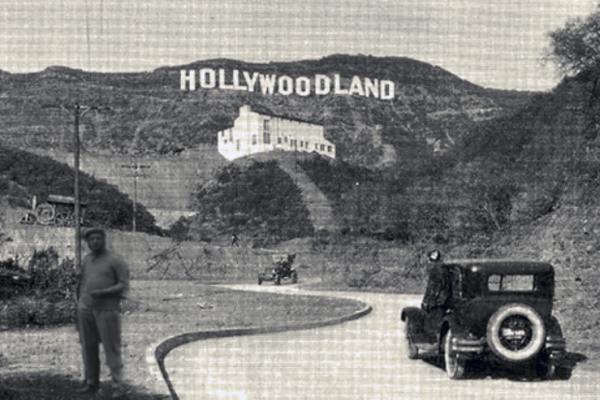 Top 9 Attractions in Los Angeles
Los Angeles has hundreds of different attractions, making it quite hard to select the day's activities for those with limited time in the city. To help out, we've made an article with the Top 10 Things To Do in LA which you should check out, but we've included a short list here of the top 9 things we recommend doing in LA, in no particular order:
1) Visit the Los Angeles County Museum of Art
The Los Angeles Museum of Art, or LACMA for short, is known for it's white lamp posts that can be seen below. This museum is a museum of modern art, located close to the Farmers Market. It hosts amazing concerts throughout the year outside which are free to attend. It makes for a wonderful afternoon, even for those who are not too found of art museums, seeing as it is very original, modern, and fresh-looking. You can check it out at http://www.lacma.org. It is closed on Wednesdays, Thanksgiving Day, and Christmas Day. Monday-Thursday opening times are between 11am and 5pm, Fridays it is open from 11am to 8pm, and weekends it is open from 10am to 7pm. The entrance prices are $15 for adults, $10 for 65+, free for members and children 17 and under. The museum also hosts several special exhibitions that change throughout the year, and there are special additional prices to these.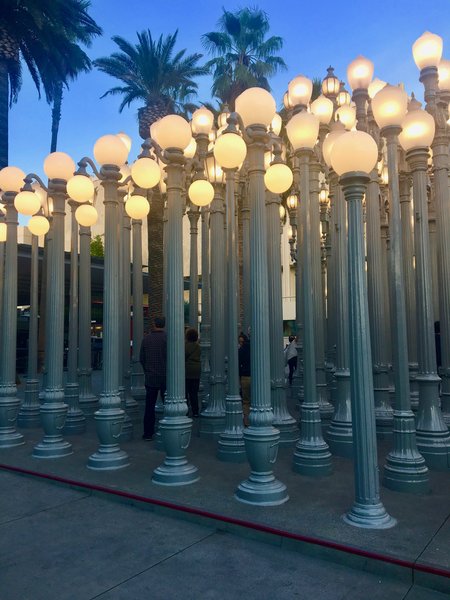 2) Visit The Broad Museum
The Broad is a (free) new museum in Los Angeles, that is very quickly gaining its fame for what is know as the Infinity Room. This is a room full of mirrors and covered in stars, that you get to spend 40 seconds in and admire. Not only will your Instagram followers love it, but you will also enjoy this trippy experience. Make sure to walk in and reserve a spot for yourself in the infinity room, seeing as this exposition is very sought after and requires a waiting time of about an hour. Even then, it is definitely worth it. You can check out the website at https://www.thebroad.org. Even though it is free and you can definitely stand in line and wait to enter, you can also choose to book an advance free general admission beforehand through their website to insure you can actually go in the day you want at the time you want. These are usually always all booked so make sure to book in advance. The opening times are Tuesday-Wednesday 11am to 5pm, Thursday-Friday 11am to 8pm, Saturday 10am - 8pm, Sunday 10am - 6pm, and it is closed on Mondays. 
3) Go on a Hike to See the Hollywood Sign
My favourite trail is the one that starts at the Griffith Observatory: Mount Hollywood Trail. Climbing up to the actual sign is a pretty long hike, but this hike lets you see a beautiful view of the sign, from pretty close up, without the hassle of having to actually go there. Besides that, you get a magnificent view of the city of Los Angeles from above, and it is especially pretty if you see the sun set over the city. I don't recommend staying out too late on these trails because even though they are clearly marked they are not lit up. Other than that, enjoy the view! These are free to do and we've created a
route here
to help guide you.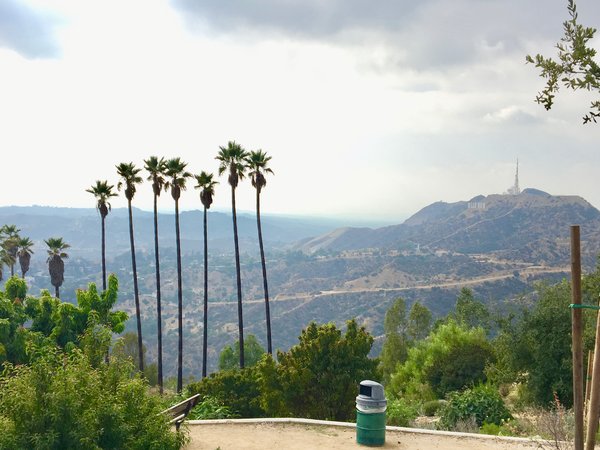 4) Visit the Santa Monica Pier
If you really want to know more or be completely convinced about this place we recommend reading
our article
 5 Reasons to Visit Santa Monica. If you happen to be a Grand Theft Auto player, or simply a movie lover, you've definitely already encountered this pier on several occasions. The pier in Santa Monica is very easy to get to by metro, is next to a beautiful beach, and features an amusement park. The ferris wheel is symbolic of this location, and you can also get a taste of the famous Bubba Gump Shrimp here. It is the perfect location for a sunny afternoon, right after a stroll on the beach. This place completely transforms at night into hundreds of different gleaming colours as the attractions light up, and it makes for beautiful pictures. You can also check out the Santa Monica Pier Route
here
.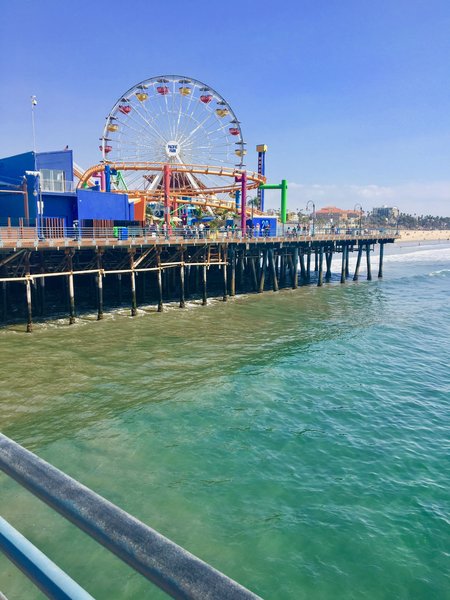 5) Visit the Stars of Hollywood at the Walk of Fame
I feel like this one is pretty self explanatory, but it definitely deserves to be mentioned. If you don't know what the Walk of Fame is (or simply don't know it by it's name) it is a long street that has a sidewalk (on both sides) that features engraved stone stars on the floor, showcasing the names of thousands of movie star, artists, and musicians that have made it big. "Getting my name on a Hollywood star" is the dream of any artist. Here you can find the stars of Michael Jackson, Marilyn Monroe, or Madonna. These streets also feature a lot of souvenir stores, and it is the starting point of a lot of hop-on/hop-off LA buses. We made a route for this area, which you can
check out here
.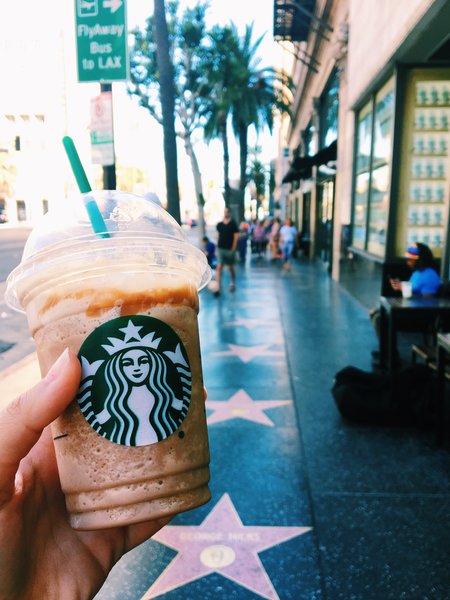 6) Check out the Universal Studios CityWalk
We made a route for this one which you can
check out here.
If you don't want to actually go into Universal Studios (it is pricey, we understand) you can just check out this very cool shopping area they created right outside the gates instead. It is free to visit and easy to reach, just take the red metro line to Universal Studios and then get in their free shuttle. It gives you some of the magic of Universal Studios (with Harry Potter and other movie themed stores), it is very well decorated, has an incredible food court, and plenty of entertainment. You also get to take a picture with the Universal Studios globe, which is right outside the gates of the amusement park.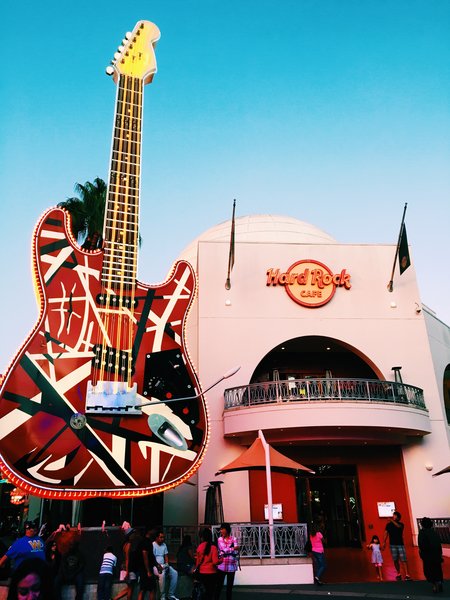 7) Go Shopping at the Third Street Promenade
The Third Street Promenade can be visited for as many (or as little) hours as you'd like. It is just around the corner from Santa Monica Pier, and is a long avenue featuring stores such as Barnes and Noble, Urban Outfitters, Doc Martens, and many more. It also features a lot of restaurants, bars, cafés, and street artists, and makes for a very relaxing afternoon. Personally I am a book person, so I really enjoyed browsing for those, but from high end to more affordable brands you can find literally anything here.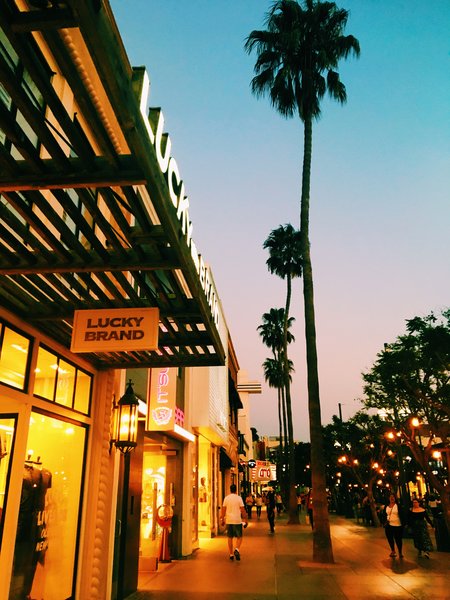 8) Check out the Original Farmer's Market
Los Angeles' Original Farmer's Market is pretty famous, and for good reasons; here you can find all types of food, from Chinese to Italian, as well as fresh fruit and produce. It is the perfect location to come spend a morning or afternoon. Make sure to stop at several stands and try out what they are selling, instead of choosing just one and eating there. You can also have several different courses; from trying cheese to satisfying your sweet tooth. The neighbourhood nearby is also a shopping district with a lot of famous brands, so make sure to explore the area well. 
9) Walk Down the Boardwalk at Venice Beach
Last but not least, Venice Beach can provide the perfect afternoon for a lot of different types of people: the athletes, the art lovers, the beach lovers, the musicians… This beach features a famous boardwalk, which is frequently the set for a lot of filming. Here you can find stands selling beautiful paintings of the scenery, other hand-made souvenirs, you can get a Henna tattoo, or you can rent a bike to ride along the boardwalk. Street artists will provide you with the background music, and you can even get a work-out in at Venice Beach's famous Muscle Beach. Arnold Schwarzenegger is said to have worked out at this beach back in the day. You can check out the ROUTE HERE.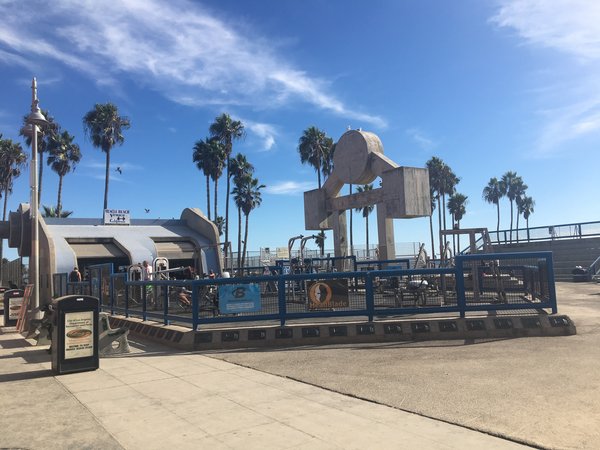 Check out the full article for more ideas HERE.
Things Not to Miss in Los Angeles
Have a glass of wine at a rooftop bar: have a drink in one of LA's many rooftop bars (we tried The Roof on Wilshire and liked it a lot). It is a bit pricey but will provide you with a gorgeous overview of the city of LA at night
See the view from Griffith Observatory: it lets you see almost all of Los Angeles and it is an absolutely gorgeous view, you must check it out
Try some water sports like surf or paddle boarding: LA is known for its great weather and beaches, take advantage of it! Rent out a surf board or paddle board if you have done it before and feel confident, or pay for a 2 hour lesson and enjoy the water. Most of the bigger beaches have almost year-round lifeguards, so it is fairly safe.
Watch the sunset on the beach: go to any beach around sunset, sit down with some drinks and food, have a little sunset on the beach and enjoy the view
Go watch a Dodger's Game: you may not be a huge fan of baseball (I'm not) but you will definitely enjoy the fun family atmosphere of a baseball game. You can get fairly cheap tickets and if you pick a nice sunny afternoon it is a great way to spend your time, and it is a very American thing to do if you are not from the States.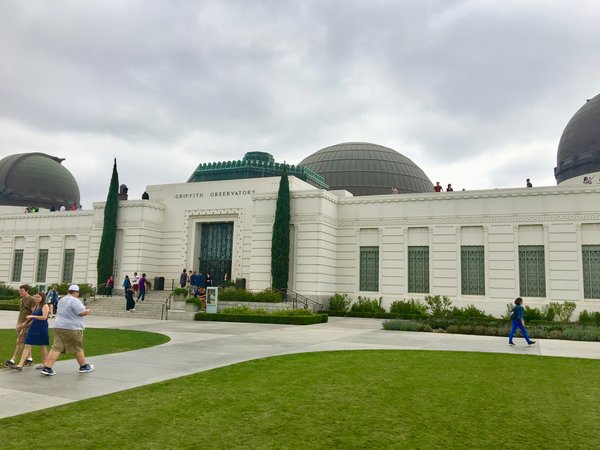 What To Eat In Los Angeles
Los Angeles is not very known for its food, so this section is a little hard to give you information on. However there certainly are some things worth checking out. One of them is the Original Farmers' Market as mentioned before, where you can buy bits and pieces and try out various different things. They aren't typically from Los Angeles so to say, but the experience is very local and common amongst tourists. Vegetarian and Vegan options are available here. 


Even though I didn't try it myself I've heard a lot about the famous Dodger Dogs which can be found in the Dodger Stadium. It is basically just a hot dog, but it is a very typical part of the American Baseball Experience. It was created by Thomas Arthur in 1962, who was the park's opening concessions manager. 


Last but definitely not least I recommend checking out In-N-Out Burger. While it is a fast-food chain it is one very particular to the west coast and it originated in Los Angeles, and their burgers are fairly good.
Itineraries in Los Angeles
Routes in Los Angeles:
Articles About Los Angeles:
Getting Around and About in Los Angeles
Los Angeles is infamous for its horrible traffic, and it is not a myth: during rush hour what could have been a 10 minute car ride may take you an hour to complete. The way we found best to get around in Los Angeles was the metro system, because all the places that are worth seeing usually have a metro stop nearby (such as the Walk of Fame, Universal Studios, and Santa Monica Pier). We bought two 7-day passes for $25 which we got a lot of use out of, so I definitely recommend checking those out. A one-way ticket will cost you $2.50. We also used the buses quite a lot, mainly by a company called Big Blue Bus which seems to be the main bus company in LA. Ticket prices vary for BBB, but they are usually no more than $1.75 per way. Be careful though: the bus drivers will not be able to give you change so if you only have a $10 bill you won't get change. It is smart to keep change on you. Some bus drivers feel bad and let you on for whatever you have so that you don't lose a lot of money, but don't count on this too much. We unfortunately had to a couple times and it turned out okay (mainly only having $3 in change for the two of us). I definitely recommend taking a bus along the Pacific Coast Highway just for the view.  Outside of rush hours or for places that were hard to reach using public transportation we relied on Lyft, and it was not too expensive. 


On the beach boardwalks such as Santa Monica State Beach or Venice Beach there are a lot of rental services for bikes, skateboards, rollerblades, and segways. If you dislike walking we definitely recommend renting out your fun transportation of choice and using it to cruise along these beautiful boardwalks.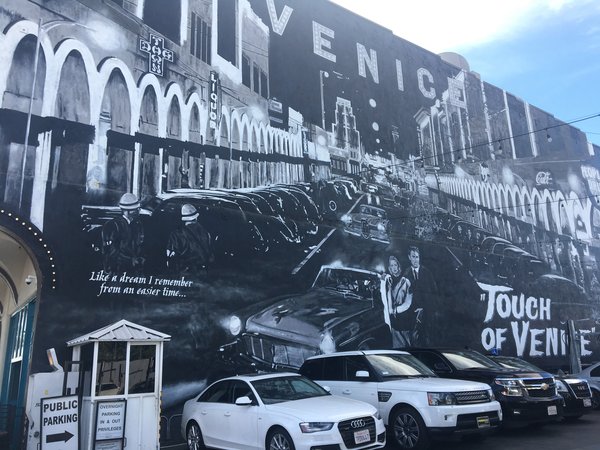 Getting to Los Angeles
The fastest and most used way to get to LA is through the Los Angeles Airport (LAX). You can buy domestic flights from different states at fairly cheap prices if they are booked ahead of time. If you are not too far away you may also choose to use one of the very used bus systems such as Greyhound or MegaBus which also let you get to Los Angeles for very cheap. If you are making a road trip out of it, you may also choose to come through one of the famous highways such as the Pacific Coast highway which will provide you with gorgeous views of the coast as you make your way down from places like San Francisco.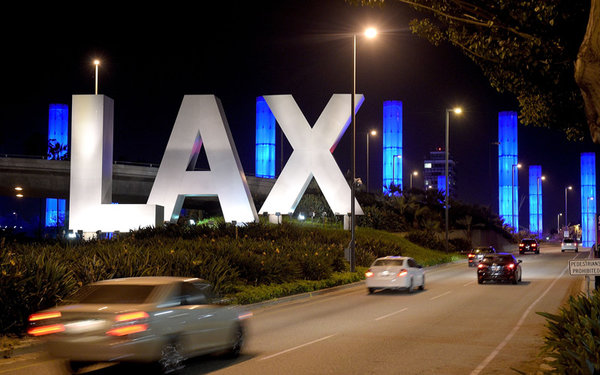 Where to Stay in Los Angeles
This section is perhaps the hardest to give information about, simply because LA is a rather expensive place. You can choose to take our route: Airbnb. We got a place near Santa Monica with a spacious room and shared big kitchen which we absolutely loved and didn't cost us too much money. If you opt for hotels, you'll be looking at at least $150 per night if you're in central Los Angeles, so we steered away from those options. There are plenty of Airbnbs available for all price ranges and even if you have a little more money to give you'll end up with a better place spending that money on Airbnb, such as a place with a jazuzzi or private pool, so I highly recommend exploring your options well. As for hostels and motels these are also very pricey here compared to other cities.
What to Bring from Los Angeles
While there are not many speciality foods or place specific souvenirs to bring from Los Angeles, there are a lot of fun souvenirs you can take back to your loved ones at home. From getting them a personalised Oscar to a Walk of Fame Star souvenir with their name on it, the possibilities are endless. Universal Studio's CityWalk has a lot of themed stores such as Harry Potter where you can get Harry Potter notebooks or fun toys, and even features a crazy and original sock store. You can also bring them an LA License Plate with their name on it, or stickers with the Hollywood sign. The possibilities are very creative and nearly endless. On the Venice Beach boardwalk I got a personalised hoodie made for me which I love.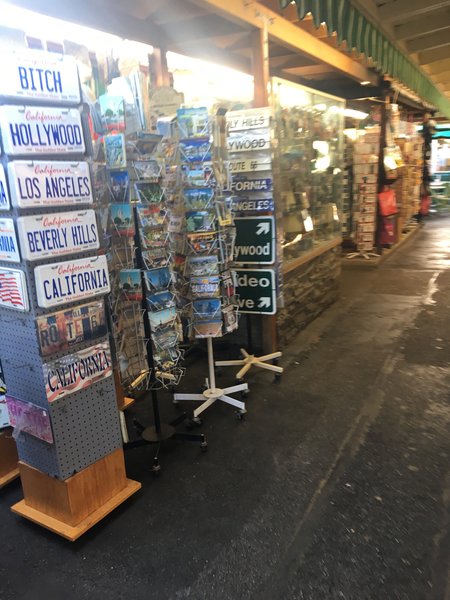 Tips for Travellers to Los Angeles
Keep in mind that Los Angeles is a highly touristy and therefore pricey city. Touristy cities also feature a lot of pickpockets so make sure to keep a close eye on your belongings. LA is pretty warm year-round but it may get windy, so pack accordingly. Book museum tickets (even the free ones) ahead of time to ensure that you can get in the day you want to. Pack lunches and water bottles to avoid high prices in crowded places.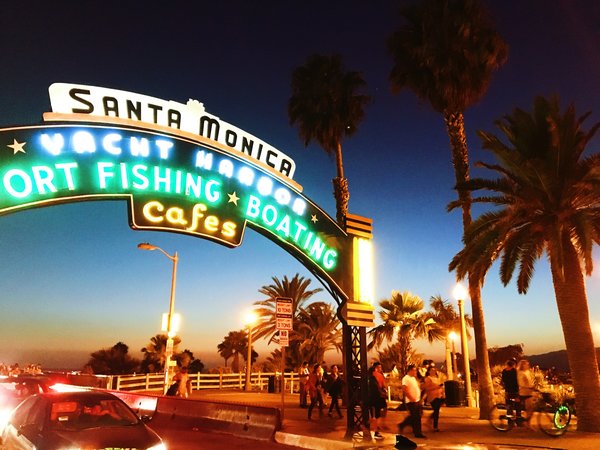 Lowcost Los Angeles
As you've read in previous sections the city of Los Angeles is pretty pricey, but there are ways around it. Make sure you buy week long metro or public transportation passes if you are staying for 7 days or more. Pack water bottles so you don't have to buy overpriced ones. Eat outside of the touristy areas to avoid being overcharged. Check for free entry afternoons for the museums you are interested in. Many of them (such as The Broad) are always free to visit. We packed a lot of sandwiches and fruit to avoid eating out all the time. Check out the beach boardwalks for a free and fun afternoon filled with entertainment. Take public transportation to nearby cities such as Malibu. Go on a hike to see the Hollywood sign. Avoid the tour buses as these are usually very overpriced and go to places you can easily check out yourself for free. Plan your trip ahead of time; that is my best tip! If you know where you want to go you can easily plan to make sure you visit everything that is in one place at once, to avoid going back and forth around the city. We wrote down a list of everything we wanted to see and then searched it all up, and grouped those things that were close to each other into "days" like "Day A" "Day B," etc. Every morning we woke up and simply chose a "day" depending on what we felt like doing. This way we insured we saw everything we wanted to see and did it efficiently.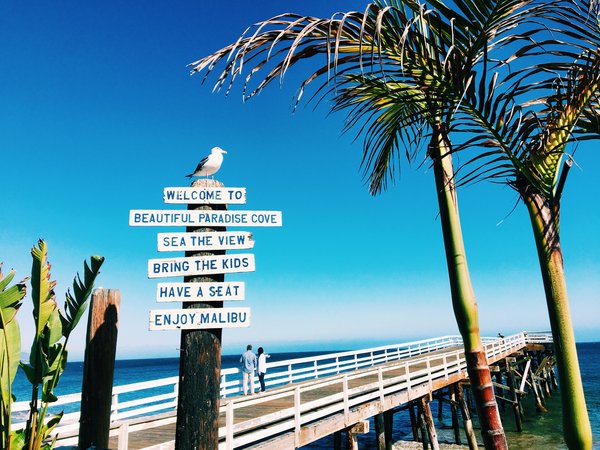 Day Trips from Los Angeles
For this section there are 4 day trips I would like to recommend, three of which I did myself and the fourth was done by a friend who highly recommended it. 
Disneyland California: did you know that Disneyland California was the only park whose construction was completely supervised by Walt Disney? Disneyland California features two parks (California Adventure & Disneyland Park) which you can see in as little time as two days depending on who you're traveling with. It is located in Anaheim, right outside of the city of Los Angeles, which will take you about 2 hours to get to via public transportation (a metro and a bus). You can also choose to take the Disneyland Express which leaves from LAX which does get there faster, but it is also a lot pricier. We love theme parks so we had an absolute blast here and definitely recommend it. You do have to stay overnight but only for one night if you choose to visit just one park like we did. If you go for a short amount of time, check out the MaxPass which you can get on your phone for only $10 and will allow you to get FastPasses for all the rides that feature it right from your phone. It was a real game changer for us!
Malibu: just a short 40 minute bus ride away from Santa Monica, Malibu was absolutely gorgeous with the bonus that the bus takes you through the Pacific Coast Highway which, as I mentioned before, is definitely worth traveling through because of the view. We went in September so the beach we checked out was completely deserted but the sun was still out, which made for a gorgeous and very peaceful afternoon. We went around noon and came back at 7pm and it costs us only $2 each for the bus ride. Pack yourself some picnic food and this trip is practically free. Check out the route here.
Sequoia National Park: this is the one we weren't able to do but my friend told me all about it so I could inform you. You definitely need to rent a car for this one, and from central LA you're looking at about 3 hours each way, but if you love nature you can definitely not miss the world's tallest and biggest trees. My friend came back with gorgeous pictures and incredible stories, so if this is something that interests you you should definitely check it out.
Las Vegas: yes, you read that correctly! Las Vegas. We took a tour that started in LA and took us to Las Vegas which took us approximately 3 hours to get there, and then we spent a night there and enjoyed the location. There are a lot of tours that offer this service, so if you're interested you should definitely check it out. You can see the Las Vegas ROUTE HERE or read important tips for Las Vegas HERE.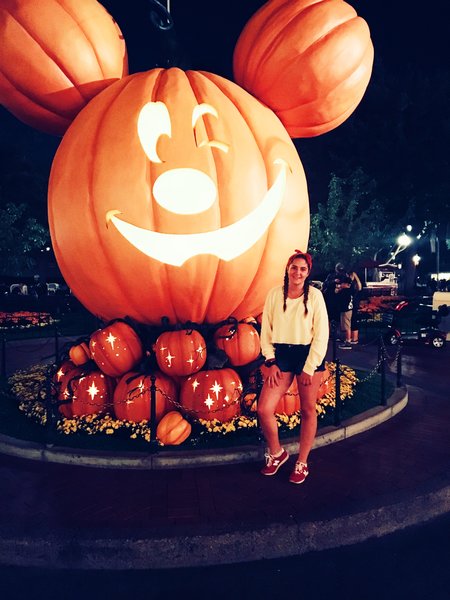 Understand Los Angeles
Going into Los Angeles as the excited tourist I was, I expected nothing but glamour and expensive meals. The reality though is that places like Santa Monica and the Walk of Fame are crowded with homeless people (to the point where McDonalds have security guards to avoid people loitering). Pick pocketing is as real here as anywhere else which generally attracts a lot of tourists. Locals don't usually take public transportation unless they don't earn a lot, so you really only see lower class people, students, and tourists in the metro and buses. Don't let this scare you though, the security system in place in the city works very well and there was not a single moment during my trip in which I felt uncomfortable or scared, but it is definitely a culture clash depending on where you come from and something I wish I had known before hand to avoid such a shock.
The weather in Los Angeles tends to be very warm year-round but it can get quite windy, so make sure to pack accordingly.
Much like New York City you are allowed to flag cabs and they will stop if they are available, but they are not as common as in New York.
Finally, Los Angeles is an expensive city especially when it comes to food, so keep this in mind.
Useful links
LACMA
http://www.lacma.org 

THE BROAD
https://www.thebroad.org 

Los Angeles Visitor Information Center

The Official Visitor Information Center is located on the 2nd floor adjacent to Starline Tours. There is also a kiosk conveniently located on level 2 in the Central Courtyard.

6801 Hollywood Blvd, Los Angeles, CA 90028
323.467.6412

Discover Los Angeles Information Website
https://www.discoverlosangeles.com