Panettone is a pie that loosely reminds of an orthodox sweet bread or an Easter cake, which the Italians usually serve at Xmas. It is made of flour, sugar, sourdough, egg-yolks, butter, honey, vanillin, and raisins. I am personally not that keen on sweet cakes like that, but my eating habits should not belittle the importance of the Xmas delicacy, that is why I decided to look into this tradition and give an unbiased overview.
Panettone is thought to have been created in Milan. There are many legends about the recipe, I'll tell the most romantic one.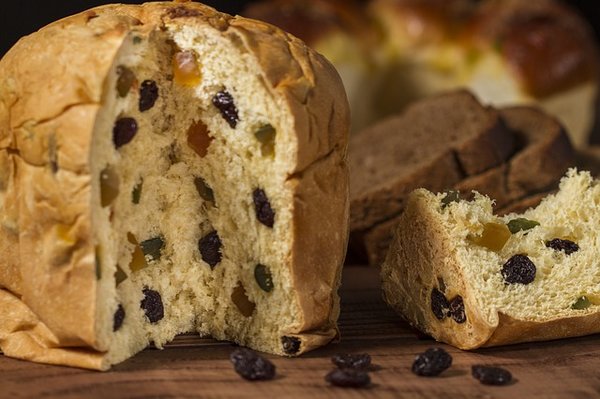 Once upon a time, in a glorious city of Milan, during the reign of Ludovico Sforza (1452-1508 to set the real timeframe), there lived a baker called Tony. He had two precious assets: a nice bakery in Corso Magenta and a beauty of a daughter called Adalgisa. Unfortunately, the bakery started to experience problems when one of the baker's apprentices got ill; then another bakery was opened in the neighbourhood and the customers began to flee to the competitor. Seeing the misfortune befalling the house of Tony, a noble young man called Ugetto from the Attelani family (those very Attelani in whose house we can now see the vineyards of Leonardo da Vinci) tried to help. He was secretly in love with Adalgisa, yet in those times class inequality was not much tolerated, his parents would never allow him to marry her.
Setting his heart on spending as much time as possible with his beloved, Ugetto got dressed in plain poor clothes and came to apply for a job to Tony, who was delighted to hire an extra hand. Ugetto worked nights and once before Christmas, without a granted permission from the boss, he decided to improve the bread and added butter, sugar, an egg and some raisins into the dough. The new delicacy became an overnight success, everybody liked it: the poor and the rich lined at the bakery every day, wishing to buy the new specialty: Tony's bread, or pane di Toni = Panettone. Tony got rich and when Ugetto finally plucked up the courage to tell his parents about his unconditional love for Adalgisa, they agreed to the future marriage as the bakery was flourishing. …and they lived happily ever after.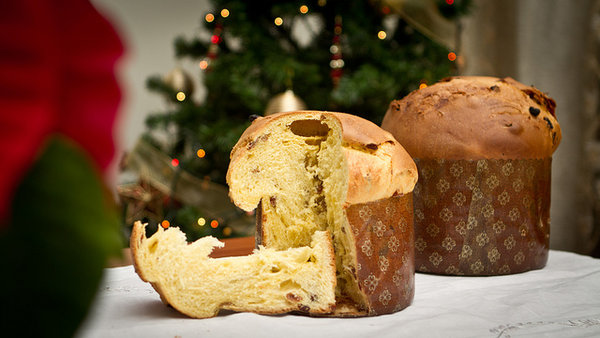 A nice Xmas-style fairy-tale, isn't it? The name 'Tony' was actually conceived on purpose, to explain the etymology of panettone, all the researches, even most superficial ones prove that the afore-mentioned characters never existed and the legend is just a fable.
So, who is the inventor of panettone? Who should be bestowed a precious prize for turning a 'homemade' cake into a signature dish popular not only in Milan, but also all over Italy as well. As with a majority of traditional recipes, this one has been incubated for centuries. The name comes from a Milanese dialect word 'panatton' that means 'great/big bread'. As to the modern Xmas dessert, it was introduced in 1919 by Angelo Motta, a confectioner and a businessman. Due to his efforts, panettone took its final shape and taste.
King Panettone in Milan
With Christmas coming, in 2008 Milan started a tradition a high day 'Re Panettone', the aim of which is not just to get people together and treat them to a fat piece of cake, but to preserve the traditional recipe. This year the festival will take place on November 28 and 29. The programme features 40 manufacturers, wine and cake tasting, and certainly, the choice of the best panettone which will be crowned a 'king'.
Where: Fabbrica del Vapore, via G. C. Procaccini 4, Milan
When: November 28: 10am to 8pm, November 29: 10am to 7pm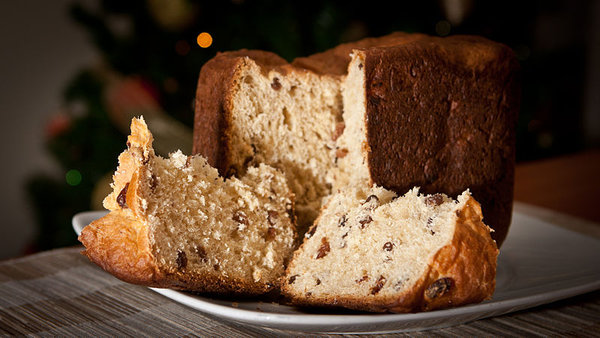 5 Best Places to Get Real Handmade Panettone in Milan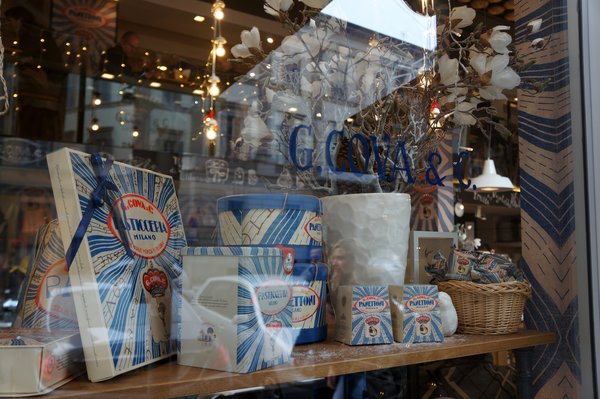 For those who wish for the stars and want to enjoy the true, classical Milanese panettone, here is the one made according to the strictest tradition, just as it used to be: wheat flour, butter, eggs, sugar, and the original sourdough - which is claimed to have originated 40 years ago. Oh, don't be deceived by the figure. It does not mean that it took the yeast 40 years to raise the dough, it is the age of the recipe and the original sourdough that rejuvenates every time you use it to make dough. The sourdough is refreshed daily by the pastry chefs, they add candied fruit and raisins, nothing else is needed for a mouth-watering experience. Don't mistake this craft sourdough panettone with the industrially made yeast-based Cova panettone sold in all supermarkets!
"Panetùn Sacher" is the highlight of the Christmas in Pasticceria Martesana. The handmade sweet is made with sweet soft classical panettone base, covered with a soft frosting of the 55% Equatorial dark chocolate, and, inside, a sweet surprise awaits: apricot cubes and a delicate veil of apricot jam. Et voila! The mix of panettone and Sachertorte is made to please a fastidious eater!
In the heart of Milan, Pasticceria Taveggia has been producing a symphony of a cake since 1909. They make it for all tastes: from classical plane bread to extra-dark chocolate cake with nuts and dates and the spectacular panettone with marron glace. And if you look for tangible evidence of craftsmanship of the baker, you'll find it in way the soft dough webs when it comes off in flakes, like cotton, not stretching like an accordion as in the industrial panettone. You have the creator's word!
The genius of
Ernst Knam
brought about KNAMETTONE, prepared with classical base of the panettone, enriched with chocolate shavings from 78% Uganda chocolate, candied orange and black cardamom. And in chocolaty pastries, the Christmas Stollen is another Christmas specialty: it is the typical German cake prepared with flour, raisins, candied orange, almond, marzipan, lemon, oil, rum, milk, butter, sugar, vanilla, salt, spices and yeast.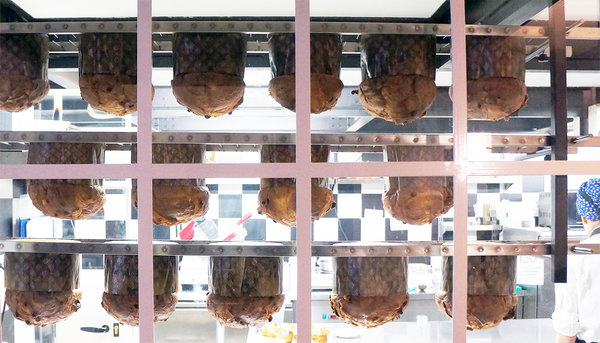 It is the youngest of the entries, but the one that has already gained popularity of the Milanese public. Pavé is "a living room with a pastry shop on sight". And if you're lucky you might see the pastry chef at work preparing a panettone. Pavé offers panettone of 500g, 1kg and, on request, also of 2kg. It is good to eat, they put it in a beautiful cardboard box in a little vintage, a little retro and totally chic style. Panettone can be found in the classic version, with candied fruit and raisins, or with chocolate chips.