Winter Has Come - Discovering Game of Thrones' Filming Locations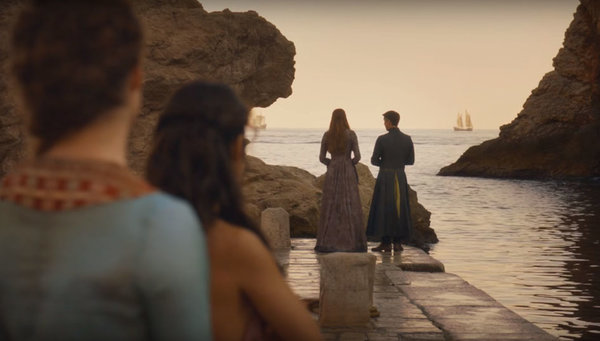 Introduction
Separated from the rest of Croatia, the walled city of Dubrovnik is the Adriatic's prized jewel. Its Renaissance, baroque and gothic architectural styles have often been the subject of many filmmakers' best work; its old town and medieval world charm have drawn travelers and tourists from across the globe. Although its history has been marred by war, it has emerged stronger and more bewitching than ever.
Some Fun & Interesting Facts About Game of Thrones:
The show has an unaired pilot! It was so bad that it had to be shelved and reshot.
The Turkish military has banned it in military schools to protect youngsters from its sexual and abusive content.
You can learn Dothraki and speak like Khal Drogo in no time. Living Language released a conversational language course crafted by linguist David J. Peterson, who created Dothraki for the show.
Spoiler alert! Many characters who die in the series, are alive in the books including Shireen and Stannis Baratheon, Barristan Selmy, Night's Watchmen Pyp and Grenn, Myrcella Baratheon, and Mance Rayder.
British actor and stunt performer Ian Whyte has played a whopping four roles on the show! He was a White Walker in seasons 1 and 2; played Gregor Clegane in season two; in season three we saw him as a giant, and in season five he acted as the Wildling giant Wun Wun.
Let's have a look at this week's featured GOT Filming Location:
Dubrovnik (Croatia)
Known in Game of Thrones as King's Landing – The Capital of Westeros

Named by the Croats, Dubrovnik's name is derived from dubrava, meaning wood because the earliest settlement was nearby an oak forest. This UNESCO World Heritage Site is one that has been preserved at its best despite being bombed during the Croatian War of Independence. Due to its beauty and connection to Game of Thrones, it has lately become quite the tourist hub.
Historical Timeline of Dubrovnik (Croatia)
:
7th Century A.D: Originally called Ragusa, was founded as a refuge for coastal residents fleeing from the Slavs. Defensive walls were built. Flourished as part of Byzantine Empire.
7th- 13th centuries: Built extensive trade channels with maritime ports like Genoa, Venice, Turkey, and India.
13th- mid 14thcentury: Attacked by Venice and fell under its rule until 1358 when the Treaty of Zadar, freed the city from Venetian rule and became Croat-Hungarian.
Middle Ages: Huge influence on maritime trade and chief competitor of Venetian empire. Influence expanded beyond the Adriatic.
17th century: Earthquake in 1667 destroyed art and architecture of the city. Despite reconstruction, trade declined.
19th century: Napoleon arrived in 1806. The Republic of Ragusa dissolved in 1808. After Napoleon's fall in 1815, Dubrovnik became part of Habsburg Empire until 1918.
20th century: Tourism kicked in; after second Yugoslav period in 1945, the city gained worldwide prominence. Included in UNESCO World Heritage List in 1979.
1990s: Siege of Dubrovnik in October 1991 - May 1992. The war between the Yugoslav People's Army and Croatian forces defending Dubrovnik destroyed the city during the Croatian War of Independence. UNESCO-led team helped in reconstruction worth 10 million USD
For a small Croatian city, Dubrovnik sure has a rich cultural history and origin. The city went through so much destruction and is still so beautiful! Did you know it also has its own "mythology" called Raguseida which was written in the 15th century?
Interesting Facts about Dubrovnik
Extremely low altitude: The small fortified city's altitude is a mere three meters above sea level! No wonder the beautiful beaches seem to lure hordes of excited visitors.
Never been breached: Dubrovnik is surrounded by two kilometers of fortifications that have never been infiltrated. The walls encircling the old city were constructed between the 12th and 17th centuries and are up to six meters thick.
Friends of USA: When this small city was the capital of the Republic of Ragusa, it was the first country to recognize the United States as a sovereign state after its independence from the British.
Abolishing slavery: Back in the 15th century, the then State of Dubrovnik was among the first to abolish the slave trade. It was centuries later that the more "cultured" western countries followed.
Saved an English King: In 1192, Richard the Lionheart was returning home from the crusades and was caught in a storm. It was then he decided that whenever he reached land, he would build God a cathedral. It so happened that he landed on the small island of Lokrum opposite Dubrovnik and built the Cathedral of the Assumption of the Virgin Mary after locals convinced him to construct the church in Dubrovnik and not Lokrum.
Colonies: You wouldn't think that such a small country would be a colonizer, but it did have a few colonies, one of the prominent ones is the village Gandaulim, in Old Goa, India.
Relationship to the Game of Thrones Series
You would have noticed several scenes filmed at Dubrovnik in the GOT series by now:
Video – Filming GOT at Dubrovnik
Top Attractions at Dubrovnik
Fortifications: The city's impenetrable fortifications are its icon. They measure 2 kilometers with a maximum height of 25 meters, 120+ canons, five bastions and four gates. You must go up to the top to see beautiful vistas of the blue Adriatic Sea, which you may recall from GoT! Notice the shelling damage to the terracotta rooftops during the 1990s Siege of Dubrovnik. The first walls were built in the 9th century, and subsequently, from the 14th century onwards, more fortifications were added with 15 forts to combat threats from the Turks. Don't forget to see Minčeta and Bokar Towers, Fort Lawrence Fort Revelin and Fort St John. The walk can be strenuous so come equipped.
Poljana Paska Miličevića, 20000, Dubrovnik, Croatia.
Rector's Palace: This magnificent Gothic-Renaissance palace was built in the 15th century for the rector governing the then Republic of Ragusa, containing his chambers, public halls, offices and even a dungeon. Today, it houses the city's Cultural History museum with many artifacts such as coats of arms, portraits, rooms dedicated to Dubrovnik's glorious past. Over the centuries, the building was destroyed and restored repeatedly but retains the unity of its architectural styles. Make an effort to see the ornate atrium staircase used for concerts and the bust of Miho Pracat, a ship owner in 1638 who left his wealth to the Republic; he was the only commoner to be honored with a statue.
Cathedral of the Assumption of the Virgin: Popularly known as the Dubrovnik Cathedral, it was funded and built by the English King Richard I in the 12th century who was saved from a shipwreck at Lokrum. In 1667, it was destroyed by an earthquake and rebuilt in 1713. Notice the violet altar of St John Nepomuk and polyptych of the Virgin made by Italian painter Titan. The most striking relic is the treasury dripping in gold and silver with contributions by local goldsmiths!
Oldest Pharmacy in the World: Housed inside the city's Franciscan Monastery, and founded in 1317, this remarkable business is still operational (tzdubrovnik.hr/franciscan_pharmacy)! Back in the day, the monks would make herbal medicines for the common people. Today it sells modern pharmaceuticals, but you can find a selection of creams and teas prepared according to the ancient recipes of the monks. Also, a visit the Franciscan Monastery which was built in the 13th century is not to be missed. Along with the pharmacy, there is a small museum with relics such as liturgical objects, gold jewelry and some remains of artillery from the 1990s war. Notice the pietà over the door by local artists Petar and Leonard Andrijić in 1498.
Sponza Palace: Originally a customs house, this palace was later mint and a treasury of the state and eventually a bank. Today it is home to the State Archives which have manuscripts dating back a thousand years. The palace itself is a grand mixture of 16th-century Gothic-Renaissance styles. Most prominent is the Memorial Room which has black and white photos of young men who died during the 1990s siege.
Why Visit Dubrovnik?
Lord Byron calls it "Pearl of the Adriatic." Machiavelli was so impressed by it that he wanted to work here but was denied. Bernard Shaw and Agatha Christie have written about their fascination by it. Later filmmakers saw their chance with Star Wars Episode VIII being shot here as well as Westeros' King's Landing from GoT. It goes to show that there is indeed something special about this place. With vistas of the shimmering Adriatic Sea, it is the ideal place for the vacation of a lifetime.
Other Noteworthy Attractions Close to Dubrovnik
Featured Next
Video's – GOT Behind the Scenes
Video – GOT Locations from around the World
Enjoyed this Article?
Let us know in the comments below, and share your own experience while visiting this magnificent location with us. We would love to hear from you.
Related Blogs