This article is part of the
Traveling India: North to South
Series
You wouldn't do justice to your trip to Jaipur in India, if you don't visit its forts and palaces. The city, famously known as the 'Pink City,' and the area around, abounds with rich royal heritage. A visit is certain to transport anyone to the imperial times of rajahs (kings) and ranis (queens) of India's golden past!
Let us have a look at some of the famous monuments: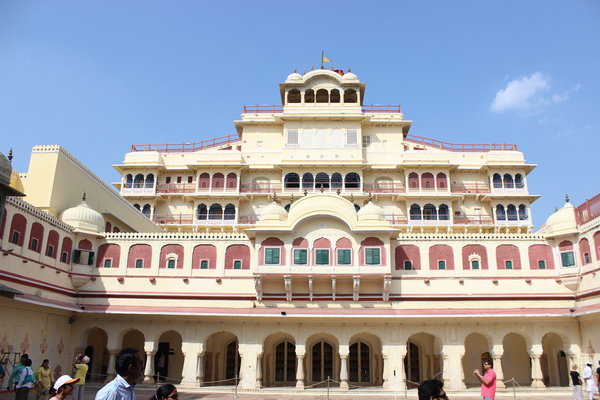 JAIPUR CITY PALACE
If there is ever an amalgamation of different styles of architecture, it is most apparent in the City Palace, the centerpiece of Jaipur city.
Who constructed Jaipur City Palace?
Constructed in the late 1700s, it showcases Rajput, Mughal and European style elements, built by successive rulers.
More Construction Info
Construction of the Jaipur City Palace was commissioned by Maharaja Sawai Jai Singh II, who ruled Amber at the time, and started firstly by building the outer perimeter walls.
Point of Entry Into Jaipur City Palace
Successive rulers, both Rajput and Mughal, kept adding to this palace, giving it a mixed architectural flavor. Although there are three entry points into the palace, only Virendra Pol is for the visitors.

Buildings within the Jaipur City Palace
On entering, the first building that meets the eye is the Mubarak Mahal, meaning 'Auspicious Palace,' built as a reception center. Today, it is an extension of Maharaja Sawai Mansingh II Museum and displays a variety of artifacts of the Rajput kings.
Further on is the
Diwan-i-Khas
, in pink and white marble, where the Maharaja consulted his ministers. It has on display the world's largest 1.6m (5.2 feet) tall silver vessels.
The palace also has a
Diwan-i-Aam
, the Hall of Public Audience, that now houses an art gallery.
Next in line is the
Maharani Palace
that accommodated the royal queens, but today it is turned into an armory, displaying the weapons used by the royals during wars.
Moving on to the inner courtyard is the
Pitam Niwas Chowk
, the entry point for
Chandra Mahal
. The 7-storeyed
Chandra Mahal
is the residence of the present-day royal descendants, but a few portions of this palace can be seen via a 45-minute guided tour.
You can also see
Baggi Khana
that holds a collection of old carriages and the
Govind Dev Ji Temple
dedicated to Lord Krishna.
● Ticket price: INR 300 ($4.50)
● Timings: 9:30 am to 5:00 pm all days of the week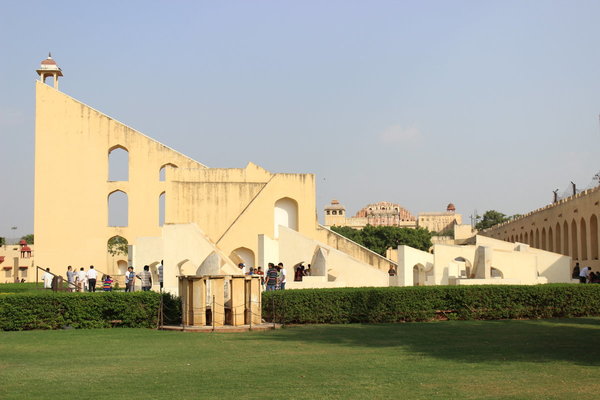 JANTAR MANTAR
Jantar Mantar
or 'calculating instrument,' is a 200-year-old astronomical and astrological observatory designed to compile astronomical tables and predict time and the movements of the sun, moon and planets.
Maharaja Sawai Jai Singh II of Jaipur is credited with building five of these in the Indian cities of Jaipur, Delhi, Ujjain, Varanasi and Mathura. Of these, the Jaipur one is the most elaborate, featuring 19 instruments, including the world's largest sundial.
The instruments made of masonry, stone and brass, are meant to observe astronomical positions of the heavenly objects, visible to the naked eye.
Virhat Samrat Yantra
or 'the great king of instruments,' is the biggest sundial, standing 27 meter (88 feet) high, that tells the time of the day with an accuracy of 2 seconds.
Almost all the instruments here are large in dimension, since the largeness is said to increase the accuracy of the measurements.
Jantar Mantar is listed as UNESCO's World Heritage Site.
● Ticket price: INR 200 ($3.00)
● Timings: 9:00 am to 5:00 pm all days of the week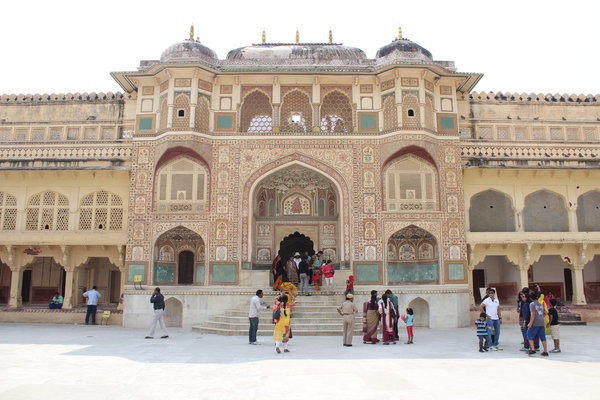 AMER FORT
Amber Fort
, called Amer Fort, is located 11 kilometers (6.8 miles) from Jaipur in Amer town. Built on a hill called
Cheel ka Teela
(Hill of Eagles,) it overlooks Maota Lake.
This residence of erstwhile Rajput royals is more of a palace than a fort since it has a
Diwan-i-Aam
,
Diwan-i-Khas, Sheesh Mahal
(mirror palace),
Jai Mandir and Sukh Niwas
.
It is further divided into four sections, each with a courtyard and its main entry way through
Suraj Pol
(Sun Gate).
Sila Devi Temple
inside the premises was built to mark Raja Man Singh's, victory over Raja of Jessore, (now in Bangladesh) and was used until 1985 as the site of animal sacrifice.
Amer Fort
is connected to Jaigarh Fort through a subterranean passage, which was built as an escape route for the royals. The main entrance leads to
Jalebi Chowk
that used to hold victory parades for the army. The entry to the private palaces of the Maharajas is through
Ganesh Pol
, named after a Hindu God.
The most beautiful part of Amer Fort is the
Sheesh Mahal
, which has exquisite mirror work on its walls and ceiling, that glitters under candlelight.
Another building called
Sukh Niwas
or Hall of Pleasure was meant specifically to counter the heat during summer months by letting the wind blow over a water cascade to make it cool.
Amer Fort is an UNESCO's World Heritage Site.
● Ticket price: INR 500 ($7.50)
● Timings: 8:00 am to 6:00 pm all days of the week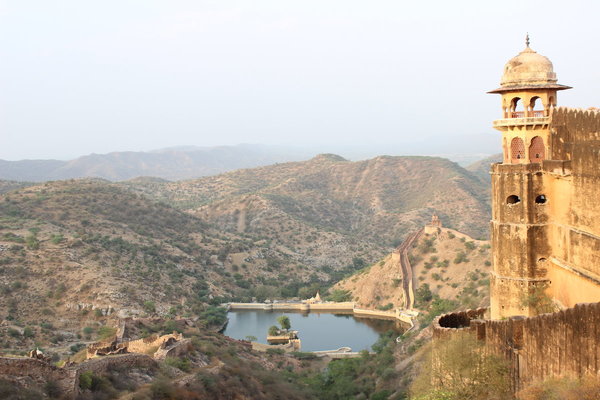 JAIGARH FORT
Jaigarh Fort
, called the Victory Fort, was built to protect Amer Fort and its palace complex. It is located 400 meters (1,300 feet) above Amer Fort on the
Cheel ka Teela
or Hill of Eagles. It stretches for 3 kilometers (1.9 miles) in a north-south direction and is a kilometer (0.62 miles) wide. With similar structural design as Amer Fort, it is fortified by solid, red sandstone walls. It is also connected to Amer Fort by an underground passage.
An impressive tall watchtower and square garden adorns the inside of the fort, together with one 10th Century Ram Harihar Temple, and a 12th Century
Kal Bhairav Temple
inside the fort precincts.
Jaigarh Fort
was made famous by Mughal Emperor Shah Jahan as one of the world's best cannon foundries, due to the easy availability of iron ore in the vicinity. The furnace of the foundry was designed to produce massive 5-meter (16-feet) long cannons. It was during the reign of Maharaja Sawai Jai Singh II, that the famous Jaivana Cannon was manufactured. This 6.15 meter (20 feet) long cannon with a diameter of 280 millimeters (11 inches), weighed a massive 50 tonnes (7,873 stones.) It never saw war and was fired only once with a charge of 100 kilograms (220 lbs) that made the cannon ball fly to an astounding distance of about 35 kilometers (22 miles.)
Old folklore tells of vast treasures hidden inside the fort, but was proved false when the Indian Government's efforts to find it failed in 1977.
● Ticket price: INR 85 ($1.30)
● Timings: 9:00 am to 4:30 pm all days of the week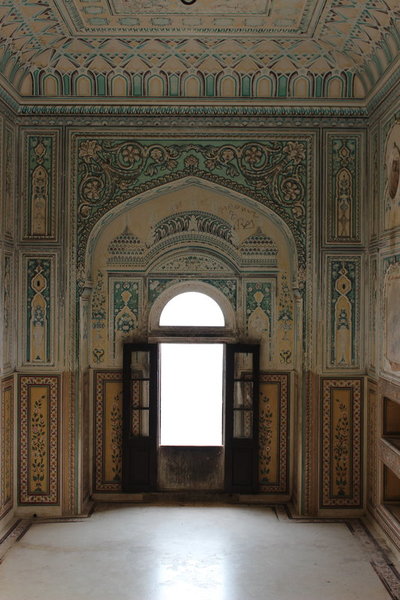 NAHARGARH FORT
Nahargarh Fort or 'Abode of the Tigers' sits on the shoulder of Aravalli Hills and provides a spectacular backdrop to the city of Jaipur. It was built by Maharaja Sawai Jai Singh II, the founder of Jaipur.
In olden days, this fort was part of the defense perimeter connected to Amer and Jaigarh Forts by means of a wall over the surrounding hills to enhance their defense.
Sawai Madho Singh built a number of palaces inside Nahargarh Fort. One such was the
Madhavendra Bhawan
, the summer abode of the royal family. This 2-storey building had suites for the king and his twelve queens, all linked by corridors. The nine similar apartments had a lobby, bedrooms, toilets, kitchen and store each.
Also located inside is the
Diwan-i-Aam
, where the king granted audience to his subjects.
View of the city from here is really breathtaking, especially once lit during nighttime.
● Ticket price: INR 50 ($.75)
● Timings: 10:00 am to 5:30 pm all days of the week
If you want to experience the royal lives of Indian kings and queens, Jaipur has it all!
References
1-https://en.wikipedia.org/wiki/City_Palace,_Jaipur
2-http://www.lonelyplanet.com/india/rajasthan/jaipur/sights/castles-palaces-mansions/city-palace
3-http://tourism.rajasthan.gov.in/jaipur/18/jaipur-city-palace
4-https://en.wikipedia.org/wiki/Jantar_Mantar,_Jaipur
5-https://en.wikipedia.org/wiki/Amer_Fort
6- http://tourism.rajasthan.gov.in/jaipur/15/amber-palace
7-https://en.wikipedia.org/wiki/Jaigarh_Fort
8-https://en.wikipedia.org/wiki/Nahargarh_Fort
9-http://tourism.rajasthan.gov.in/jaipur/16/nahargarh-fort
Photo Credits
Rakesh Nagda and MBSteyn @ MBS-Photography