Once upon the autumn dreary, while you ponder, weak and weary,
How to solve this gruesome query in the godforsaken lore,
There comes a gentle tapping, an idea that's been mapping
All your thoughts from long before. Now hesitate no longer,
If your itch goes only stronger, off you go to … explore.
What? The baths, of course, Signor! To be gloomy nevermore!
With cold days settling in you crave for something hot (or at least warm as a compromise), to boost your mood and rub out the general spleen that gets under your skin with grey gloomy autumn creeping in. All the more so, you long for luxuriating in some awesomely hedonistic place.
The itch grows bigger if the summer has been a bit far too wild and you feel in need of some recuperation. The Romans, being the mighty warriors, knew how to recover quickly and get the most of it. Their solution to the aching muscles and bones was ingenious in its simplicity: hot thermae, or terms.
Here is a little digest of beautiful terms (or SPAs) and what they treat.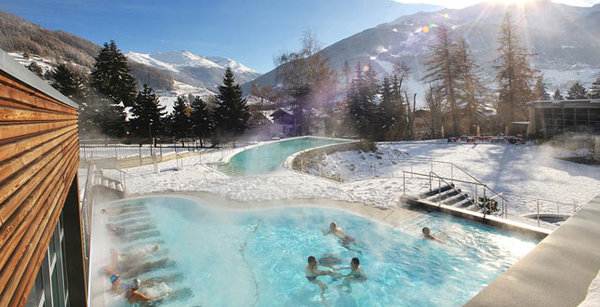 Italy is the most seismic active zone in Europe, its lands are rich in sulphur and have both dormant and active volcanos. In this respect, Toscana might be the optimal choice: it has abundant hot springs resuscitating your body and soul.
This province offers a wide range of thermal treatments: lazy spas for weary sybarites and natural style lakes, waterfalls, rivers, brooks and springs with thermal water in its pristine form for the adventurous or nature-driven enthusiasts. The latter will make you feel like an ancient Etruscan, who was the first to discover the healing properties of this a bit stinking sulphured water.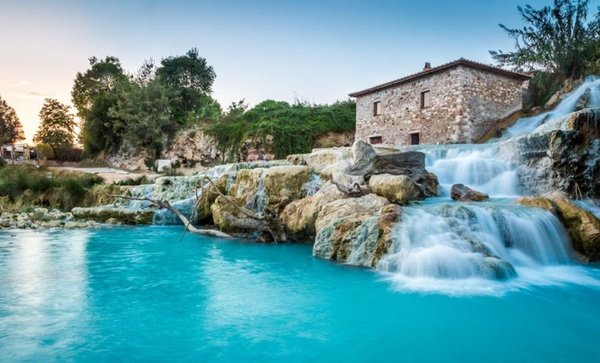 Cascate del Mulino di Saturnia
near Maremma is a signature resort of Tuscany. Snuggly hidden in an oasis amongst an already effortlessly picturesque scenery of lush fields and rustic farmhouses, it offers the best stress release ever. You are not just enjoying the view, or get the incredible feeling of taking the most luxurious bath in the most luxurious setting, but you develop that feeling of indulging in something that is strictly a local obsession, free from tourist traps or gimmicks.
You can soak in the blissfully warm water. Well, to be honest, 37.5°C all year round is closer to the hot scale, but in comparison to other hot springs, it is lukewarm. The water flows into the waterfalls from hot springs underground and you can feel yourself an ancient Roman patrician. Like all natural splendours, the Cascate del Mulino can be enjoyed for free every day and night and if you're brave I'd suggest taking a dip at night, especially if you're visiting in winter. It's painful when you first strip down to your bathing suit, but once you hop into the water with clouds of steam rising into the cold night sky, it's pure and utter bliss, trust me.
The curative properties stretch as far as extending a person's life. On a more humble scale, the mix of sulphur-carbon-sulphate-bicarbonate-alkaline and the presence of hydrogen sulphide, certain minerals, carbon dioxide and one particular element known as Thermal Plankton are good at treating respiratory and cardiovascular diseases, muscles and joint pains, indigestion and blood pressure problems. Also, these waters are a natural exfoliate, not to mention the perfect pampering treatment to relax your body and mind.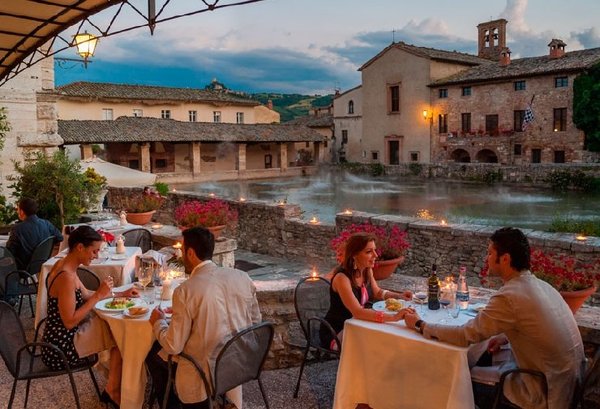 Bagno Vignoni
would be the next stopover for a luxuriating traveller. The place featured in Andrey Tarkovsky's film
Nostalgia
. It is famous for the giant 16th-century bath standing in the main square and filled with hot thermal water. Oops, no bathing here, but if you get a bee in your bonnet not allowing you to rest, go to
Parco dei Mulini
and plunge into the square swimming pool of thermal water there. The Park offers high-end and budget options.
Bagni San Filippo
is the ideal destination for an intimate and relaxing SPA vacation. The resort Terme San Filippo features a swimming pool Hotel and wellness centre. There is more than all-natural sulphurous water, here they use its sediments and mud as well. For nature lovers the Fosso Bianco is the perfect place. You will see a stream in the woods at the confluence of several hot springs in a series of pools where you can swim all year round and enjoy the special limestone formations that bear such evocative names as 'the white whale' or 'the glacier'. Because of its location on the slopes of Mount Amiata on the edge of Val d'Orcia, Bagni San Filippo is the ideal base for visiting many attractions of southern Tuscany, tasting local products and fine wines.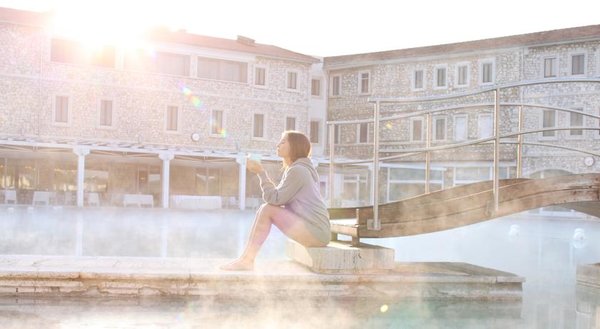 Terme di Saturnia SPA & Golf Resort is another precious gem in the 'resort' necklace around Rome. Drive 150 km off the city and you will get an extensive (almost spelt expensive, which wouldn't be far from true) spa programme and bask in the ancient-style Roman bath lined with travertine Italian stone, lit by a large skylight. There the ritual begins with the Turkish bath continuing with a choice of shower according to one's mood: upright and toning in orange-coloured light or encircling and relaxing, in blue light. After the shower, your body is ready for the steam bath and the bio-sauna to regenerate the body and the spirit.
It is great for the treatment of various skin conditions, natural exfoliating, peeling and deep antiseptic cleansing. It has a vasodilatory effect on the cardiovascular and respiratory system, reducing the arterial pressure (hypotonics, beware!), and it boosts respiration and increases pulmonary ventilation. Finally, it provides a protective, anti-oxidizing/anti-ageing and cleansing effect on the liver (alcoholics, sorry alcohol-challenged people – welcome!).
Speaking about mud, I can't but mention Abano Terme in Veneto near Padua. There is a sign that warns you right at the entrance: 'Welcome. Please avoid disturbing noises'. And there is no disturbance here. How can you emit loud noises if you are wrapped all over in warm mud, then soaked in a bath with mineral water (careful here, it is 80-90°C), then put in a steaming sauna and finally flopped out on a masseuse's table which gets you on the train to heaven. The place was favourite among Petrarch, Shakespeare, Mozart, Byron and Goethe. They might have followed Heracles' endorsement who recuperated here after all his heroic deeds. Abano can be loosely translated as 'no pangs' and this is what you get released from: musculoskeletal system disorders, diseases of respiratory and genitourinary systems (those two are surprisingly closely connected), gynaecological disorders, neuralgic pains, chronic fatigue, stress, neuroses, asthenia, skin diseases and obesity.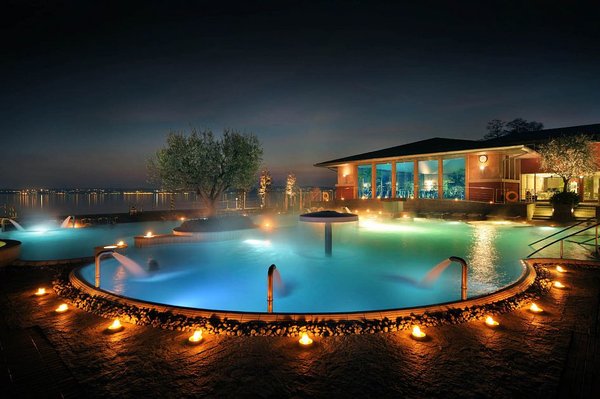 Terme di Sirmione on Lake Garda, 40 km away from Verona, are probably one of the best in northern Italy. They date back to 1st century BC. There are hot springs of sulphur-chloro-bromine-iodine hyper-thermal water. They offer outdoor and indoor pools with thermal water, an open swimming pool with freshwater, saunas, and lounge zones available at a token fee: 39 euros for 5 hours on weekdays and 43 euros on weekend. The temperature of the water is about 34-36°C, which means you can swim in the outdoor pool even in winter.
The water here stimulates parasympathetic nervous system, increases the permeability of vascular vessels and reduces systemic arterial pressure. It is ideal for treating otorhinolaryngologic diseases and specially, deafness! Almost biblical: 'he that hath ears to hear, let him hear!' The spa also uses sulphur thermal water for bronchitis, otitis, laryngopharyngitis, rhinitis, and sinusitis (in general, all inflammatory or infection-induced processes in and near the nose and throat). If you suffer from arthritis or rheumatism, you are also welcome.
If you go farther north to Bergamo, there are also nice terms of San Pellegrino.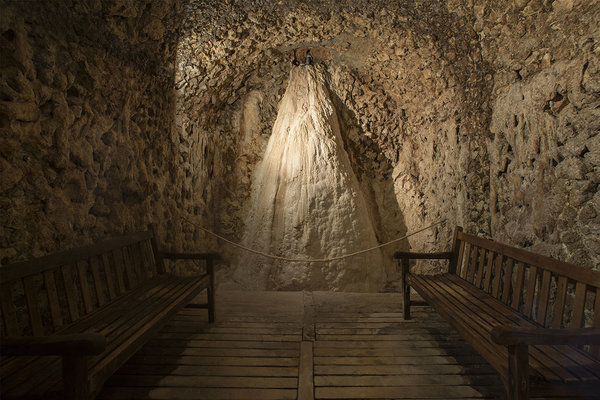 Back to the big shots: Terme dei Papi. In the 3rd century AD, the notorious Romans extended the rustic Etruscan terms to a 12 km-long thermal complex in the fracture of the earth's crust. The most famous are three springs: Aquae Passeris, Paliano, Bullicame. The latter was mentioned in Dante's Divine Comedy and can be seen on some Michelangelo's paintings. Dante commented in the 14th canto: "As from Bulicame a river comes forth that the sinning women then divide among themselves". Looks like the women of today are still impenitent sinners as they love indulging in that luminous white mass of calcium-rich water (the temperature varies 40° – 58°C), with high content of sulphurous salts and calcium bicarbonate, magnesium, etc. I wouldn't be surprised at Dante's speaking so lowly of women if he saw those ladies not only bathing, but also wrapped in mud. In Terme dei Papi they extract two kinds of mud: one is the grey lavic mud, used in mud-therapy and the white type which emerges from springs, used in beauty treatments. The man could have experienced the same as Jim Carrey in the Mask (1994) when he saw the neighbour in her facials and hair curlers.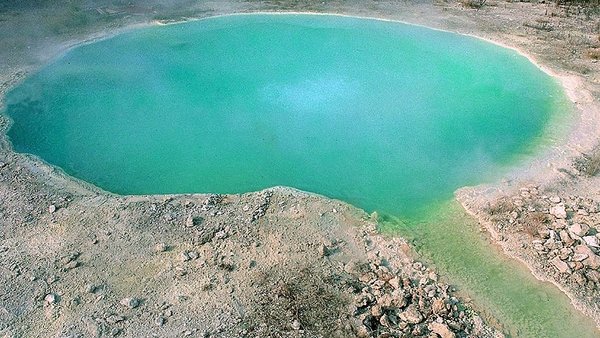 Where does the name Terme dei Papi come from? Nothing puzzling here (unlike 5 Italian misnomers). It was a beloved place of several Popes, starting from 1235. In 1450, Pope Nicholas V was so impressed by the curative effects of the local waters that he had a splendid palace built in order to have somewhere to stay whenever he required treatment. The building had crenelated walls, beautiful cross-shaped windows and soaring vaulted ceilings in the halls and was known as the Pope's Bath.
The targeted illnesses include the cure and prevention of chronic disturbances of the whole breathing apparatus, in bone and joint pathologies, skin complaints, genital complaints and dysmetabolic diseases. The waters and mud are also applicable in gastroenterology, angiology and stomatology. The Pope's Bath, for example, with its carbonic-ferruginous properties is used in the treatment of peripheral vasculopathies.
Continuing the mud issue, let's go south to a volcanic island 30 km from Naples in the Tyrrhenian Sea. The Isle of Ischia owes its fame to mud.
Mud is the pride, mud is the cult, mud is the utter money-spinner. This substance has a remarkable therapeutic effect that cures not only the common rheumatism, arthritis, gynaecological and respiratory disorders, but most importantly, it makes you young again. All you need to do is to recline in the two-year-old mud. This is the time needed for the sun and sea air to turn not particularly good-looking slush containing mineral sulphur water and endemic bacteria into the regally magnificent substance that neither Elizabeth Taylor nor Clark Gable shied away from when they wanted to revitalize themselves.
Hopefully, the hot soak in the Italian baths of bliss will keep your doomsday-thinking away. And you'll ponder over the gloomy prospects nevermore.
Special thanks to Peter West for helping me make up my mind on the title and Anna Bebekina for extensive research that contributed a great deal to this writing.