Whenever planning a trip, one of the most frequent questions travelers seem to ask themselves (or their travel partners) is:
"How much is this going to cost me; how much of the green stuff do I need?"
We hear the money question a lot here at
Routes.Tips
. "Visiting North Italy seems like a great idea, we have always wanted to visit. My Italian friends even suggested this 10-day itinerary for us, but I don't think we will be able to afford it."
Many such thoughts have caused people to rather stay at home. The headache of planning and budgeting for their travels to overwhelming.
Planning a trip, figuring out transport modes, visa requirements, establishing which hotels to stay at, activities for the kids and budgeting, can be quite daunting, we know. There are although various techniques you could employ to make things much easier the next time you think of traveling. Let's have a look at some tips that help with travel planning in this short step-by-step Routes.Tips guide:
Step 1 - Establish your Min and Max Budget First
Before you even decide on a destination, establish the following:
What is the minimum amount of money you have available for a trip? (Example: I have a minimum of $750.00 currently available for my trip.)

What is the maximum you are willing to spend? (Example: I don't want to spend more than $900.00.)

Make three columns on a sheet of paper, and write in the one column your minimum budget, and in the other column your maximum budget. Draw a line underneath.

See example below:

Step 2 – Will you be Traveling Alone or in a Group?
Will you be traveling with friends, family, colleagues? Then it is important to know the following:
How many people will be traveling together?

How much is each person contributing to the trip?

What is the minimum amount of money each person has available for this trip?

What is the maximum each has available?

Add the amounts together.

Make three columns on a sheet of paper, and write in one column the group's minimum budget, and in the other column the group's maximum budget. Draw a line underneath.

See example below: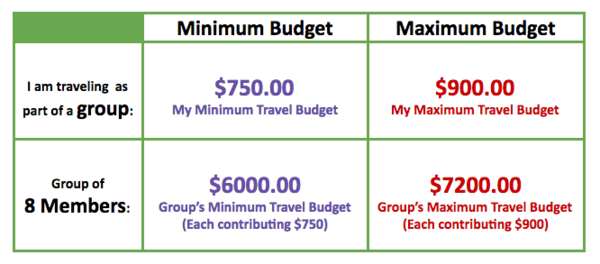 Step 3 - Establish The Desired Destination
List 5 places on a sheet of paper you would like to visit most. (If a group is traveling, establish the top 5 places as well.)
Example:
North Italy

South Africa

India

Thailand

Dubai

Step 4 - Establish The Desired Length of Travel
Determine how long you want to travel:
Step 5 – Determine the Min and Max Travel Cost for Each
Determine the minimum and maximum travel costs to all 5 listed destinations by taking a sheet of paper (or Excel sheet) and filling the following information: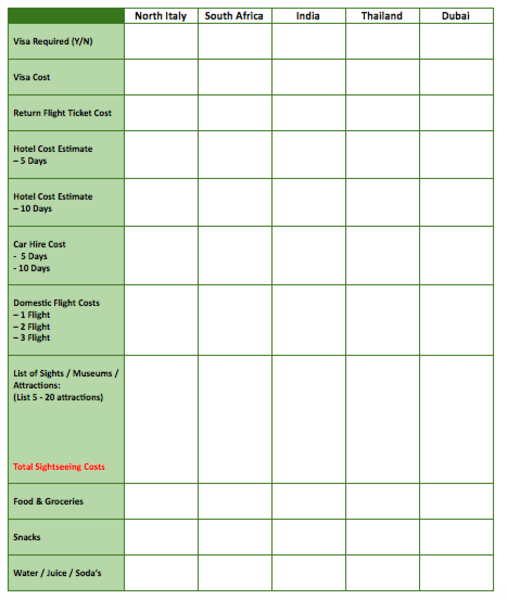 Step 6 – Which Option Best Fits Your Budget?
Once you have established the total cost to each destination, decide upon the one that best fits into your budget.
(For our example have we chosen: India)

Step 7 – Some Final Calculations
It is now the time to analyze more in-depth what your expected expenses might be in this country. We recommend to rather over budget, than under.
Open an Excel sheet, or draw the below columns on a sheet of paper to represent the number of days and the expenses associated with each length of stay in the country.
The below is just an example table, and does not represent actual expenses:

Step 8 – Budgeting for Unexpected Extra's
Emergencies, medical illness or all kinds of other unexpected extra expenses can occur during any travel. Always have an emergency savings fund you can withdraw from in such situations. Budget around $10, $20 to $50 per day for each day you travel.

Step 9 – Other Expenditures to Consider
Medical Aid: Some medical aids provides coverage during international travels to various destinations. You will need to contact your medical aid in order to inform them you are traveling overseas, to ensure you will still enjoy medical coverage in case you need it in that particular country. Alternatively, can specific travel medical aid be taken out for the duration of your travels. Check which one fits your budget best.

Travel Insurance: You may also opt to take out travel insurance, which you need to add as an extra expenditure to your budget.

Step 10 – Final Budget Notes
Once you have determined the amount you need in order to travel to your chosen destination, has the time come to put your travel plans together.
Organize Your Budget: I find compiling an Excel sheet often works best when I travel. Its cheap, quick to access, and easy to manage. Add the various columns we suggested above into a single Excel sheet, and title it: "Trav Budget 2017."

Start Saving Now: Start saving now for that dream trip by creating your own 'Travel Fund,' and saving a certain percentage of your income every month into this account. (An account separate from your business or personal account works best. When you don't see the money, you won't spend it.)
And that's it.
Don't Have Time to Do These Basic Steps?

There are various companies or travel agencies that can help if you don't have the time to plan or work out the exact costs in accordance with your budget for your trip. Just do a quick search online for your local travel operators.
Budgeting While Traveling
Step 11 - Always Calculate Your Expenditure During a Trip
It is very important to commit to doing some bookkeeping on a day-to-day basis during a trip - especially if you are on a tight budget. We recommend using an excel sheet and keeping every slip or invoice. If you bought a bottle of water, ask for the slip. Payed for your hotel, ask for an invoice.
Top Tips:
Keep slips and invoice together.

Fill the excel data sheet with information at the end of the day.
(I usually do it at the end of the day, before dosing of for the night. This helps me establish how much more I have available to spend on my trip, and if I have to cut it short or not.)
Keep track of your expenses, this will help against overspending or using an already overused credit card. There are so many TravelApps which helps greatly, and saves you time.
Actually, don't use a credit card at all when you travel. Use your Travel Fund exclusively. Its pretty hard to make up for travel expenses if you overspend on a credit card.

Alternatively, install a Travel Budget App.
The Best Travel Budgeting Apps
Concur
User Rating: 4.5 Stars
For: Android & iOS
Concur
is the app for frequent or business travelers, and helps companies keep track of their employees expenditure during their travels.
Travel Budget AppFor
: iOS
This
app
is at the moment only for iPhone, iPad or iPod touch users, which is a pity, as it is such a great app. It includes a whole variety of features such as keeping track of your personal and travel expenses and income, as well as tips. Defining a travel budget for a specific trip, change of currency in accordance to your location, the ability to export your expenses sheet, save your expense geolocations, record how many members are traveling, and the ability to categorize your expenditures.
Trail Wallet - Travel Budget & Expense Tracker
User Rating: 4.8 Stars
For
: iOS
Keeping budget is made easy with this app with its friendly user interface, and easy to understand functions.
Trail Wallet
allows you to add a daily budget for your vacation, and keep track of your daily expenses by adding them all in an expenses pool.
TrabeePocket: Travel Expense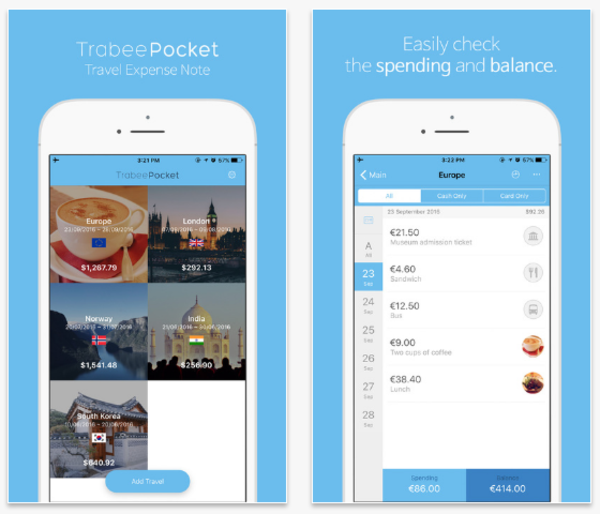 User Rating:
4.5 Stars
For: Android & iOS App
This app is very much the same as the
Trail Wallet App
, except you are able to change the currency to the currency of the country you are in, and add an image for your travel destination to. A bonus of this app is the ability to export your expenses to an Excel sheet (or plain text) after your travels to view on your desktop.
In Conclusion
Planning and budgeting for your trip don't need to be a headache. Make use of technology, travel companies, or do it yourself by using our short guide above.
Enjoyed this Blog?
Have any more tips or advice to share regarding travel planning and budgeting? Let us know in the comments below. We would love to hear from you.
Related Blogs