Australia, the country of contrasts that speaks to the mind and soul of those who visit. A country so breathtaking, organized and world-class, you wish you could stay there just a little longer. Australia, the country that made 'Waltz in Matilda' famous, and brought to our attention top sights such as the Jenolan Caves and Blue Mountains. Here can be found limestones well over 340 million years old. Wow!
The Jenolan caves further features stalactites, cave formations and underground rivers, that has to be seen to be believed. And while you're there, you might as well enjoy trails designed for people of all ages.
Following, is our Short Guide to make the most of your visit to the Jenolan Caves and Blue Mountains:
The Best time to Visit the Australia Blue Mountains and Jenolan Caves
The best time to visit these sites would be somewhere between December to February. (Considered summer time in Australia since the country is situated in the Southern Hemisphere.)
With that said, be aware that it can get quite hot during this period (about 30 degrees Celsius at times).
Always pack a good amount of drinking water to keep yourself hydrated, wear sun-protective clothing and remember to take sunscreen.

Fun Facts About The Australia Blue Mountains and Jenolan Caves
The Jenolan Caves are some of the oldest cave systems in Australia.

The Three Sisters (a huge attraction), got its name from an Aboriginal legend.

There is normally a music concert held in a part of the Jenolan Caves.

The Blue Mountains Botanical Garden is the highest botanical garden in Australia.

The Teapot Museum contains teapots from all over the world, but the majority of them have been collected in-and-around Australia.
The Top 10 Attractions in-and-around the Australia Blue Mountains and Jenolan Caves Area
10. Katoomba
To Kick off our list, is a city that is centrally situated in the Blue Mountains National Park. It's a popular hub for tourists, and can be accessed from Sydney via train with ease. Like any other tourist town, it does have some amazing restaurants, cafes and much more to enjoy.

9. The Norman Lindsay Gallery and Museum
The sandstone cottage once used to be the home of the legendary artist and writer, Norman Lindsay. It's now a museum that contains a collection of his works. There are guides that help give visitors an insight into the man, his life and the work that he has done.
8. Govett's Leap Lookout Point
This magnificent view point can be found over the steep Grose valley. It's at the Govett's Leap Lookout Point that you get one of the best views of the wilderness of the Blue Mountains National Park. This area tends to be less crowded than Echo Point.

7. The Blue Mountain Cultural Center
You should probably pop in here before visiting the park. The center is located in the same area as the new, Katoomba Library. It houses the Blue Mountains City Art Gallery, and the World Heritage Exhibition. It's a great place to source information about the environment, culture and history of the Blue Mountains.
6. Featherdale Wildlife Park
This Wildlife park can be found along the way to the Blue Mountains. It's a park that boasts a collection of wildlife species. They allow visitors to interact with animals in a way that many parks don't. For instance, you can feed the kangaroos and hold a koala among many other things.
5. Blue Mountain Glow Worm Tours
A glow worm is definitely a fascinating creature to see and examine. While at Blue Mountains, you could book for a night walk. The walk will take you through a hidden canyon that'll lead you right in the heart of the colony. You can get to see, interact and learn the facts about these wonderful creatures.

4. Wentworth Falls
The waterfall is one of the most beautiful in the park. The water cascades down three rock tier ledges to get to a huge pool, which then gushes down a creek. The falls can be viewed via different lookout points. In addition, there are trails and hikes that can be enjoyed near the falls. (It's important to note that the falls are seasonal.)
3. Scenic World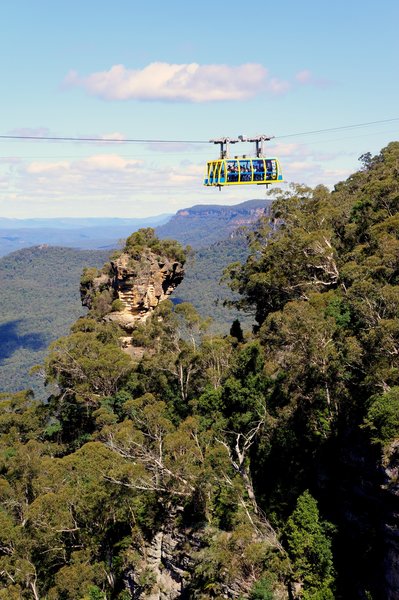 The Blue Mountains area is huge; thus can it be hard to tour the entire place. But Scenic World offers a unique way to explore the area by providing different modes of transportation in the form of a cableway, walkway, skyway or a railway.
2. The Three Sisters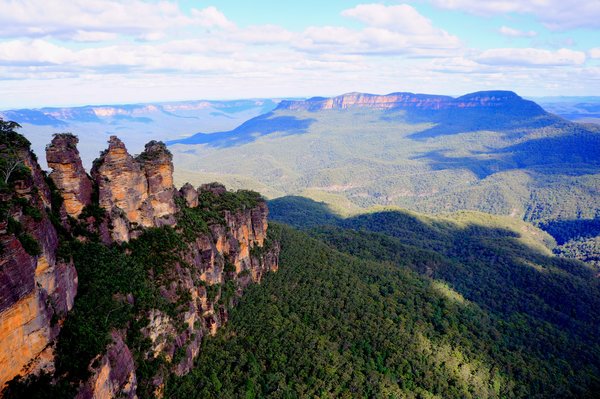 The name of this tourist attraction came from an Aboriginal legend. These sandstone pillars are one of the most popular, or at least, well known attractions in the Blue Mountains. One of the reasons for their popularity is because of the magnificent photos that can be taken there. (Echo Point is then also considered to be one of the best viewing areas on the three sisters.)

1. Jenolan Caves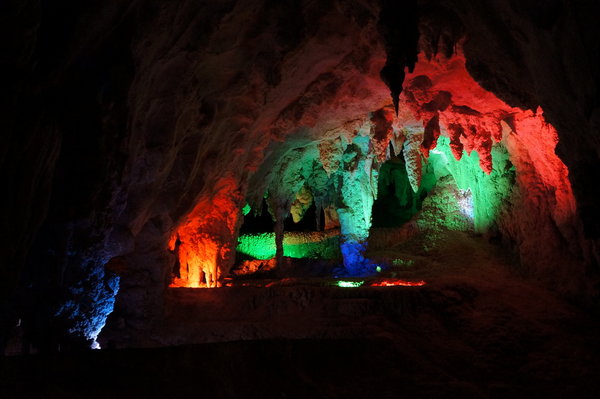 These caves are one of the main attractions of the area, and are located in the south-western edge of the Blue Mountains. The caves are of the oldest in the world, and contain some amazing limestone formations and rivers. One of the activities that you can do while in the cave, believe it or not, is attend a musical concert in the Cathedral Chamber of the Lucas Cave.
Other Worthwhile Attractions
Blue Mountains National Park - This park is one of Australia's most famous wilderness areas. It's home to the three sisters and is loved by many for its waterfalls, hiking trails and mountain scenery.

Trees Adventure - Located in Yarramundi, you and your family can get to weave through challenging courses high up in the tree canopy. Activities include leaping, swinging and flying as you get to enjoy a unique experience.

Leura - The city is an attraction in itself as it contains the Toy and Railway Museum, and the Everglades Historic House and Gardens. Leura is 3 kilometers east of Katoomba.
Activities in-and-around
Sightseeing - The Blue Mountains and Jenolan Caves have a lot to offer in terms of exploration and learning. You could go into the wilderness or visit the caves.

Biking- There are many biking trails available in the Blue Mountains National Park.

Guided Walks - Take a walk with a guide to some of the amazing places like Govett's Leap Lookout.

Rock Climbing - The Jenolan caves as well as the Blue Mountains Park offers rock climbers a great opportunity to test their rock climbing skills.

Bush Walking - This is more of an Australian activity, and it normally covers a wide range of walking experiences. It can be hiking, hill walking or trekking.

Canyoning - Explore various canyons.

Abseiling - If you feel brave enough, then go abseiling.

Picnics - It's not all wilderness. There are cities and other attractions that allow for you and your family to enjoy and have a picnic.

Shopping - Towns like Katoomba and Leura contain antique shops and shopping centers.

Horseback Riding - You can do this activity in the Megalong valley. There are a variety of horse riding activities for people of all experience levels.
Helpful Travel Apps - Explore the Australia Blue Mountains and Caves via the PeakVisor App
Some mountains do not need any introduction, for others there's the
PeakVisor App
!
How the PeakVisor App Helps you Explore the Australian Blue Mountains:
3D Mountain Panorama - Your phone video camera is augmented with a high precision 3D mountain panorama rendered for your current location. You could easily adjust the compass if needed. Come to think of it, photos are much more engaging if shared this way!

3D Compass and Altimeter - The PeakVisor app has a fab cunning 3D compass and an altimeter for your convenience. You could easily supercharge your mountain hiking experience.

Sun Trail - There's a Sun trail and the current position of the Sun pictured on top of the camera view. It helps adjusting the compass and planning your trip.

Download Link to the
PeakVisor App
.
Top Events at the Australia Blue Mountains and Caves
What to Eat at the Australia Blue Mountains and Caves
Getting to the Australia Blue Mountains and Jenolan Caves

You have a few options as to how you can get to the Blue Mountains. Either one of a bus, train or car ride, will suffice to get you there. If you're traveling by car, the M4 motorway that goes out from Sydney is your best bet. It's the most direct route and takes less than 2 hours to get to Katoomba.

The hourly train offered by the Sydney train services is another option. It departs almost hourly from Sydney Central Station, and passes by some of the well-known towns such as Leura and Katoomba.

Take a bus, which offers day trips and tours to the Blue Mountains.

Getting Around-and-About
Once at the Blue Mountains, there are many ways to get about. Choose to walk (guided or not), and soak in the natural wonders.

There are also coach companies that take tourists around the Blue Mountains on guided tours.

In addition, you could visit Scenic World to take a cableway or train, and get a unique view of the area.

Where to Stay at The Australia Blue Mountains and Caves

Luxury Accommodation Price/Quality RatioBudget and Family OptionsUnusual Accommodation
List of Recommended Souvenirs
Teapots - Grab one of the many fine china and teapots in the Tea Pot Museum's gift shop.

Lollybugs - Over 2000 lines of confectionary. Get a unique flavored lolly to take home with you.

Top Tips for Travelers to the Australia Blue Mountains and Caves

Always have an itinerary planned before arriving at the Blue Mountains. There are so many things to do, and you might find yourself overspending on your planned budget if you are not careful.

The best time to visit is normally form November to April.

Always grab a warm jacket and a pair of closed running shoes when visiting the caves.

Be open minded, many dishes in this region serve beet root in almost everything.

Visit the Heritage and Cultural Center first to learn more about the Blue Mountains. The Centre offers excellent guidance on which attractions will suit your needs and required level of adventure.

Enjoying the Australia Blue Mountains and Caves on a Budget
Instead of paying more expensively for a guided bus tour, hike and trek while at the park.

Take the Bus or Train on your way to the Blue Mountains instead of renting a car, which is usually more expensive.

Hostels are a great option for cheap accommodation.

Breakfast and Lunch tend to be cheaper, take advantage of that. It might also be cheaper to buy groceries and stay in self-catering accommodation. Prepare your own meals for lunches and tours.

Always bring a water bottle, and utilize the public water fountains instead of purchasing bottled water.

Day Trips from the Australia Blue Mountains and Caves
Visit Katoomba - Centrally situated in the Blue Mountains National Park, one can't say Blue Mountains without acknowledging Katoomba. It's a major tourist hub.

Leura – Another beautiful town worth a visit while you are in the vicinity.

Scenic World – Provides visitors with amazing views of the wilderness. Must do while at the Blue Mountains.

Visitor Information & Useful Links
Glenbrook Visitor Information CentreBlue Mountains Visitor Information Center- Echo Point
Medical Help
Nepean HospitalSpringwood HospitalBlue Mountain Hospital
Related Blogs in-and-around Australia
More Photo's