Fun Facts about Matera
11. Palombaro Lungo
9. Chiesa di San Giovanni Battista
First recorded as the Santa Maria Nuova  in the early 1200s, the Parrocchia San Giovanni Battisa has had several names, inhabitants, additions, and reconstructions.
Despite that, the Chiesa is still a wonder to behold. The structure incorporates several architectural influences such as Gothic, Greek, Cluniac, Romanseque and Arabic, with foggiali features, balconies, arches and several striking statues, some of which were believed to protect the site.
Today, access is gained through a side entrance. The original façade was built into a neighboring hospital's garden in 1610, but it can still be seen today.
8. Museo della Scultura Contemporanea (MUSMA)
7. The Cattedrale di Matera
The arresting Romanesque-Apulian Matera Cathedral, devoted to Madonna della Bruna, was completed in 1270 on a much older monastery site and overlooks the Sasso Barianso.
6. Museo Archeologico Nazionale Domenico Ridola
5. Cripta del Peccato Originale
4. Santa Maria de Idris e San Giovanni in Monterrone
Although there are many churches carved from rock in the region, the design of the ethereal Church of the Santa Maria de Idris is definitely one-of-a-kind. The cross of this church is plainly visible from the center of the Sassi de Matera, and is accessible by a wide staircase. 
Parts of the interior of the church predate the exterior with almost 400 years, as the outside had to be repaired due to collapse in the 15th century. Inside the church, you will also find St. Giovanni's crypt.
3. Casa Noha
2. Parco delle Chiese Rupestri di Matera
The Natural and Archaeological Park of the Rusperian Churches of Matera is simply called Murgia as well. Across approximately 8000 hectares, you will find the scattered remains of over a hundred of rock churches.
Hikers will enthuse about the array of magnificent crevices, ravines and cliffs, one river and two streams. The park is also home to many fauna and flora species of which a tenth is rare. An impressive sixth of the nation's flowers and a third of the entire region's is here too. 
1.Sassi di Matera
Activities Available in Matera
Sightseeing - Guided walking tours are available that will ensure that you don't miss any of the main attractions.
Walk through the modern upper city - The Sassi are full of stairs and narrow walkways, which will lead you to a variety of restaurants and stores on your own.
Hiking - Enjoy scenic routes through many popular hiking trails.
Sleep in a Cave - There are dozens renovated caverns that allow you to relive history, but with a twist of modern amenities.
Bird Watching - Matera is rich in birdlife. Visit San Giuliano and spot up to 150 bird species.
Cycling – Join others on several bike routes in Matera or at Colle Timmari.
Cultural Enrichment – Matera is a cultural hub with multitudes of museums, art galleries, and other ancient sites.
Nightlife – Wine bars and lounges afford travelers with the rare opportunity of mingling with fellow tourists and locals. Cinema – See movies at Cinema Cine Teatro Duni and Nano-Theatre. Cooking Classes – Classes are available for half-day sessions or extended periods. Some even offer Diploma's upon completion.
Top Events in Matera
What to eat in Matera
Daring Icy Delights beyond Your Wildest Dreams
For the most exotic ice cream and sorbets in Matera, make sure to order a scoop at I Vizi degli Angeli for a variety of unbelievable tastes in surprisingly delicious combinations of lavender and blueberry or tangerine and basil.

Customary Christmas Cookies All Year Round
Happy Hour O'Llammord offers full meal spreads ending off with the Matera Christmas time-honored and exceptional cookie known as Strazzate. For the full of experience of Matera you have to have one of these which are also available in vegan friendly versions with or without eggs.
Bread is Best, Sir!
Pane di Matera is traditional salty bread with a hard crust made of wheat and served as a side dish or used in pasta. The Restaurant Le Botteghe is widely renowned as the best restaurant in Matera and serves sumptuous bread and other customary dishes.
Crap-i-what?
Do not let the name put you off! Crapiata is a thick soup made from various beans and wheat. To savor this wholesome meal visit, the Kiev Cafe on Via Bruno Buozzi.
Build Your Best Veggie Pizza
Pizzeria Sant'Agonista Gifoni has a superior basic vegetarian pizza with mozzarella, tomatoes, and local chili peppers. Add additional ingredients common to the area like olives or mushrooms to build your perfect pizza. This quaint restaurant is in cave of numerous levels in a main street. You can contact them telephonically at +39 083 533 6593.
Getting to Matera
Getting around and about in Matera (Italy)
Where to stay in Matera (Italy)
Top Tips for Travelers Traveling to Matera
Pack in your walking shoes.

If you have a stair phobia – cancel your trip!

Expect the unexpected.

Never touch the wall murals!

Don't skip the museums.

Enjoying Matera on a Budget
Stay in a B&B - The cave accommodations are the most pricey but you can still visit the noteworthy sites during the day.

Look for discounts – Many of the attractions offer a price cut off season or booked in advance.

Use your feet - Vehicles are limited and if you get one expect to pay.

Self exploration – You can see many of the best sites on your own without a tour guide.

Eat bread – This city is soaked in historical poverty. No wonder they are famous for bread.

Day trips from Matera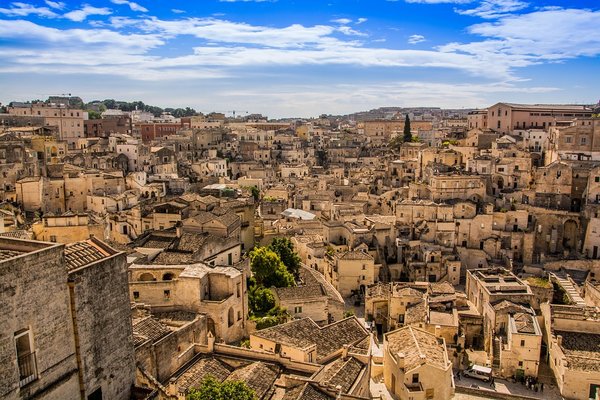 First visit must – the Casa Noha and a tour of all other museums
UNESCO World Heritage Sites
Guided tour of the Murgia Park
Visitor Information & Useful Links
Emergency Contact Numbers
Emergency
Medical Help
Related Blogs in-and-around Matera
Video's about Matera