Santa Monica pier is a beautiful pier located at the coast of Los Angeles. It sees thousands of tourists come and go each month, and we think it is definitely worth the visit. Not convinced yet? Here are five reasons why you should visit the Santa Monica Pier the next time you are in the area. 
1) The Food at the Pier
Have you ever watched the movie Forest Gump? Then you will definitely be familiar with the phrase "Run Forest Run!" Spoiler alert, spoilers ahead. But another thing that should sound familiar to you is Bubba Gump Shrimp. This is the shrimp chain restaurant that Forest creates after having made a promise to his friend, Bubba, who died at war. This restaurant chain actually exists in real life, and one of the places you can find it is here at Santa Monica Pier. So, whether you are a Forest Gump fan or just a fan of seafood, you should definitely check it out. You can also grab other things to eat here, both at the pier and at the surrounding areas.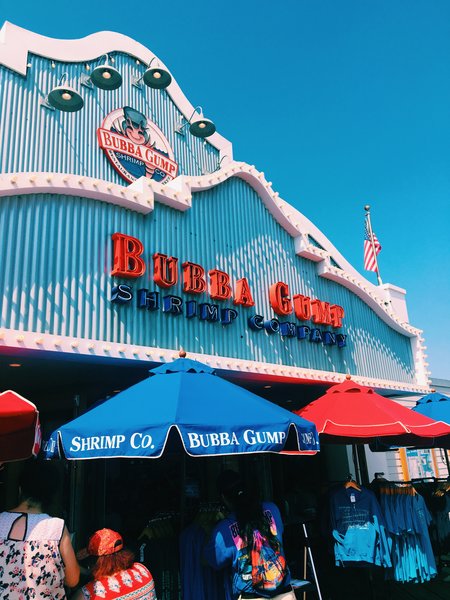 2) The Amusement Park at the Pier
The Ferris Wheel on the pier is definitely one of the most famous pictures taken of the Santa Monica Pier. This pier features an amusement park, complete with a giant wheel, a rollercoaster, and many other attractions sure to entertain children and adults alike. It also features an old-style arcade, with games such as The Walking Dead. It is not too pricey, and definitely worth the money. My personal favourite is watching the sunset over the super extensive beach from the ferris wheel. However the views both during the day and at night are fantastic, so choose your favourite time of the day, your favourite person (be it your loved one or your best friend) and take out your camera.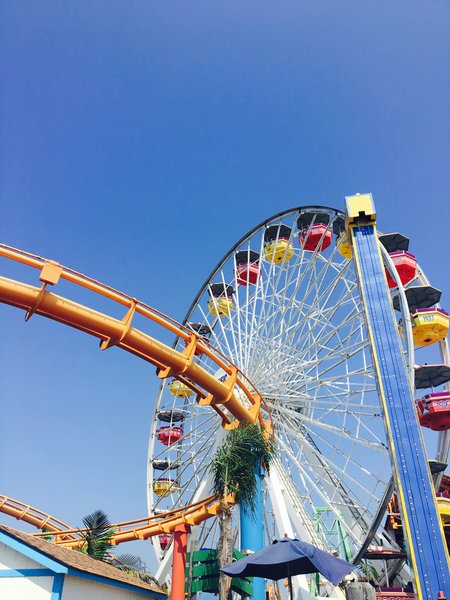 3) Santa Monica State Beach
The Santa Monica State Beach is a very extensive beach that rolls out over several kilometres and eventually blends into Venice Beach on one side. Walking to Venice Beach takes about 40 minutes but is definitely worth it, and very beautiful. One of my favourite things about the beach is the boardwalk; there are always people rollerskating, walking their dogs, biking, going for walks… You'll also observe Yoga practices taking place, there are "muscle beaches" with equipment that people can use to work out, and there are swings. The swings are on the beach and supposedly for children, but no one is watching or judging so let out your inner child! Whether the weather is warm and lets you sunbathe or is colder (who are we kidding, it never gets cold in LA right?!) and only allows for a walk on the beach, this place is gorgeous and should definitely be checked out.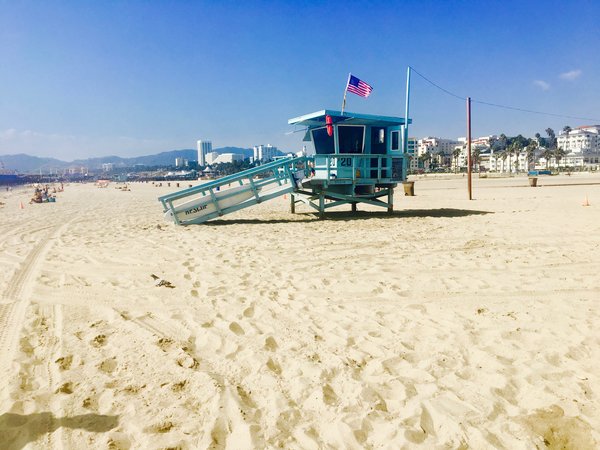 4) The View from Anywhere at All
If you're like me and you come from a warmer country like Portugal, palm trees aren't new to you. If you're like my friend and come from a colder country like the Netherlands, you'll be in palm tree paradise. My friend claims to have never seen so many palm trees in one place. Add that to the beautiful, sponsored street art along the buildings, the sand and the sea, and you have a picture perfect scenery. If you love sketching or just people-watching, Santa Monica is definitely the place to be for you. 
5) Shopping at Third Street Promenade
If you've read the article on the Top 10 Things To Do in LA, Third Street Promenade should not be new to you. If you haven't, I definitely recommend you check it out for more tips on things to do in and around Los Angeles. Third Street Promenade is a beautiful shopping avenue with all the stores you could ever wish for, cafe, and restaurants. Whether your shopping for clothes for the new season, some new shoes, or even a car, this is the place to go. Even if you consider yourself to be more of a window shopper (like myself), the avenue is beautiful, radiating energy and if you go off the summer months it is not too crowded.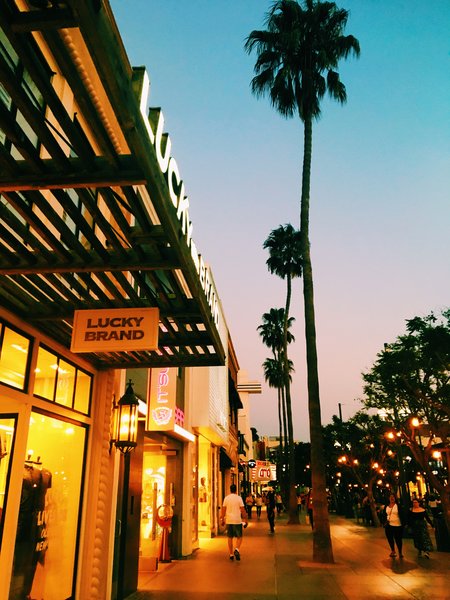 Have fun in Santa Monica and stay tuned for the route that is coming soon!