New York City can be very overwhelming, especially if it is your first visit. To guide you, we have made a list of 10 Places You Must Visit in New York City to give you some inspiration while you tailor your itinerary to your liking. New York City can be a magical place, and this will be a trip you will definitely never forget if you do it right, so here are the places you should check out to ensure you make the most of your time in the City That Never Sleeps:
1) Top of the Rock
You've definitely seen a picture of this view in a picture, so why not go check it out in person? Many people tend to choose to go to the top of the Empire State Building, but I personally prefer the Top of the Rockefeller Center because of the view of Central Park from here. Going to the top of the rock will cost you about 30$, and it is definitely worth the money. If you are willing to pay 45$ you can even return at night within the same 24 hours and get a completely different view of the city at night. 
2) Times Square
The City That Never Sleeps most definitely got its name from Times Square, the city hub. You may think that the amount of people present in Times Square to watch the ball drop on New Year's Eve seems like a lot, but its not far from its daily influx of people. Okay, maybe there's a little less people then that night, but honestly it is one of the most lively (and crowded) places I've ever been to. Be warned however, during the day Times Square is really not that impressive. The first time I came here was actually during the day and I was immensely underwhelmed. At night, however, it is a completely different place. The lights from the ads on the buildings shine so bright you almost need sunglasses, and it is absolutely mesmerising. They didn't create bleachers people can sat on and stare at Times Square from for no reason.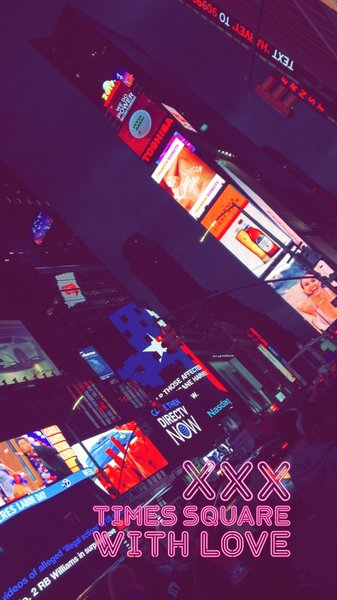 3) The Lake, Central Park
Central Park's main lake is the star of this man-made oasis no matter what season of the year. During the winter months you can ice-skate on its beautiful frozen ice, during the summer you can take a little canoe trip with your loved ones. It is located near Central Park's main fountain, and is a beautiful area in general, so it is definitely worth a visit!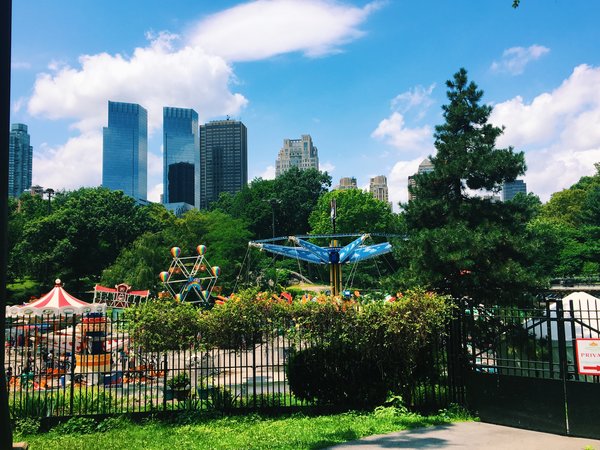 4) DUMBO, Brooklyn
DUMBO is honestly New York City's hidden gem, and whilst it isn't exactly in New York City, it is only three metro stops away and definitely worth the visit. It features a beautiful skyline view of the city (which gets even prettier at night), a boardwalk, delicious ice-cream places, parks, and some of New York's best street art. There are entire streets dedicated to street art and the results are absolutely mesmerising. Trust me, your Instagram will thank you.
5) 9/11 Memorial, Ground Zero
These breathtaking fountains stand where the Twin Towers once stood, and visiting this memorial will give you immense goosebumps and probably break your heart a little. But in my opinion it is a very important stop in your New York City trip. Not only to pay respect to those who sadly lost their lives during this tragic event, but also to show that love will always trump hate and that we stand united in the fight against terrorism. You'll find plenty of information if you're interested in finding out more details about the occurrences on this day, and you can even check out the museum near the memorial. The entrance is not too pricey (around 10$) and you can find out about the incredibly successful rescue missions which took place on this day, the stories of strangers who saved each others lives, as well as find out more about how the passengers on the flight which landed on a field managed to stand united against the terrorists and ultimately detour the plane from its intended target. Check out our route (coming soon) to take a look for yourself.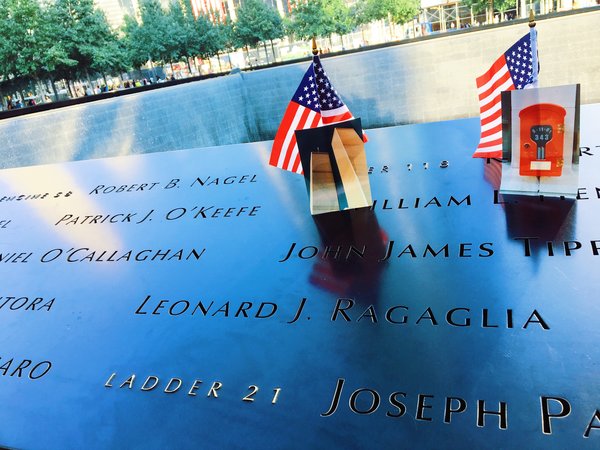 6) New York Stock Exchange, Wall Street
This stop will only please some, but it is so interesting that we decided to feature it anyway. Even if you are not that into the stock exchange, going over there at 4pm to hear the bell ring for the day and watching all the stock brokers leave work is definitely an experience to try out. If you'd like to check it out for yourself before going, just go check out our route (coming soon).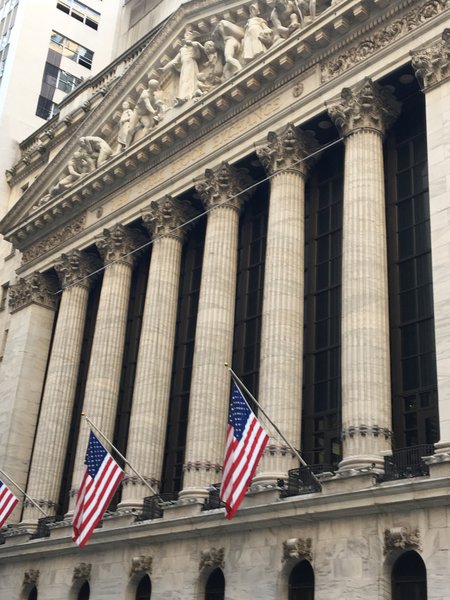 7) Fifth Avenue
Fifth Avenue is definitely a sight to see. It features the New York Public Library, the Empire State building, and many of the world's most well-known shops. Many of these shops are high-end but there are some chain-fashion stores here such as Abercrombie & Fitch. It is very pleasant to walk down this street past all the fancy hotels, and you are definitely likely to spot a limo or two here. If you'd like to see more just take a look at our route (coming soon).
8) SOHO Shopping District
SOHO is any shoppers best friend (or at least, mine). It features endless amount of shops like Urban Outfitters, Abercrombie, and the like, as well as many others. There is not much to say about it other than that you should go check it out for yourself, but it is definitely only a stop for you if you like shopping.
9) Grand Central Terminal
Whether you are a huge Gossip Girl fan or simply a fan of architectural grandness, the Grand Central Terminal should definitely be one of your stops (if it isn't part of your travels already). Your visit here can be short and sweet, but you should check it out nonetheless. It features a hall where if you stand in one of the corners facing the wall, and someone else stands in the opposite corner doing the same and you both talk, you can hear each other. It also features a beautiful ceiling design in the main room, worth gazing at for a while. The architecture of this building is absolutely grand, so make sure to take plenty of pictures. If you're not convinced yet you can take a look for yourself on our route (coming soon) which starts at Grand Central Terminal.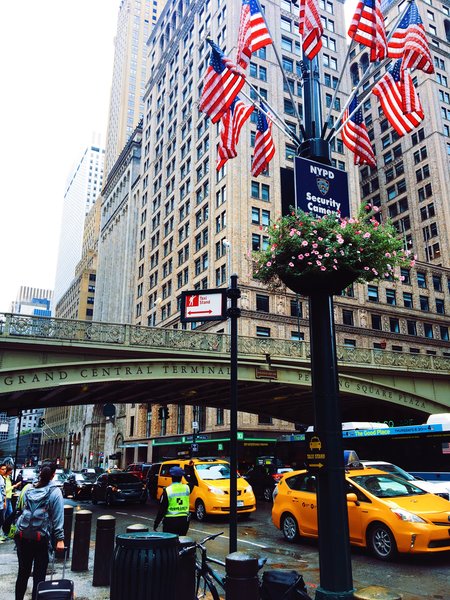 10) Coney Island, New York
Alright, maybe this stop is not in New York City, but it is only a short hour by metro away (from any main metro stations such as the one in Times Square) and it is absolutely worth your visit. Again this depends on the time of the year, but so long as the sun is slightly out and the weather is not too cold, you should definitely go. Coney Island features a huge boardwalk next to an equally long beach and a famous attraction park with a ferris wheel and several rollercoasters. It has attractions for the small children and attractions for the ultimate daredevils. You can get a very delicious bite to eat, be it the local ice cream or a warm hotdog. Whatever you choose to do, you can be sure to have a nice, relaxed afternoon. You can check out our
route
here to see more of Coney Island for yourself.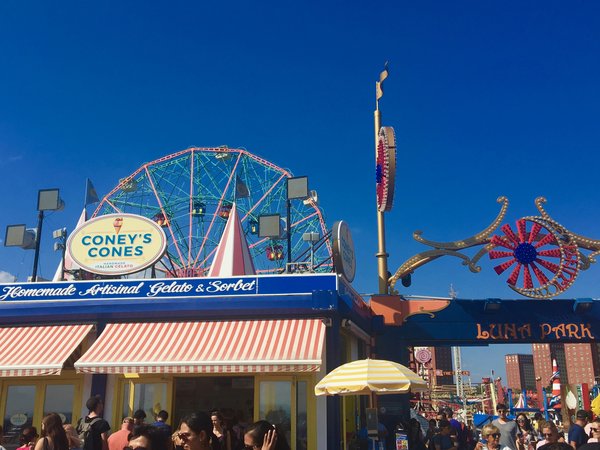 New York, New York, a city so nice they named it twice.